Who's Who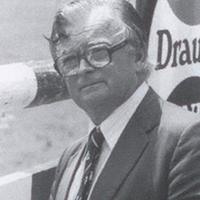 Dwyer, Ted OA
Discipline : Showjumping
Born : 1924
Died : 2013
Ted lived in Young, New South Wales together with his wife, Judy and their two sons on a farm that had been in his family since 1868. Ted was a livestock and crop farmer, and he and Judy, an accomplished four-in-hand driver, also produced English Hackney horses at their Ellmore Stud.
Ted was an FEI international course designer and Jumping judge and was instrumental in developing World Cup Jumping competitions in New Zealand and South-East Asia. He was the coordinator of the Pacific League for 25 years, from its inception until his retirement at the 2003 Final in Las Vegas. He helped lobby the FEI World Cup committee members for the establishment of the South-East Asian League, the 13th league in the world.
He owned a number of successful Jumping horses, including Ocean Foam, the horse ridden by Kevin Bacon on the Australian team that finished seventh at the 1964 Tokyo Olympic Games
He officiated as a course designer and a judge all over Australia and New Zealand, as well as much of South-East Asia, including designing courses for the Xanthus Show Jumping Open series from 1991-1994, the 2nd and 4th Asian Show Jumping Championships and the 1995 Chiang Mai South-East Asian Games.
Over a 40-year period, Ted was also a contributor to a number of magazines in Australia and New Zealand and wrote two books, Show Jumping Down Under (1972) and Show Jumping in Australia (2005).
British equestrian journalist Alan Smith, who worked closely with Ted on the FEI World Cup circuit, remembers him with great fondness. "The huge contribution that Ted has made to show jumping in Australia and in parts of South-East Asia, where he is something of a godfather figure, would be hard to exaggerate," he wrote in a foreword to Show Jumping in Australia. The pair were together at a party on a cruise ship during the 1989 FEI World Cup™ Final in Tampa, Florida. Thinking it might get chilly on the boat later in the evening, Ted asked one of the organisers if he should take a jumper, and was told by a very alarmed lady that no horses were allowed on board!
Ted was awarded the FEI Medal of Honour in 1998, three years after the Governor General had presented him with the Order of Australia Medal (OAM) in recognition of his "services to equestrian sport both nationally and internationally". He was inducted into the Equestrian Australia Hall of Fame in 2011.