Who's Who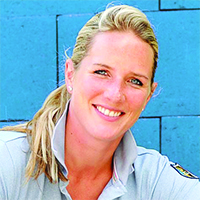 Fiebelkorn, Anna-Sophie
Discipline : Dressage
Born : 1982
Lives : Bartelsdorf, Germany
Anna-Sophie discovered her interest in horses at an early age and by the time she was six years old, she was a keen rider. In those days she was mainly interested in show jumping. She received her training to become a fully qualified trainer at the "Reit- und Fahrschule Verden" under the direction of Joachim Weist and Marco List. Because of her good grades in her final exam she was awarded the Steensbeck plaque and received a scholarship to train with Jürgen Koschel in Hamburg.
In 2006 Anna earned a master's degree with distinction and was one of the youngest horsewomen with an accredited master of equitation in Germany. For many years she worked for the Hanoverian Verband as an auction rider where she gained further experience and presented many of the top priced horses at the auctions in Verden. Since 2006, Anna has run her training facility in Bartelsdorf.
Anna is trained by Hans-Heinrich Meyer zu Strohen and Heike Kemmer.
Horse that she has trained and competed include:
– Bundeschampion 2007 Benetton Dream
- 2008 Vice World Champion of young dressage horses Imperio
- 2008 Bundeschampion Imperio
- 3rd place in the 2009 World Championships for young dressage horses with Imperio
- 2011 Bundeschampion Benicio.