Who's Who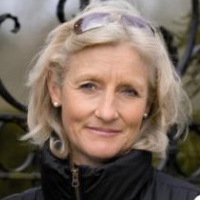 Green, Lucinda
Discipline : Eventing
Born : 1953
Lucinda Green is famous for having won Badminton, six times on six different horses: Be Fair (1973), Wideawake (1976), George (1977), Killaire (1979), Regal Realm (1983) and Beagle Bay (1984). In addition, she was placed second on Village Gossip (1978).
Lucinda first represented Britain at the 1973 European Championships at Kiev.
She rode at her first Olympics in 1976, at the Montreal Games but failed to complete the course on Be Fair after a tendon injury.
In 1982, she went on to represent Britain at the Eventing World Championships in Luhmühlen, where she won the individual gold medal on Regal Realm, as well as being part of the gold medal winning team.
In 1984, Lucinda won Badminton for the sixth time on Beagle Bay, and also placed fifth on Village Gossip. Later that year, at the Los Angeles Olympics, she was a member the silver medal winning British Team and individually placed 6th.
Lucinda became a mother in 1985, and she retired for a few months before returning to international competition later that year and helping the British Team win the gold at the European Championships held at Burghley.
Lucinda Green finished her international career after competing at the 1987 European Championships in Luhmühlen. She now is a commentator for major events, and conducts clinics worldwide.