Who's Who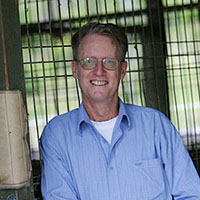 Hartog, Bert
Discipline : dressage
Born : 1943
Date of Birth: 7 February 1943
Country of birth: Curaçao (Netherland Antilles)
1943-1945: Lived in Curacao
1945-1948: Lived in Ryton on Tyne where I had my first riding lessons
1948-1969: Lived in the Netherlands
1969: Arrived in Australia
Professional Qualifications achieved:
Advanced Diploma in Business Management & Hospitality (The Hague-1998)
EA Level I General (1981)
EA (Equestrian Australia) Level II Coach Dressage (1991)
EA Coach Educator & Assessor (1991)
AHRC (Australian Horse Riding Centres) Level II Instructor & National AssessorAwards:
1992 Business Achiever of the year (Dalson Park management & staff)
1999 Life member of Australian Horse Riding Centres (received for developing education system)
Professional Achievements:All achievements below are a combined effort with my wife Marion. She is always the first to edit my musings, but above all has the uncanny ability to put the nuts and bolts to most of my, sometimes out of the box, ideas.
Since the mid nineteen eighties I have:
Trained and competed on several horses at State and National Championships including FEI level
Published monthly training articles in "The Horse Magazine" for more than four years under the title 'The Art of Training', which was at the time voted the most popular articles because of the simple explanations
Introduced our son, Nick, to vaulting mid 1990. This facilitated him to compete at overseas competitions in European and World Equestrian Games. World ranking 5th.
Coached riders of all levels privately and in a group and conducted many riding clinics throughout Australia
Written many articles in Hoof Beats, a Western Australian Horse Magazine, Organic Equine, a New Zealand publication, and numerous 'Tack Room Tales' published in Horses & People, Chaff Chat and Horse Deals
Published a book 'The Art of Training' in 1991
Developed CD-ROMs delivering intermediate/advanced riding techniques including jumping
Developed a Horse Riding Instructor Training System, which was approved by the Department of Education and Training as Certificate III and IV Recreational Equestrian Coach
Developed 3 online games Jumporama, Jumporama Cross Country as well as Catch-em-Cowboy. These games have attracted many tens of thousands of players and are hosted on our website www.horseridingcoach.com and www.horsegamers.com
My earlier professional experience was in executive positions in the hospitality industry. This lasted a few years until I was able to pursue my passion for coaching equestrians. I started my first equestrian centre in Sydney in 1976 with four partners.
After the partnership was dissolved I moved to Lismore, northern NSW, and bred Warmblood horses with an Oldenburger stallion Duel Guilt.
1983-2001: Dalson Park – Brisbane
Marion and I ran Dalson Park for nearly twenty years. It was a busy centre with some 250 riders per week.
At our centre Dalson Park we developed many 'firsts':
First Horse Expo
First Australian Vaulting Competitions
First Dressage Freestyle to Music Competitions in Queensland
First Indoor Polo Matches
During the past 35 years I have held many positions in horse industry organisations:
Founder member of Australian Horse Riding Centres (AHRC) –QLD branch & National Vice Chair Person
Founder and Chair person of Dalson Park Riding for Disabled
Member of the EA (Queensland Branch) National Coaching Accreditation Scheme (NCAS) Committee
Executive Committee Member Equestrian Federation of Australia (Queensland branch)
Chair person EA Queensland Vaulting Committee
Member Queensland Government Occupational Health and Safety Committee establishing the Horse Riding Industry Code of Practice.
Advisory and auditor to Horse Industry Council of Australia Horse Safe – Code of Practice
1996-2015: The horseridingcoach.com Instructor Training System
The Instructor Training System was developed after identifying the need. We and other equestrian centre owners found it difficult to find suitably trained teaching.
The training system was developed from the ground up. Most, if not all, of the practices taught in the course have been physically practiced or developed by us. All of the teaching methods have been tested and tried on our students and proved to be effective, efficient and above all safe. Most tasks are broken down into cumulative skills that can be taught in succession and together make the more complicated skill or technique. We have developed our own online Learning Management Systems to stay abreast with the changing needs and trends and opportunities in technology.
The course has been available nationally with a huge following and it has proved extremely effective and successful.
2015: 'The Art of Training' New Edition
While the first edition of 'The Art of Training' sold out relatively quickly, work at clinics, our equestrian centre and later the development of the online equestrian coaching course prevented me from writing a follow up version of the book. However, with more time on my hand the second much improved version has been started some two years ago.
Publication is expected to be early March 2015.