Who's Who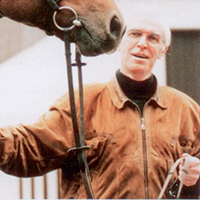 Hell, Maas J.
Discipline : Breeding
Born : 1934
Died : 1997
Maas J Hell became the Managing Director of the Holsteiner Verband in 1971. In The Holsteiner Horse the challenge is outlined:
"Times were difficult as the German horse breeding trade was recovering very slowly, the demand for horses from the land between the seas gradually began to increase. Business relations were re-established, the auction was redesigned and supported by intensive advertising measures. The internal structure was reorganized so that the costs were covered. At the Equitana equestrian fair held every two years, the Holsteiner horse was put back in the spotlight by means of attractive show performances such as Herbert Blöcker and Landgraf's legendary jump over an amazing height and by means of well-balanced sales collections. At the end of the seventies the volume of business and the turnover had increased to such a level that the almost 100 year old Riding & Driving School had outgrown its premises. Maas J Hell decided to plan an extension, which was ultimately complete in the year 1978 with the aid of breeders and public funds."
Under Hell's leadership the annual Neumünster stallion licensing and auction became the major event it remains today.
It was Maas J Hell who discovered the stallion that was to transform jumping breeding in Holstein – Cor de la Bryère. He was one of a delegation that traveled to France looking for stallions, and liked the young colt despite knowing nothing about his pedigree. Hell was also instrumental in bring the blood of Almé to Holstein, purchasing two young colts – Ahorn Z and Athlet Z – from Zangersheide where Almé stood in the late 70's and early 80's. Although he was still the Managing Director of the Verband, these two were both purchased by Hell in his private capacity for the Stud he was establishing.
Maas J Hell terminated his contract in 1981 to concentrate on his private stud.