Who's Who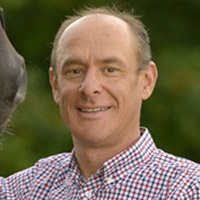 Klimke, Michael
Discipline : Dressage
Born : 1969
German National Champion Junior Riders in 1987
Team Gold European Championships for Young Riders in 1988 and 1989
Individual Bronze European Championships for Young Riders in 1989
Team and Individual Gold European Championships for Young Riders in 1990
Second place World Cup Finals in 1990
German National Champion Seniors in 2000
Multiple wins and placings at Grand Prix level until today
Michael has been one of Germany's top dressage riders since the early 90's, even though he has never been on the team for a World Championship or an Olympic Games. His European Championship titles are long way back and were won in the late 80's when he was a young rider. Until 2002 Michael was a member of the B-squad. He achieved his greatest success with White Foot, including winning the national championship in 2000.
Michael began riding when he was a little boy. He also played hand ball for a local club in Münster, but at the age of 16 he decided to focus on his riding. He once confessed jokingly, that 'he didn't have a choice.' His most important trainer was his father, Dr Rainer Klimke but he also trained with Ralf Isselhorst, Albert Stecken, Paul Stecken, Siegfried Peilicke, Harry Boldt, Klaus Balkenhol and Herbert Kuckluck
After his father's death in 1999 Michael joined his law firm, Dr Klimke and Partners, and continues to work there as a senior partner for, specialising in equestrian legal issues.
He runs a training stable in Münster.