Who's Who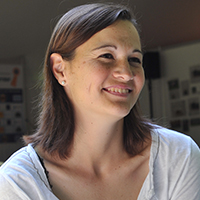 Michel, Jessica
Discipline : Dressage
Born : 1992
Lives : Petit Mars, France
Jessica Michel has an abundance of that great French quality – charm, and her story is charming indeed. Jessica started out as an eventing rider and was studying to be a professional rider at the Cadre Noir when her eventer was injured and she was given dressage horses to ride.
"I was riding in young horse competitions, then after I completed my studies, I went to the south of France where I worked as a riding teacher. I didn't have any horses for competition but Xavier Marie contacted me, some people had recommended me to him…"
(Xavier Marie is an extremely wealthy French businessman who developed an interest in dressage and decided to start breeding dressage horses for French riders. He went to Germany and bought about a dozen very expensive stallions – in one year he bought the licensing winner of all the major breeding associations – initially dressage stallions but then buying top showjumpers as well.)
Jessica had never ridden a Grand Prix dressage test when she joined M. Marie's Haras de Hus stud.
"I started working for M. Marie in 2006 and I rode my first Grand Prix with Riwera de Hus last October. I rode her first in Young Horse classes, and we placed at the World Young Dressage Horse Championships in the B final. The test here at Wiesbaden was our 11th Grand Prix."
France does not have a dressage team for the London Games, but Jessica and Riwera are qualified to go as individuals, and would seem certainties to be nominated in June.
How do you cope with the pressure of big competitions? Are you a nervous rider?
"When I started with Riwera, the aim was to go to London, so there was a lot of pressure but in March, I qualified for London, so now I am a little bit more cool."
You are very lucky to work with Hans-Heinrich, he is such a gifted trainer…
"I love him – not like, love!"
Once French dressage was very strong but now there is not even a team for the Games – what happened?
"They used to have too much self confidence, they didn't work enough and the other nations became better than we were…"
One of the things Xavier Marie set out to do was to breed horses for French riders using German bloodlines – do you think that is important? Would it be more difficult if you were riding a  Selle Français?
"The Selle Français were bred for showjumping and do not have the good movement for dressage – the German horses can fit very well with the French riders."
Jessica won a bronze medal at the World Championships of Young Horses in Verden in 2007, and represented France at the London Games and the Europeans in Herning – both times riding Riwera de Hus.