Who's Who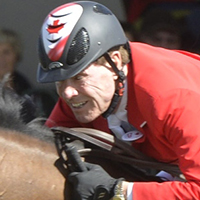 Millar, Ian
Discipline : Showjumping
Born : 1947
Nicknamed, Captain Canada, Ian Millar is one of the enduring stars of world showjumping. He has twice won the World Cup final, in 1988 and 1989, riding Big Ben. Riding In Style, he won a team silver medal at the Hong Kong Games.
As a member of the 2012 Canadian team at the London Games, he took part in his tenth Olympic Games:
Munich – The Shoeman, Montreal – Count Down, Los Angeles – Big Ben, Barcelona – Big Ben, Atlanta – Play it Again, Sydney – Dorincord, Athens – Promise Me, Hong Kong – In Style, London – Star Power.