Who's Who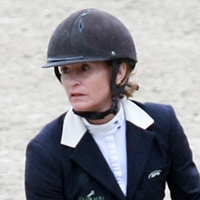 Rowland, Alison
Discipline : Showjumping rider and trainer
Born : 1961
Alison Rowland started her riding career in Northhampton, West Australia, some 500 kilometers north of Perth. As a small girl she had always dreamed about show jumping, but none of her childhood ponies would jump so she started in the competition arena as a dressage and hack rider and was highly successful here despite continuing to try and jump at every opportunity.
Alison worked for George Sanna for some years as stable manager and rider and then moved to Italy and rode internationally there for 12 months before returning to Perth.
Alison has produced several outstanding Grand Prix horses including Brown Jack who was 4th in his last start at the age of 20 in a World Cup qualifier topping off an amazing career. He won many many A grade championships despite the fact that he was a feral brumby standing a mere 14.3!.
Country Fair was another who Alison campaigned in America and was consequently sold.
Stolen Thunder took Alison to the 1994 World Cup Final in S'Hertogenbosch where they finished 7th in the second round and overall 18th.
Alison competed in the Australian Selection events in Europe prior to the 2014 WEG on Bickley Brook Bella.