Who's Who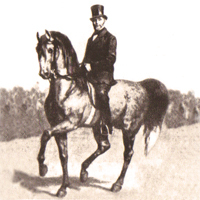 Steinbrecht, Gustav
Discipline : Dressage
Born : 1808
Died : 1885
The German born Steinbrecht first studied to be a vet before becoming a pupil of the riding master, Louis Seeger, who was in turn a disciple of Maximillian von Weyrother, a famous rider at the Spanish Riding School. Steinbrecht spent eight years with Seeger, and married his niece. He then moved to stables in Magdeburg where he spent eight years, before rejoining Seeger.
In 1849 he became the manager of the Seeger Stables and started work on The Gymnasium of the Horse. Seeger disagreed with his contemporary, Baucher, and advocated the views of de la Guérinière, and Steinbrecht agreed with his mentor.
The Gymnasium of the Horse has been a crucial influence on the development of the German system of equitation.
REF: The Classical Tradition – The masters of the Nineteenth Century by Chris Hector