Who's Who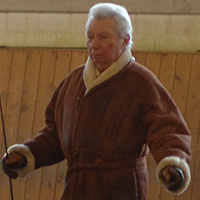 Theodorescu, George
Discipline : Dressage
Born : 1925
George was born ninety one years ago, on the 1st of October, 1925, and when he died in August 2007, he was respected and loved throughout the Equestrian Community, not just as a great trainer and teacher, but also as a standard bearer of civilised riding, indeed civilisation itself…
George was not one for flashy or crude gestures, the wildly over the top celebration at the end of a test, was not for him. He records in Dressage Masters by David Collins:
"I saw a ballerina of the Bolshoi Ballet perform in London. After an incredible performance, she came back onto the stage, stood on her toe, and performed thirty pirouettes. The audience was going made. The applauded and screamed out loud the number of each pirouette. When she finished, she got a standing ovation. She merely bowed her head to the audience and humbly accepted theri praise. She left the stage, then returned and did thirty pirouettes on the other foot. Now the audience went really wild. They stood on their chairs and clapped. The ballerina again bowed her head slightly and humbly accepted their applause."
"When I apply this to dressage and to training horses, I think of the centre line and moments after the final salute. When I saw a competitor raise their fist and swing their arm through the air in self-congratulatory elation, I am reminded of the humble ballerina, a person dedicated to her art and dedicated to ever greater levels of perfection. An artist with this demeanor would also be able to learn the art of training horses."
"Dressage is not just a sport. Yes, a part of it is about competing and trying to come in first. But dressage is only beautiful when it is done well, when the ride and horse dance in harmony. If a rider has not reached that stage with his horse, he should stay home. He should not perform in public."
George moved to Germany from Romania at the age of thirty-one, a political refugee. George had competed at the Olympic Games for Romania, and soon was recognized as an elite trainer in Germany. His wife, Inge, was a Grand Prix showjumper, and a Grand Prix dressage rider, and the winner of the Hamburg Ladies Dressage Derby four years running. She was also the trainer of the Polish dressage team.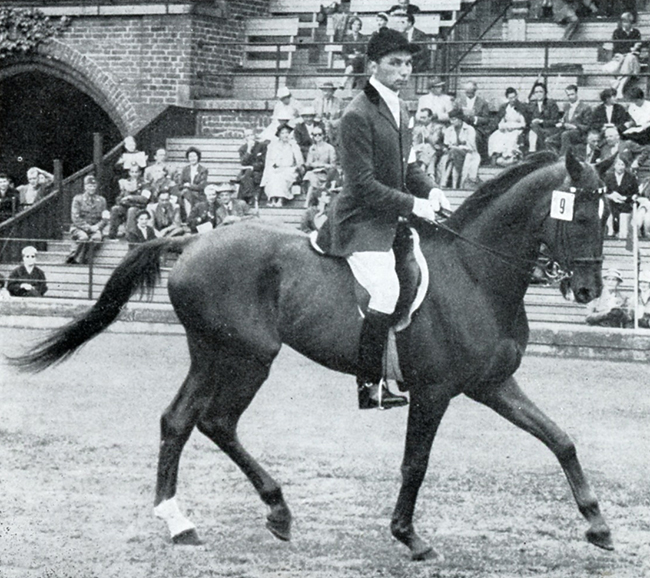 Gheorghe Teodorescu (Roumanie) and Palatin at the 1956 Olympic Games in Stockholm
Their daughter, Monica was thrice an Olympic gold medalist, and three times the World Cup Champion. She is now the coach of the German team.
George coached riders from all over the world – he trained the French, Italian, Russian and American dressage squads, and countless riders who came to his Riding Hall in the country side just outside of Warendorf.