Who's Who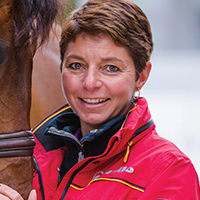 Theodorescu, Monica
Discipline : Dressage
Born : 1963
Lives : Sassenberg, Germany
Monica Theodorescu was appointed German national dressage coach in October 2012 and is the first woman in this position.
Monica grew up in Sassenberg and has worked as an interpreter and translator in five languages before becoming a professional rider and trainer.
For more than 35 years Monica was one of Germany's best dressage riders. She was the most prominent pupil of her late father, the legendary George Theodorescu. Aged 19 she won the German Dressage Derby, placed first in the 1993 and 1994 World Cup Finals, achieved Olympic Gold medal success with the team in 1988, 1992 and 1996 and World Championship success in 1990, winning a Gold medal with the team and individual Bronze. Her record also includes several medals at European and national championships. In 2012 she was also team reserve for the Olympic Games.
It was with great sadness that she retired from active competition to take on the coaching duties, "It is impossible to juggle both", she admitted. However, she still trains young horses at Lindenhof Stud.
Monica had a very pleasant start to her coaching career, achieving a gold medal at the European Championships – not surprisingly, she enjoyed the occasion, Chris Hector interviewed her a few weeks after the 2013 Championships…
"Herning was a nice competition to be at, often there are all sorts of restrictions, don't go here, don't go there, don't do this, you are not allowed in there, but it was really nice and friendly."
It was nice the horses at the top were all ridden in a horse friendly way…
"There are a lot of horses with quality, we are seeing more horses that are really special. You can see that it is just the form on the day that counts. The first three, four, five, could have all been good enough for a medal."
The style of dressage has changed; there is a big difference between Salinero and Valegro…
"Of course, they are completely different horses. I think we are back to suppleness and relaxation, and definitely it is nicer to watch. I didn't see one stressed horse there. Of course it is stress to go in such a big arena, but not in a negative way."
To have such good competition that it was down to the last ride to decide who was going to win the medal…
"That was really good for the sport. It's good when there is a lot of competition, and even better for us when we win. At the end it all went well for us."
I was thinking about it, and it is nice for you as coach, because in former times, Germany was expected to win the gold medal every time, and if you didn't it was a disaster, now you are not expected to win every championship and there is not so much pressure on you…
"As a rider in the team when everyone thought Germany was going to win, that was a lot of pressure, because you could only be so stupid as to make the team lose the gold medal. If you didn't ride well enough, you could only be the stupid one, and no one wanted to be that stupid one who lost the gold medal. That put on a lot of pressure on. Now it is a different kind of pressure, you want to win, but you are trying your best and maybe another team is better. As long as you do your best it doesn't mean you have lost anything. Four years ago in Windsor, we were fighting for a bronze medal. But it didn't feel like it was before, where you felt you can't even go out of the ring if you miss that gold medal, you can't even go back to Germany."
"Now sometimes the other teams are better, at Windsor it was tough to get the bronze, it could have been the Danish team. Now you don't feel like 'oh my god we lost a gold medal' it is more like we did well enough to secure the bronze."
Does it feel much different to be the coach not the rider?
"Not so different, you just feel like you want to pull on your boots and get your horse out of the stable. Otherwise, it is not so different. There is much more to do and to think about. Every word I say is so important, you can't just say something without thinking. As a rider you are just concerned about yourself and the horse, now I have to think for a few more of them."