Who's Who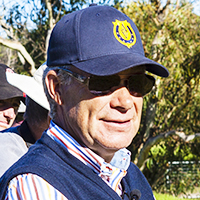 Voorn, Albert
Discipline : Showjumping
Born : 1956
Albert grew up in a farming family. His father Krijn was a market-gardener and his mother, Will, the daughter of a farmer.
Albert's neighbours worked the land with fancy horses, and every minute of his spare time Albert was present. At the age of 8 Albert bought, from his own savings, a New Forest Pony foal, which he learned to ride with the help of his neighbour, when the pony had reached the proper age.
It was with this pony that Albert rode his first competition, and later even participated internationally. Albert sold Marinette to the Vermeulen family in Breukelen and with this money he bought a 3 year-old horse.
After his school years Albert went to work with horse-trader Tom Olsmeyer in Doorwerth, where he also met his wife, Irma.
Since then Albert has had a distinguished career in the showjumping arena, winning his first Grand Prix in 1981 with Kalypso S. With Lando, he won the Dutch Championship, and then a silver medal at the 2000 Games in Sydney. In 2013, Albert was 3rd at the Dutch Championships with Tobalio.