« Back to Great Stallions List
Cornet Obolensky
1999 172 cm Grey
Breeder: Thierry Degraeve
Cornet Obolensky was from Clinton's first crop of foals. His dam, Rabanna van Costersveld was an advanced showjumper in Britain, and her sire Heartbreaker is one of the most successful sons of Nimmerdor.
Rabanna van Costersveld is the half sister to the BWP stallion, Vivaldo van Costerfeld (by Clinton) who sold for €150,000 in the Fences auctions, and competed successfully with Roger Yves Bost winning 1.45 classes at Stuttgart and Dublin, 1.50 classes at Bordeaux, Paris and Goteborg, and a Grand Prix at Arezzo in the 2013 season.
The dam of Rabanna and Vivaldi, Holivea van Costersveld was herself an advanced showjumper and also produced the international competitor, Querido (by Feinschnitt I). Her sire, Randel Z was out of the internationally successful jumper Alaric Z – and he was the sire of successful World Cup dressage competitor with Ingrid Klimke, Nector v. h. Carelshof.
Cornet Obolensky was the second reserve champion of the Westfalien licencing and starred at his 30 day test at Münster-Handorf – scoring the maximum 10 for loose jumping.
The Ukrainian showjumping fans, and would-be jumping horse breeders, Victor Timoschenko and Valentin Nychyporenko came to Westfalia looking for assistance to find a foundation stallion. The advice was very good, there was a Belgian bred colt, Windows van het Costerveld (by the Holsteiner jumping and breeding star, Clinton, out of a Heartbreaker mare) that topped the Westfalien stallion testing, and he was duly purchased by the Ukrainians and renamed, Cornet Obolensky.
Cornet qualified for the Bundeschampionate in 2004 but not many people know just how spectacular this qualifying was. Marco Kutscher keeps laughing as he tells the tale, but it was no laughing matter at the time:
"I had some really nice memories with Cornet, but also some not-so-nice ones. He was four when I started riding him…"
"I took him to a real show when he was five. I remember it exactly, in May, the first outdoor show. Cornet was special, at home he was lazy, not even like a stallion, but when you took him off the truck somewhere else, he was like a lion. He was going on two legs, crazy, screaming, wild, not under control, nothing – he forgot everything you taught him at home. At home, you almost had to kick him to go."

"The first show, I took my best groom with me, I put the truck in the corner where it was quiet, all the time I was thinking what can go wrong? So we took him down from the truck and I told my groom, when I have my foot in the stirrup, just let him go. You cannot hold a stallion when you want to get on them, if they can move, it is always better.  When I lifted my leg up, he was already going on two legs, but I had my foot in the stirrup, so my groom did what I told him to do, he let go. Cornet went ten metres on two legs, I was hanging around his neck, but then there was a fence for sheep, very low, he was on two legs, his eyes were in the sky, he didn't see the wire, he came down with his legs in front of the wire, and tipped over, I flew left, Cornet flew to the right."
"I remember it as if it was yesterday. At the time, the horse was already famous, he was one of the best approved stallions of the licensing, everybody was talking about him, he bred four or five hundred mares when he was two-and-a-half, and he was owned by this Ukranian guy, when I turned around and saw this white stallion getting up and galloping past me, jump over the next wire – into a field, away from all the horses, away from the truck. Normally horses go back to the truck, or as a stallion they try to go to other horses… no he jumped, just one wire, one metre forty, it was hard for me to see the wire but he jumped two metres twenty up and five metres wide into the field, just ploughed and so deep, his tail up and he was gone like a balloon when you stick a pin in it. Whooosh!"
"I was thinking, okay now Kutscher you have a problem, this horse might be dead after this, or the tendons bowed, break his legs, and you see this Ukrainian guy with a Kalashnikov wanting to kill you because I have ruined this stallion of the century."
"We were lucky because there was a field one kilometre away with other horses. He galloped there, and walked around trying to get into the field, we caught him, lunged him again, then I got on, jumped the class, he won, then there was another class which was the qualifier for the Bundeschampionate, and this he needed. As a Belgian horse he was not allowed to go to the Bundeschampionate, but as a stallion they have to jump in a Bundeschampionate qualifier and get more than 8 for their stallion approval to be allowed to breed. This was the main class, the second one. So I stayed on him because I was afraid to get off, stayed on for one and a half hours, jumped the second class, he had one down but still got the points because he was still jumping amazing. Then I put him in the truck."
"For a long time when you went to shows and got on him, for the first five minutes he was always a little bit tense, then he was okay. When he got older, he was nice."
Have you ridden many of his progeny – are they like him?
"Some of them yes, but they are all different. Most of the Cornet offspring, they can all jump. They are sometimes a bit special, others are really easy and nice to ride, some not, but I think you have that with any stallion."
As a six-year-old, he was the most used stallion in the Westfalien breeding area but as a seven-year-old returned to competition, placing well on the international Youngster Tour. In 2007 he had success at Mechelen and Münster.
In 2008 he commenced World Cup competition with Marco Kutscher..
The pair went on  to be members of the German Nations Cup winning team at Rotterdam***** where they also placed 2nd in the Grand Prix. Cornet won the CSI*** at Cervia. As a nine-year-old, Cornet Obolensky was the youngest member of the German showjumping team at the Beijing Games. In 2012, he was a member of the winning Nations Cup teams at Rotterdam and Rome, won the Grand Prix of Zurich***** and placed at most of Europe's top competitions.
In 2004, a colt foal by Cornet Obolensky won the final of the German Foal Championships in Lienen. His first crop produced 3 licensed sons, including the Westfalien 2005 champion, Cornado, who achieved the highest jumping index at his performance test at Warendorf the next year. By 2007, he had sired 30 licensed sons – ten years late he has 43.
A Cornet Obolensky colt out of a Calypso / Valiant mare, was the champion of the 2007 Westfalian Stallion selections and at the Hanoverian licensing of the same year, the champion of the show jumping colts was another bay stallion by Cornet Obolensky this time out of a mare by the Thoroughbred, Gambler's Cup xx. The colt sold for €600,000 to French millionaire Xavier Marie of Haras de Hus in France.
In the French annual breeding review, Monneron 2008 / 2009, Cornet Obolensky was crowned their 'Stallion of the Year.'
On the 2014 WBFSH ranking, Cornet Obolensky is in 2nd place with 65 representatives, the most successful of which has been the amazing Cornet d'Amour closely followed by Cornado NRW with Marcus Ehning. On the German FN rankings for 2014, Cornet Obolensky is in 3rd with a value of 166.
At the 2014 WEG, Cornet d'Amour was sixth and Cornado NRW, tenth.
On the WBFSH rankings for 2015, Cornet Obolensky is in 3rd place, again with Cornet d'Amour, the most successful. In the 2015 FN rankings, he is in equal 3rd place with a jumping  breeding value of 165 (dressage – 91), equal with Stakkato, and just above his son, Comme il Faut, who is out of the great Ratina Z. Cornet has a Hanoverian jumping breeding value of 146, dressage, 79, with a score of 130 for type.
In the 2016 Hanoverian Stallion book he is recorded with 615 competitors with earnings of €5,398,300 (he himself earned €777,876). 609 jumpers, 254 at S level, and with 34 progeny with earnings of more than €15,000. By the 2017 book, the number has grown to 640 competitors with €6,639,538 in winnings.
On the new FN young jumping horse breeding values, Cornet scores 156, and on the breeding value based on open competition, 145.
On the WBFSH 2016 ranking he holds his 3rd place with 59 points earners, the most successful being Martin Fuchs and Clooney (Ferragamo) – watch them in action here:
https://www.globalchampionstour.com/profiles/riders/7366/martin-fuchs/gallery/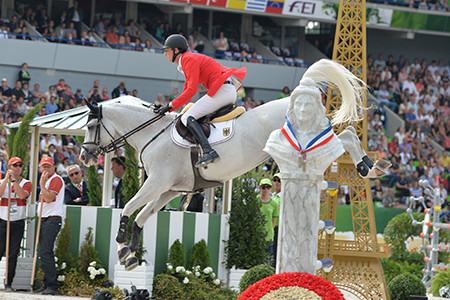 Cornet d'Amour – just one of the great offspring of Cornet Obolensky 
Cornet d'Amour was the champion of the 2014 World Cup final in Lyon. Prophetically, just one month before the Lyon final, Christian Ahlmann, who rides Cornado II, told French journalist, Aurélie Covini, "Today Cornet Obolensky is surely the best stallion in the world. All his offspring are careful and sensitive. This means that they might be delicate to ride but most of them have a long sride, power and trajectory over the fence. Among them I am really fond of Cornet d'Amour." (L'Eperon, April 2014)
At Wiesbaden in June 2014, the DKB-Riders Tour Grand Prix was a real triumph for Cornet Obolensky. The 1.60 class was won by Toni Hassmann with the nine year old son of Cornet, Classic Man V (out of a Gralshuter mare) and the third placegetter, Cornwall 9, ridden by Angelica Herröder, is also by Cornet, this time out of a Pilot mare.
The 2016 Hanoverian stallion book, lists 34 horses with winnings of over €15,000, headed by Cornet D'Amour with €1,366,470, followed by Cornet's Cristallo, €798,770, Cornado NRW, €699,481, Comme il Faut, €142,770, Classic Man V, €133,460, Cornado II, €121,357 – wow, what a stallion!
His son, Comme il Faut, is 5th on the German FN rankings for 2016, and once again, the Ukrainians proved themselves canny negotiators… two years  after they purchased Cornet, the owners contacted Ludger Beerbaum who successfully negotiated with late Leon Melchior about covering the great Ratina Z. Comme il faut was the product. At the same time the breeding visionary Miss Harli Seifert, was contacted and she agreed that Cornet Obolensky should cover the dam of Couleur Rubin, Grannuschka by Grannus, and the sport and breeding stallion Congress was the result. Both foals were owned by Mr. Timoschenko and Mr. Nychyporenko, this was agreed before covering date.
Comme il faut has been an interesting competitor with Marcus Ehning placing in Grand Prix in Dortmund, Rome, Oslo and Helsinki, but his stud duties have somewhat curtailed his competition career. His first progeny are looking good as six year olds.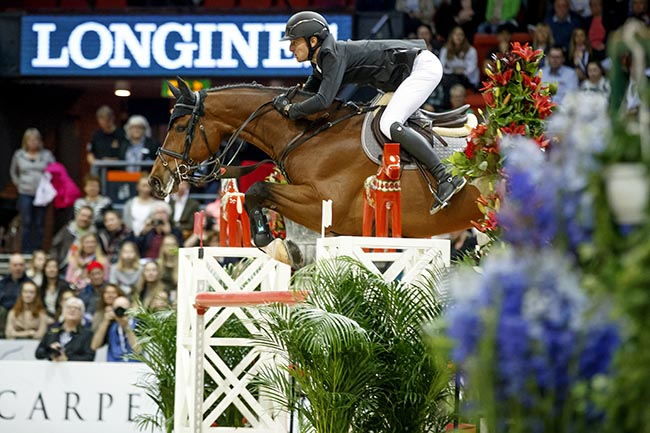 Steve Guerdat and Corbinian take the crown…
The 2016 World Cup final was yet another triumph. The winner Corbinian is by Cornet, and out of a mare by that exceptional sire of jumping broodmares, Pilot. The third placed Cornet d'Amour is also by Cornet, as is the fourth placed Cornado NRW, while the tenth placed – and youngest in the field – Cristalline is by Cristallo, a son of Cornet.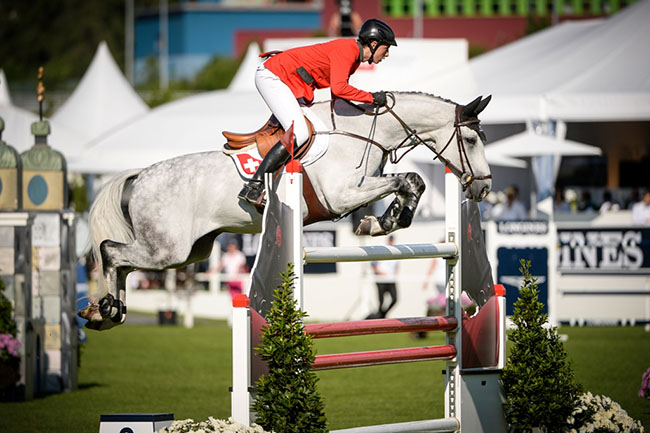 Martin Fuchs and Clooney
At the 2017 World Cup final in Omaha, Martin Fuchs finished 4th riding Clooney 51.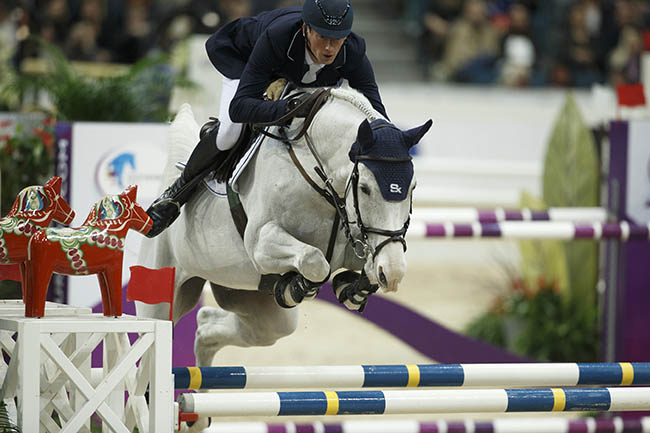 Cornet d'Amour stars in Gothenburg
Cornet Obolensky had eight of his progeny in the initial list of entrants for Rio.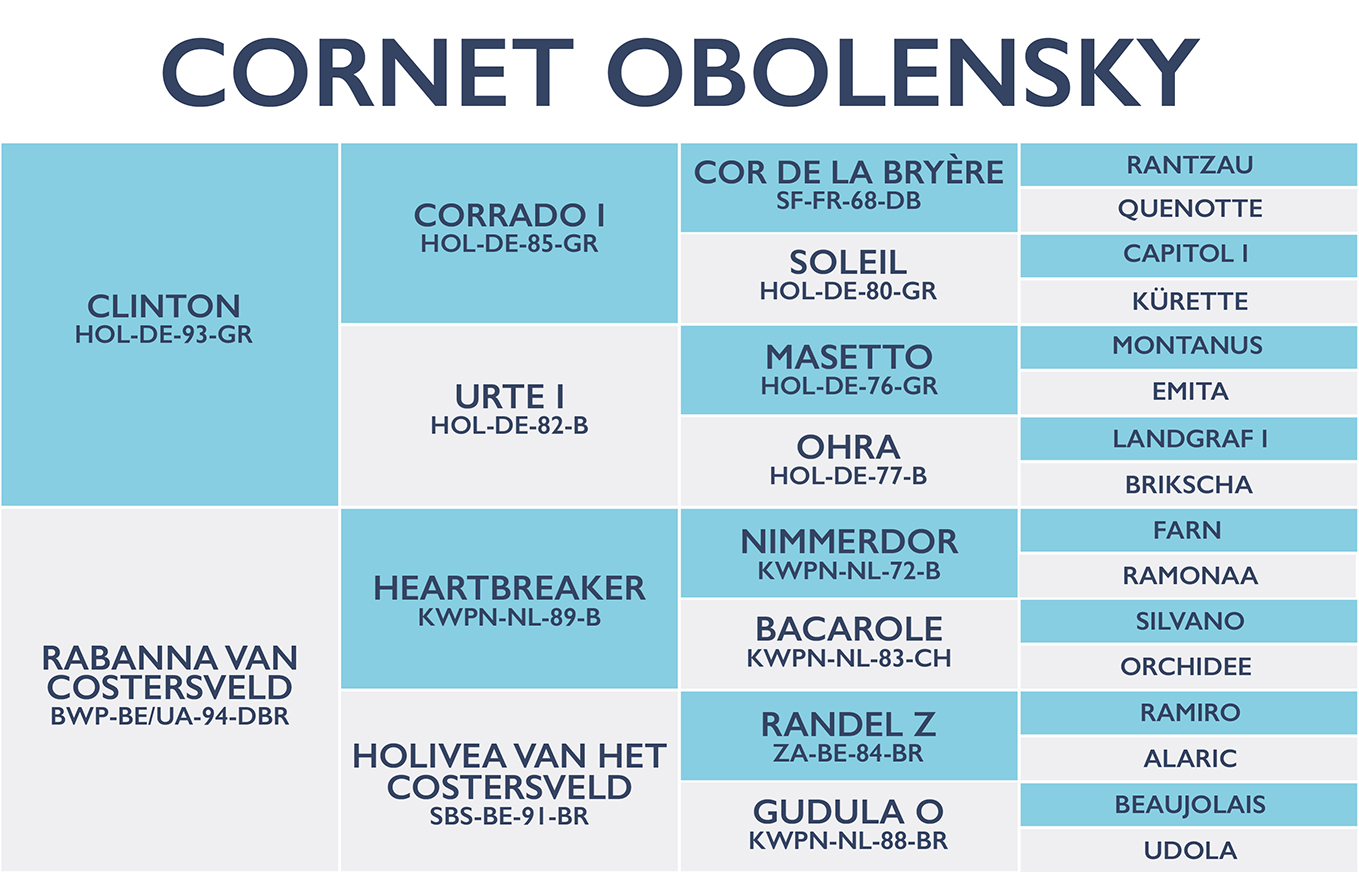 « Back to Great Stallions List