« Back to Great Stallions List
Heraldik xx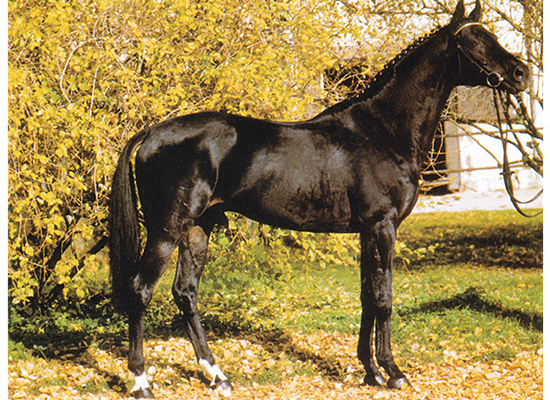 1982 – 2005 169 cm Black
Breeder: SOUP Sala/Tschechoslowakei
There is no doubt that Heraldik has been the most successful sire of eventing horses ever (as well as a handy sire of jumpers and dressage horses) but the stallion's history has been something of a mystery. Just how did he get to Germany – and what had he done before that in his Czech homeland? After several months of painstaking research, Adriana van Tilburg has unraveled the mystery that surrounds this important sire…
At the World Equestrian Games in Kentucky Heraldik xx had five direct offspring, Contender and Nabab de Réve both had four! In Germany alone, there are 16 stallion sons by Heraldik, 392 broodmares and 953 offspring with sport result! Heraldik had at the Olympics in Hong Kong (2008) two direct offspring in the Golden German Eventing team, Euroridings Butts Leon with Andreas Dibowski and FRH Butts Abraxxas. Both these Eventing horses were bred by Friedrich Butt. The international jumping horse Herald 3 competed with Eric Lamaze and Pilar Lucrecia Cordon at 1.60m and is currently standing at VDL Stud in the Netherlands. Georg Clausen used Heraldik xx also in his breeding program this resulted in H-Ekwador, who was born in Poland at the farm that family Clausen had there. H–Ekwador competed for Poland at the 2012 Olympic Games in dressage with Katarzyna Milczarek. Georg Clausen also bred Hans Dampf CR (by Heraldik xx) out of Looka CR (by Looping) this horse is competing at CIC3* level with Andreas Dibowski.
Heraldik has 953 offspring registered with the German Federation; 14 are at advanced and higher level dressage and 18 offspring are registered at 1.40m and higher showjumping. Unfortunately this program does not show how many eventing horses are competing at higher level but we do know that 2009, he took number one spot on the Rankings of Eventing Sires for the WBFSH for the first year, only slipping to second place in the 2014 rankings behind Master Imp. On the 2014 standings, he is listed with 21 progeny…
The modern Warmblood is relatively young. For example, it was not so long ago, in the early 1960's, that it became important for the Holsteiner Studbook to start using Thoroughbred's to modernize the breed. Thoroughbred stallions like Anblick xx (by Ferro xx), Cottage Son xx (by Young Lover xx), Ladykiller xx (by Sailing Light xx), Manometer xx (by Abendfrieden xx), Marlon xx (by Tamerlane xx) and Sacramento Song xx (by Sicambre xx) all played an important role in making a sporthorse from the original workhorses on the farm. Heraldik xx (by Caramel xx) was the Thoroughbred that might have been the best since that first generation of Ladykiller xx and Sacramento Song xx in the Holsteiner breed but he ended up not in the Holstein north, but in Germany's south.
Roots in Czechoslovakia
Heraldik xx was born in Czechoslovakia in 1982, his mother line traces back to the full sister of the great Eclipse xx (by Marske xx) born in 1766. This is the Thoroughbred family line 12. Eclipse xx was the most important Thoroughbred of his time. Eclipse xx won 18 races and became an important stallion after his retirement from sport befoe he died at the age of 24. More than 100 years later, in 1884, the mother line had moved from Great Britain, and the mare Fidelity (by Craig Millar xx) was born in Hungary. Heraldik's mother line is a combination from mares born in Austria, Germany and the Czech Republic. In Heraldik's pedigree we find the Thoroughbreds who have influenced the modern sport and warmblood breeding: Nearco xx (by Pharos xx), Chief xx (by Nearco xx), Cranach xx (by Coronach xx), Hurry On xx (by Marcovil xx), Fairway xx (by Phalaris xx) and Tourbillon xx (by Ksar xx).
Heraldik's mother; Heraldika xx (by Cale xx), his grandmother; Helga xx (by Marsel xx) and his great grandmother; Heja (by Detvan) were born in Czechslovakia. Heraldik was born at SOUP Šala, this is a school and stable for jockeys in what is now the Slovakian Republic.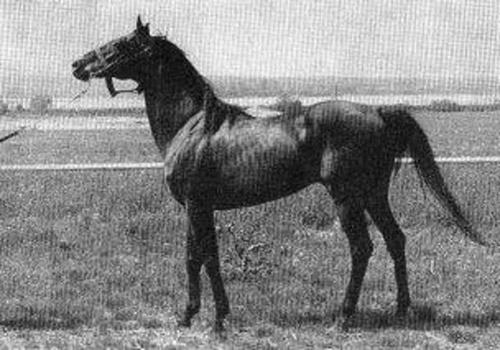 The sire – Caramel
His Sire Caramel xx had 68 starts at the racetrack and won 13, he is known for making excellent sporthorses in Slovakia.
On the other hand, Heraldik's mother Heraldika xx was a very bad racehorse. She has handicap 34kg as a two year old and when she was three, she was fifth two times over the wicker hurdles with 53kg. But on the flat she was amongst the last. When she was four she gained a several places in steeplechases. In her last season she represented her lifelong owner, the university SOUP Šala, and she was given a rating of 58,5kg.
Although she was a failure on the racecourse, she was great in the breeding. This mare, described like a little mare, subtle, black as a coal, with a little mark on her forehead, gave us along with Heraldik, the good showjumper Háje and the mare Herka, who was exported to Germany, where she gave birth of two wonderful sons. Royaldik and Meraldik – both known as successful sporthorses and sires.
Zdeno Malík has worked for more than 25 years at the university, SOUP Šala and he recalls: "The University bought Heraldika as a broodmare in the "packet", we bought two yearlings and the seller wanted to sell Heraldika too. We bought her to bring more horses to the yard. She died at the age of 24, in 1995,at our school. Her son, Heraldik was not popular as a stallion at that time in Czechoslovakia, the breeders didn't find him pretty enough."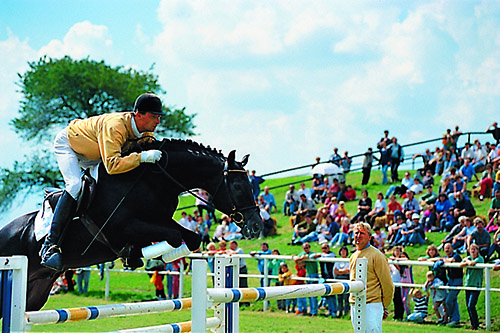 Heraldik and Thomas Casper
Heraldik xx – His sports career
Heraldik stayed loyal to his mother's 'qualities' on the racecourse. He ran as three years old in the Slovakia for three times, he was 4th at his last start . He did not placed in a race when he was four years old and in the 4th category he was 5th in the steeplechase.  He was not evaluated with a steeplechase handicap, on the flat he rated 43kg.
A tendon injury finished his career as a steeplechaser and he moved to the sport stable where he was used as a school horse. Mr. Kontár (as a young rider) completed with him his first competition in showjumping. Then he was sold to another sport stable where Viliam Naštický competed with him. Heraldik xx was successful in the showjumping ring and Viliam Naštický made him shine. A lot of people remember that duo, because they were very popular. Heraldik jumped at 1.50m for some years, including CSIO where he was 4th in GP CSIO-W Bratislava in 1991. He was 8th in CSIO-W Kiskunhalas in 1992 and altogether with his rider they were the most successful Slovak pair in the GP of Bratislava in 1993. The people who worked with Heraldik remember him as an absolutely great character and with a very good nature. The stallion was very easy to ride.
Heraldik xx – His start in Germany
It is a bit of a mystery how Heraldik really came to Germany. The people in Slovakia said he was been traded for a mare named Limara, that had jumped at 1.45m level in Germany. However the story from Georg Clausen is that he bought him for a lot of money.
He came to Germany where he stood at the stable of breeder Georg Clausen. His daughter Martje Clausen recalls: "My father noticed Heraldik together with Jasper Nissen at a showjumping show in Slovakia and recognized his quality right away and they bought him. The Holsteiner Verband showed no interest for Heraldik and my father could sell him for a lot of money to the family Casper. My father still says today that there was no Thoroughbred like Heraldik before him and there will never be a Thoroughbred like him again. I remember that I was standing as a little girl in front of him in his box and that I looked with surprised eyes because he was so beautiful and very kind."
Gestüt Birkhof
Heraldik became before Christmas 1995 to Stud Birkhof. Thomas Casper from Stud Birkhof has very fond memories about Heraldik, he recalls:
"My father, Alfred Casper, found Heraldik in Westfalia at Stud Attendorn. The owner of this stud Mr Plate did a lot of business with Georg Clausen and Peter Nagel-Tornau. My father called me in the middle of the night to tell me that he finally found the stallion that he was looking for. There wasn't a lot of money paid for Thoroughbreds in that time, but now I can tell you that we paid more than 100.000 DM for Heraldik and that was a lot of money. He was already approved in Westfalia and after his approval in Baden Württemberg he came to us, to Gestüt Birkhof. He was extremely intelligent, very sound and always wanted to work. I had the pleasure to jump him at the stallion show from the Süddeutsche Hengsttage in Alsfeld, he did it all and he loved the excitement from the audience. Also his offspring are excellent in all three disciplines; jumping, dressage and eventing. I see this also in the offspring from Heraldik's full sister, she produced very good dressage, eventing and jumping horses."
In his first year at Birkhof, Heraldik covered more than 100 mares and later on that became 150 mares.
Heraldik also played a very important role for the Holsteiner breed.
Gunnar Mohr from the Haselauer stallion station remembers: "Thomas Casper had to go with Heraldik to the January approvals from the Holsteiner Verband to be approved in Holstein. He asked me if he and Heraldik could spend the night in Haselau (we have in Haselau also a restaurant with a hotel). I helped to unload Heraldik and I told Thomas we should have a talk over a beer that evening about Heraldik, because at the moment the ramp came down, I knew Heraldik was something special. It was my wish to distribute the semen from Heraldik if he was going to be approved for the Holsteiner Studbook and so that happened for two years."
In 1996 and in 1997 his semen was sent to the Haselauer stallion station. In these years he covered a lot of mares. I will quote from an article from Dr. Nissen about the Elite Mare Show held in 2001 in Elmshorn (published in Pferd + Sport 08/01):
"It was really nice that six mares by Heraldik xx were qualified for the Elite Mare Show. No Thoroughbred has reached this amount of mares since Ladykiller xx and Marlon xx. The breeders were right to have a lot of trust in this stallion."
In 2001 the champion and the reserve champion of the halfblood mares (for the Holsteiner Elite Mare show there are two rings, one for warmblood mares and one for halfblood mares) were by Heraldik. Heraldik was approved for at least 10 Studbooks in Germany including Holstein, Hanover, Oldenburg, Trakehner and the Arab Studbook (VZAP).
Heraldik xx – His family
Heraldik's full sister Herka produced six offspring who went on to compete in Germany. Two of them compete at advanced level dressage, Meraldik (by Münchhausen) who is competing at Prix St. Georges with Pia Wilhelm and Royaldik (by Royal Diamond) jumped with Michael Jung and Thomas Konle at M level and M** dressage with Falk Stankus. They are both approved in Germany. Half brother Donaldik (by Don Schufro) is doing Grand Prix dressage in the USA with Endel Ots. According to Thomas Casper: "We flushed about 5 of 6 foals out of Herka xx and all of them were fillies, I am a bit sad that we have no stallion but happy that we can continue with the line. In have four mares at my stable out of Herka. She fits with dressage, eventing and jumping stallions. This line is very unique!"
Herka's line is also being continued at Morningside Stud in Ireland, Tom Reed recalls: "I learned about Heraldik and in 2003 or 2004 I went to Germany to see him. I had a good meeting with Thomas Casper from the Birkhof stud farm, and I also met Thomas's friend Simon Kohlenbrenner, who went to Czechoslovakia and found Herka, bought her, and brought her back to Germany. The next day Casper offered me a young mare out of Heraldik's full sister, sired by his family's stallion Lanthano. So, Heresy, as we named the young mare, became one of our foundation mares. Heresy is a half-sister of the stallions Meraldik and Royaldik, and she has two half-sisters. To the best of my knowledge Heresy is the only daughter of Herka that is breeding. So for me to have the immediate dam line of the best Thoroughbred sire in the last few decades is very valuable."
So far, Heraldik has yet to produce a stallion son of the same quality as the sire, but perhaps Herald who is being well promoted in France will be the one to carry on his male line…
I could not have made this article without the help from Lucie Zajíčková and Zdeno Malík!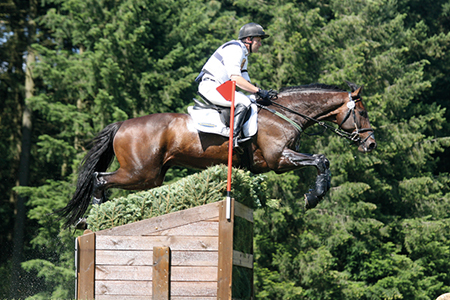 Heraldik is the number one sire of eventers – like Butts Leon
In 2008, Heraldik was in 2nd place on the WBFSH Eventing Sires rankings, but in 2009, he went to number one, a position he has held ever since.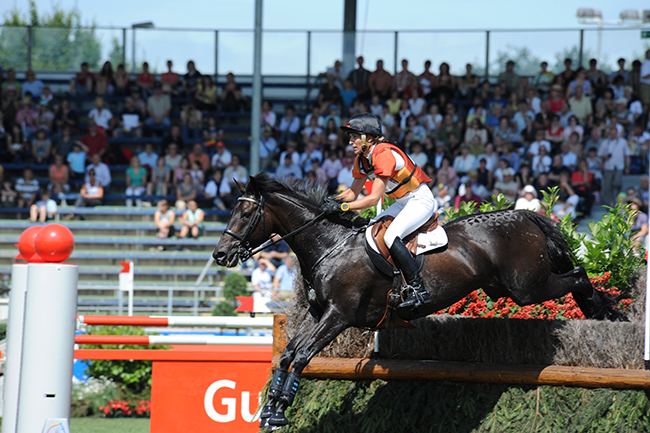 Another eventing star, Butts Abraxxis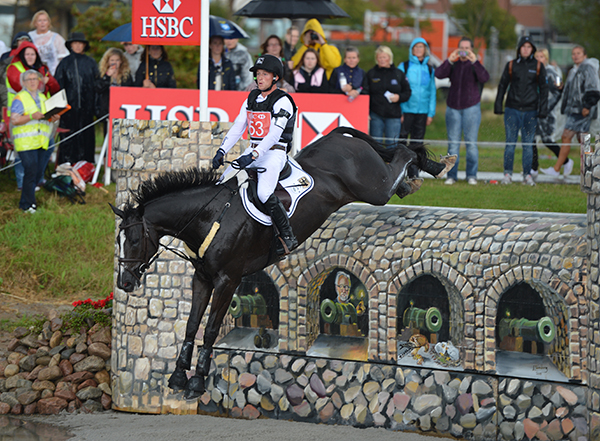 And yet another – Halunke FBW – European Champion 2013
On the 2014 WBFSH Eventing Sires Rankings, Heraldik has slipped to second place with a total of 851 points  with the great Thoroughbred, Master Imp, first with 1023.
In the 2015 Hanoverian Stallion Book, he is recorded with 624 competitors for winnings of €1.212.366, headed by Butts Leon (243,951) and Butts Abraxis (127,438). In the 2016 edition, he has 628 competitors for €1,294,616, with 12 horses earning over €5000.
On the 2015 WBFSH Eventing Sires Rankings, he has dropped to 3rd, with FRH Butts Avedon supplying most points, 222, followed by Halunke FBW on 190.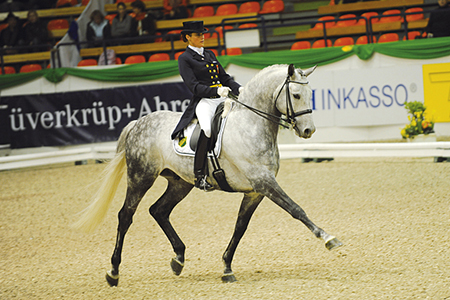 Ekwador and Katazyna Milczarek
The grey stallion from Poland, Ekwador was a consistent performer in World Cup dressage, and in June 2014, was approved by the KWPN. Another son, Herald has had a solid international jumping career and is now at stud in France.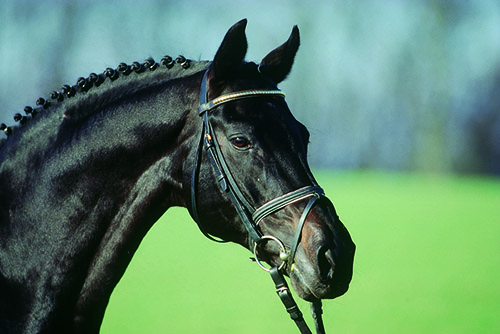 Heraldik xx was licensed with almost every German breed society, as well as the Arabian studbook, the Irish Horse Board and the Swiss breeding association.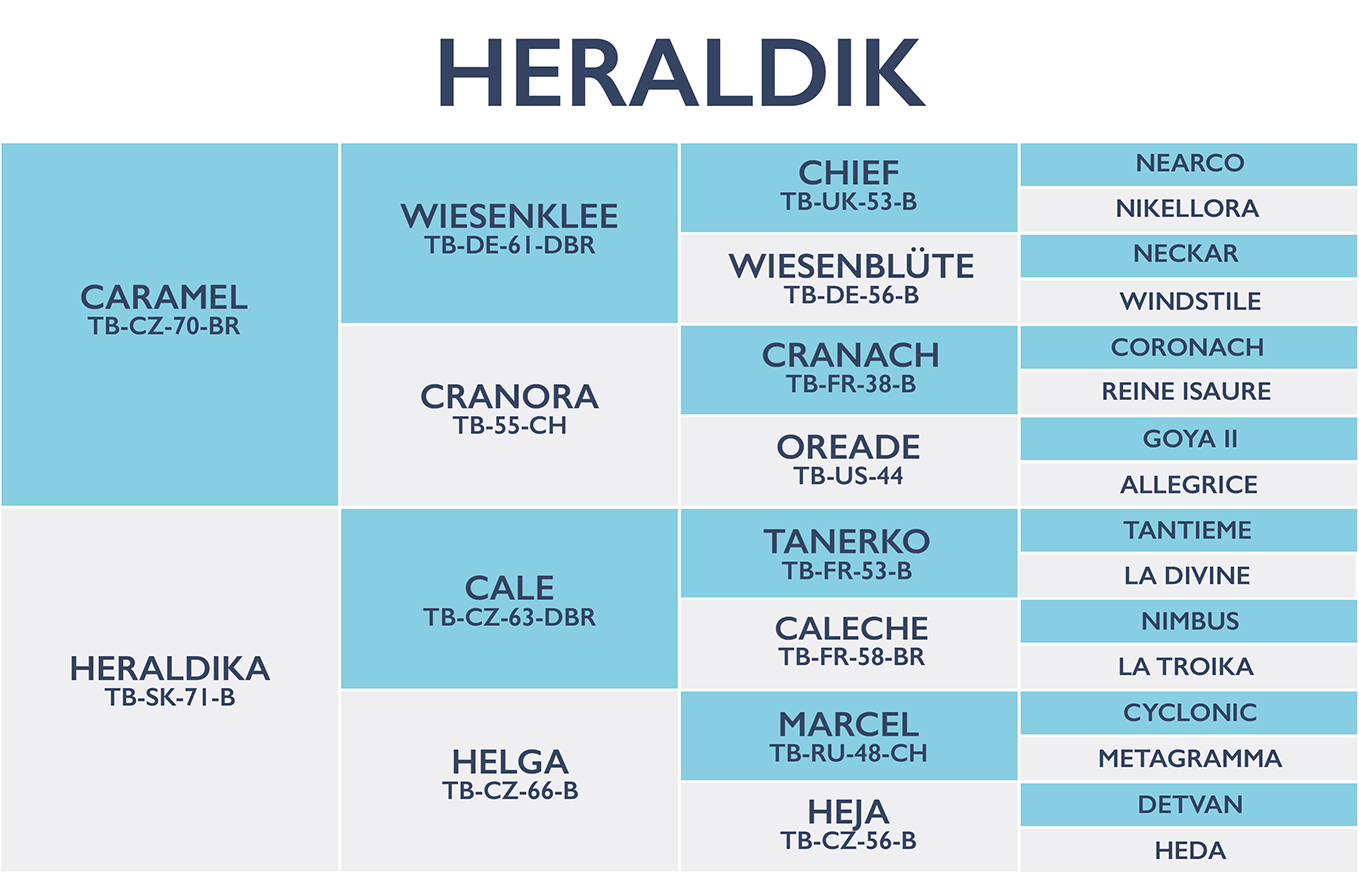 « Back to Great Stallions List