« Back to Great Stallions List
Ferro

1987 – 2005 169 cm Black
Breeder: H. J. Gerrits
Ferro started out in life to be a showjumper but ended up one of the more famous dressage stallions of modern times.
When the Dutch rider Coby van Baalen met up with the black stallion, Ferro was working at Prix St Georges level, but according to Coby: "he was not trained so much. He was also a jumper when he was a younger horse. When he was five and six he was with a Dutch international showjumping rider, but then the national showjumping coach, Hans Horn, said to the owner, 'maybe he could be a very good dressage horse'."
"We started with my trainer, Johann Hinnemann, and now you see the result…"
Innocently I asked Coby if he always showed talent for piaffe and passage…
The question provoked great mirth from both Coby and her trainer Jo…
" I think that is a better question for my trainer." Coby passes that one along…
"It was really difficult to get the movement," says Jo Hinnemann, "He was a very hot and sensitive horse in one way, and in the other way, not sensitive enough to get all the half halts through. That was the difficult part, to get the whole thing together so he listens to the rider and starts to move in a rhythmical way. The only way to do this was to go back to the basics – normal simple work, how you train a young horse. We had to bring his basic movements back, and improve those basic movements."
And Coby, did you think at that time you were riding such a fantastic horse?
"I always believed that Ferro was, and is, a very good horse because he has a very good character, and the power in his hind legs is very good. He is a strong horse. We saw he had a lot of talent for collection, then as Johann says, we worked on the basics, many many transitions until he went better, started to use his back better. The results at the shows in the small tour were very good."
Ferro went on to a sixth place at the 1998 WEG in Rome, and be part of the bronze medal winning Dutch team at the Sydney Olympic Games. Ferro's career highlight was in 2000, when they placed second in the World Cup Finals in 's Hertogenbosch, scoring over 80% for their Kür.
Ferro's dam was by Farn, one of those old fashioned Holsteiners that played such a substantial role in the making of the Dutch Warmblood. The mare – Brenda – was awarded all three mare titles on offer in the KWPN – ster, preferent and prestatie. The mare line goes back to the Hanoverian Prefekt, and one of the old Gelders foundation families.
As a breeding stallion, Ferro has been very successful, producing a number of successful young dressage horse competitors, and the international dressage competitor, Jarwo. He has more than ten licensed sons, including Kennedy, Metall, Negro, Osmium, Paddox, Pyriet, Rhodium and Hilltop Rousseau.
On the 2011 WBFSH dressage stallion standings, Ferro was in 4th, on the 2013 rankings, he dropped out of the top ten, but his son, Negro had moved into 10th place.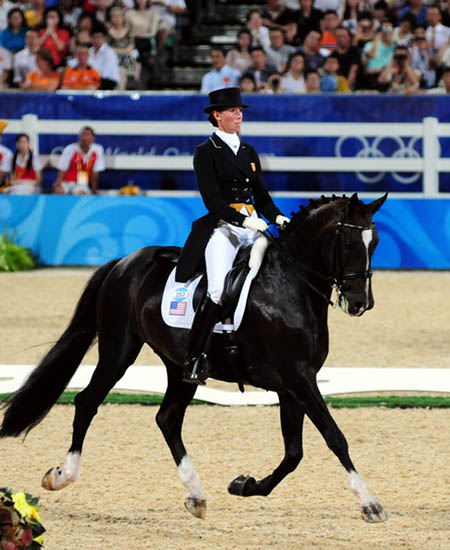 Mythilus and Courtney Dye-King at the Hong Kong Games – Photo Kenneth Braddick
At the 2008 Olympic Games, Ferro was represented by his son Mythilus, in the American Dressage team and Prestige in the Spanish team.
On the 2015/16 KWPN breeding values for stallions with a reliability of over 90%, Ferro is in 11th with a value of 148 (97%) He has produced 2059 progeny over 4, with 684 competitors (= 33.22%).
On the 2015 WBFSH stallion rankings, Ferro is in 7th place with 10 points earners with his standout star, Glock's Undercover with 2686, way in front of the 2nd highest, Goerklintgaards Fanero on 1455.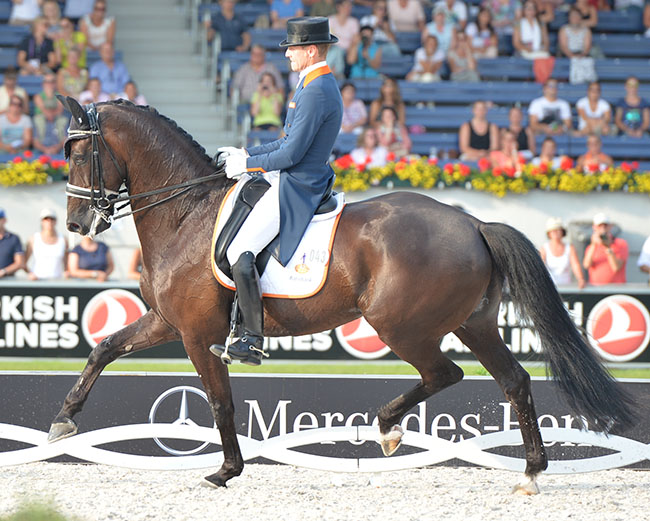 Glocks Undercover and Edward Gal
« Back to Great Stallions List