« Back to Great Stallions List
Robin Z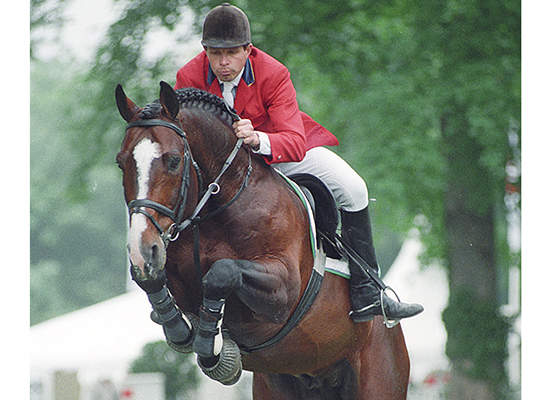 1983 – 2009 167 cm Bay
Breeder: Leon Melchior
While Swedish performance horse breeding in the 60's and 70's tended to concentrate on the dressage ring, the breeders also discovered that there was a good market for jumping horses, and went about finding the right stallions to meet this market.
From Holstein they imported Conte (Cottage Son xx / Marder), Limelight (Liguster / Narciss) and Modesto (Marlon xx / Cromwell); from Hanover – Windwurf (Wendekreis / Wohlklang), Goldgraf (Goya / Bounteous xx) and Grandsudan (Grande / Sudan) and the Furioso II sons, Fasching, Fremoor and Furidant II. They also acquired two Dutch Irco Polo sons – Irco Marco and Irco Mena. But it was at Zangersheide that the Swedes struck gold – Robin Z.
Robin I Z is the 'classic' Zangersheide cross – by Ramiro and out of a mare by Almé, out of a mare by Gotthard – he combines the blood of the three stallions that made the Zangersheide Stud so famous. "Possibly the best stallion I ever bred," is how Zangersheide founder, Leon Melchior described him.
In 1986 he was sold to the National Stud of Sweden at Flyinge, where he quickly became, along with Irco Marco, one of the two most important sires in the development of the Swedish jumping horse.
Robin Z was first leased to Sweden in 1985 along with Aladin Z, and they immediately attracted a large number of mares. "The thinking was so right!" says Jens Fredricson who was responsible for showjumping development at Flyinge, "Those stallions put type and gaits and the temperament needed to our mares."
Robin I Z was himself a winner in Grand Prix Dressage and jumped Grand Prix at an international level with the Swedish team, while at the same time establishing his career as a breeding stallion.
In recognition of his importance in the development of the Swedish breed, he was named Elite stallion, a title rarely bestowed.
Robin I Z's dam Alpha Z, daughter of the foundation stallion Almé has also produced the stallion Robin II Z exported to Denmark and then to France, and an international showjumper, Renatus Z, a CSI winner in Italy and Ascot Z, a broodmare and dam of the stallion Ramalgo Z.
His grand dam Gotin, daughter of the foundation stallion Gotthard, is his daughter with the highest showjumping competition winnings. Under the name of Girl II, she either won or placed in 65 national and international Grand Prix.
Robin I Z was a top international competitor in the Swedish team with Peter Ericsson. He competed at the WEG in The Hague in 1994, the Olympic Games in Atlanta in 1996 and the European Championships of 1995, where he was individually eighth. He was sixth at the World Cup final of 1995 in Gothenburg. Robin I Z is the second most successful horse by Ramiro in international jumping competition, behind the great mare, Ratina Z.
The success of his progeny is remarkable and very quickly Robin I Z established himself as a leading sire of international winners. He was classed as the number one stallion in the world in 1999 with 12 winning products in CSI.
He sired 40 foals that went on to compete internationally. Robin I Z's top performers are Mynta, H&M Butterfly Flip, Wait For Me, Rochette, Regina III, James Bond, Happiness, Roma H, Zarastro, Rebecca B, Velour, Loro Piana Flyinge Garibaldi.
Interestingly three of his top five performers are out of mares of Thoroughbred breeding: Butterfly Flip out of a mare by Moderene xx, Odd Ball out of a mare by Columbian Friend xx and Wait for Me, whose dam is by Fire Ball xx.
Two of his progeny made it to the final round in the showjumping at the Sydney Olympic Games 2000: H&M Butterfly Flip and Mynta.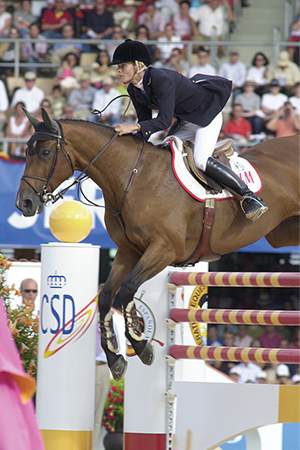 International star – Butterfly Flip at the Sydney Games
These same two mares were also silver team medallists at the European Championships 2001 and again silver team medallists at the World Equestrian Games at Jerez 2002 where Mynta carried Helena Lundbäck into the four way jump off for the individual world title.
Interestingly in France, it is Robin I Z's little brother, Robin II Z who topped the stallion covering standings, with massive 295 mares in the 2004 breeding season! This has led the French breeding expert Bernard le Courtois to suggest that perhaps some of the French breeders think they are using the older brother – since for some time, the French authorities were treating both stallions as the same horse in their registrations!!!
As usual Bernard's observations in the Annuaire Monneron 2005 are insightful and amusing:
"Going by the phenotype, the two brothers are quite dissimilar. The elder one has more strength in his articulations and top line, is maybe more old fashioned in his type, with a less elegant head, while the younger brother is more modern, more distinguished, but built along weaker lines especially as far as his back is concerned. They both have the pedigree that was very popular in the great epoch of Zangersheide breeding, in the 80's and 90's, the crossing of Ramiro x Almé."
"Their grandmother Gotin, a daughter of Gotthard, was a big Grand Prix winner. Some have heard me say that there was 'the good one and the other one' but this is twisting my words. In fact, the elder one, Robin I already had an international production, confirmed at the highest level (products which were silver medallists in the World Championships and the Olympic Games) and Robin II does not (yet) have Grand Prix winning products. It will take another ten years for us to be able to compare the two brothers' production. With their French mares, the French saddle breeders have made their choice, as Robin I Z served 9 mares in 2004 and will not be distributed any longer in France, and Robin II Z served 295 mares and will likely do the same in 2005."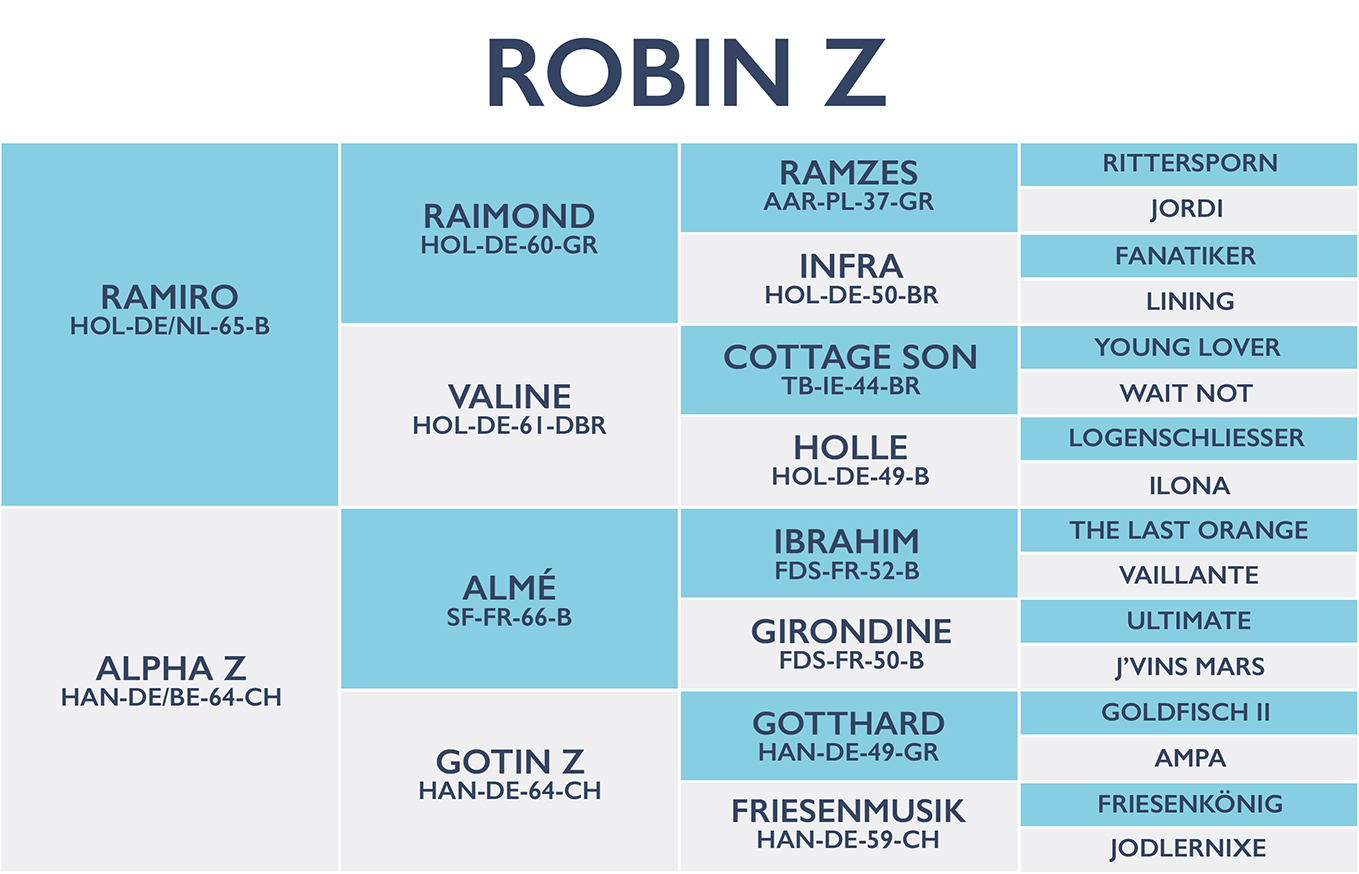 « Back to Great Stallions List