« Back to Great Stallions List
Pilot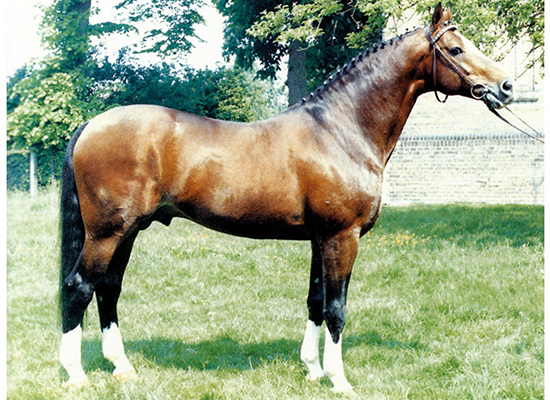 1974 -1991 167 cm Bay
Breeder: Christa Geldbach
Pilot was born into what should have been optimum conditions, at the clinic of former FEI chief vet, Dr Cronau, as his breeder, Christa Geldbach wanted her foal to have the best right from the start. At his first foal show, little Pilot caused a sensation and was recommended for stallion status. His breeder asked Kunibert Munch, the owner of Pilatus, to prepare him for the stallion licensing, and it was here that his difficult temperament became apparent – and even today his progeny have strong difficult characters.
On his dam's side, Pilot is out of Gratia by Graphit by the great Grande. On her dam's line we have Kornelia the daughter of one of the last of the original Trakehners, Keith.
Pilot was purchased by the Westfalien State Stud in 1977, and sent to the breeding station at Sande where the local breeders were not too keen to use him since his reputation for erratic behaviour had preceded him. There was no denying that he was an elegant horse with great conformation, and he behaved well enough at the performance test at Warendorf to finish in 5th – and his foals were wonderful.
But the breeders in the area still didn't want him – but Warendorf director, Dr Gerd Lehmann refused to budge, and the stallion stood at Sande until 1988, and by then the breeders were queuing for his services! Alas they were not going to have him for long.
Pilot was the first showjumping stallion with progeny to earn one million Deutschmarks – in fact by the end of 1999, Pilot progeny had earned a staggering DM6,250,000.
Unfortunately, his career was coming to the end at the height of his powers.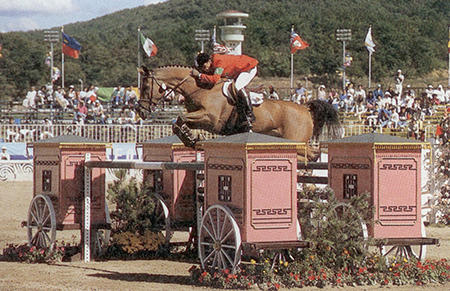 Winning gold for Germany, Pedro and Wolfgang Brinkmann
When his son Pedro was starring with Wolfgang Brinkmann in the gold medal winning German showjumping team at the Seoul Olympics in 1988, the fourteen year old Pilot was already suffering from serious – and mysterious – problems with his back and hips.
Instead of being sent out with the other stallions in the breeding season, he remained 'home' at Warendorf where he was available through AI only. However his fame continued to spread thanks to the exploits of Pirol (Lesley McNaught), PS Priamos, Prinzregent 7 (Norbert Koof) and many others.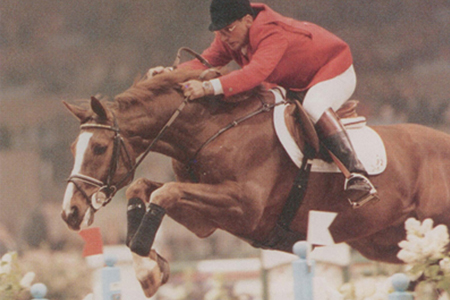 P.S Priamos and Dirk Hafemeister
Sadly Pilot's health continued to worsen and he was put down in early 1991 at the age of 17 with an untreatable hip injury. His influence lived on – literally – due to stocks of high class frozen semen – and as late as 1998, there were two Pilot progeny in the Westfalien foal auction.
As with Polydor we have yet to see the emergence of a dominating stallion son of Pilot, and some of his sons had fertility problems.
One son, Prestige Pilot is the sire of Placido who carried Ulf Möller to victory in the five-year-old dressage horse championship at the 2000 Bundeschampionate.
According to the current director of the Westfalien Stud, Susanne Schmitt-Rimkus, it has been difficult to maintain the Pilot line.
"It is very difficult with Pilot. We have few stallion sons, and they are very difficult genetically, the foals are often a bit small with a lot of white markings. Our breeders love Pilot on the mother line but it is really difficult to get mares for our Pilot stallions. We have some interesting Pilot stallions but they don't get to cover many mares, so there are not many foals, and effectively no sport horses. If a stallion covers ten mares, then next year he has five foals and from these five we have perhaps two who get into the sport, and they may be injured and nothing is left."
"With the Polydor sires we had the same problem but the competition program with Potsdam for example helped him very much. Potsdam is now one of the most used jumping sires we have, with good numbers of mares, so he will have many youngsters entering competition, and they have to show if Potsdam is a successful sire. We know he is a successful sporthorse, but he has to prove the other. In the first years of his career as a sire he has had many mares, but the problem is again to find the right mares for this stallion. It is a bigger problem with Gralsritter, because he is a rather special stallion, he is not so big, has not such long lines, so we need special mares who are elegant with long legs for him. But Potsdam is not so complicated in the partnership for a mare. For us it is not just to get many more mares, but also to get the right mares."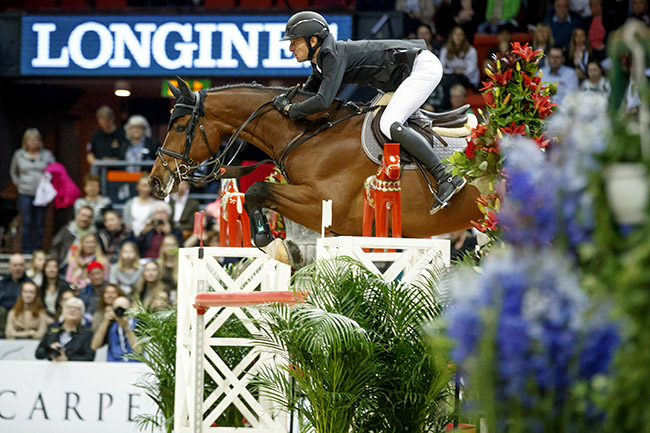 Pilot continues to be an enormously valuable sire of broodmares – with winner of the 2016 World Cup final Corbinian is by Cornet Obolensky out of a Pilot mare
Pilot was also influential in The Netherlands, through his son, the KWPN stallion Epilot (x Dixi by Direx), who died in November 2007 at the age of 21. Epilot won the six-year-old class at the Bundeschampionate in 1992, ridden by Franke Sloothaak. He went on to compete internationally with Franke and later, Peter Gerink.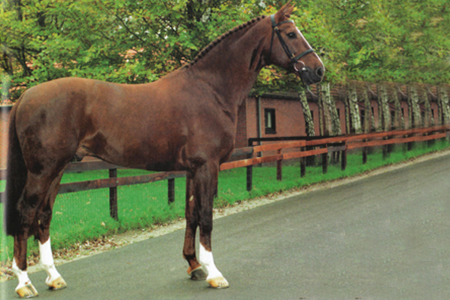 The Dutch son, Epilot…
As a sire, Epilot produced: P-Pilot, Nashville, Magic, Menia, Epilot Nanno and Jollypop. His son, No Time was World Young Jumping Horse Champion in 2001 and 2002 with Peter Geerink. His son, Jupilot is approved for the KWPN, and he is represented in other studbooks by My Björn W, Nobility and Opilot.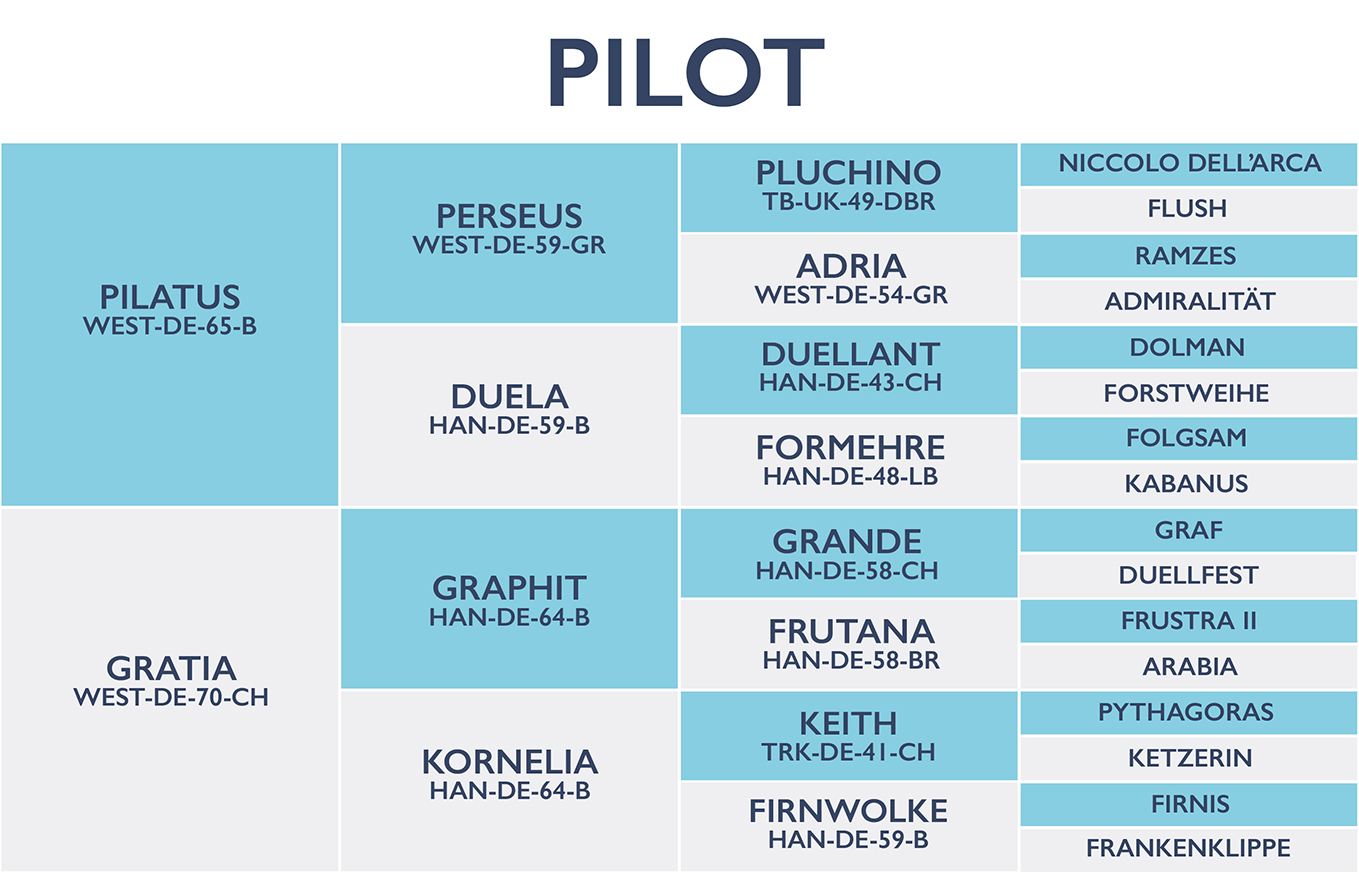 « Back to Great Stallions List