« Back to Great Stallions List
Le Tot de Sémilly

1977 – 2009 167 cm Chestnut
Breeder: Jules Mesnildrey
Stood at Haras de Couvains
The fantastic success of the French all-stallion showjumping team at the 2002 WEG in Jerez put the focus back very firmly on French blood and none was more representative of the Selle Français heritage than Le Tot de Sémilly.
Like so many stallions Le Tot de Sémilly is bound up with the fortunes of one horse breeding family – in this case, the Levallois family. The man who 'made' Le Tot de Sémilly is Germain Levallois, whose father before him, Louis was also a stallion owner and horse dealer between the wars. However M. Levallois senior, dealt in work horses not showjumpers, mainly selling Normandy Cobs. After the war, the trade shifted away from agriculture. According to Germain Levallois:
"The farm horses went to the butchers by the truck load. The farmers kept only the most luxurious types to breed hunters. That was the first step towards the riding horse. Horses that displayed a great aptitude for hunting laid the basis for the Anglo-Norman horse." (quoted by Pascal Renauldon, in Z magazine, Feb/April 2000)
Germain's advice was often sought by breeders in the Saint-Lô region, and when Jules Mesnildrey was looking for a brood mare, Germain found him Venue du Tot. The mare has a double cross of the great Thoroughbred, Ultimate. Her sire is a son of Ultimate, while her dam is a grand-daughter.
Ultimate was born in 1941 and arrived in Saint-Lô in 1946. His main influence in the male line is through his Selle Français great great-grandson Grand Veneur (1972). However, of far greater importance to modern showjumper breeding were Ultimate's many daughters, most importantly Girondine, the dam of Almé and grandam of Quastor. Thus his name can be found in the pedigrees of thirteen of the 100 leading show jumping sires of the 1990s. The 1990 World Champion Quito de Baussy (1982) was inbred 3 x 4 to Ultimate, while Le Tot de Sémilly (1977) is inbred 3 x 4 x 5 to him.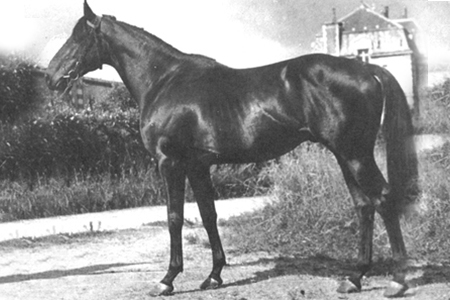 Ultimate – still a hugely influential sire 
The following leading show jumpers descend from Ultimate in four or less generations: Apricot D (1984) ZwB, Olympic team Silver; Ashley (1988) Selle Français, leading showjumper; Baloubet du Rouet (1989) Selle Français, triple World Cup winner; Galoubet A (1972) Selle Français, World Championship team Gold; I Love You (1974) Selle Français, World Cup winner; Ideal de la Haye (1974) Selle Français, World Championship Bronze; It's Otto (1986) KWPN, World Championship team Bronze; Norton de Rhuys (1979) Selle Français, World Championship team Gold; Otterongo (1991) BWP, European Champion Silver; Quidam de Revel (1982) Selle Français, Olympic team Bronze; Quito de Baussy (1982) Selle Français, World Champion (inbred 3 x 4 to Ultimate); Ratina Z (1982) Hanover, World Cup winner and Olympic Silver; Razzia du Poncel (1983) Selle Français, Olympic team Bronze (inbred 3 x 4 to Ultimate); Rochet M (1983) Selle Français, Olympic Bronze and European Champion; Rocco (1983) Selle Français, World Championship team Silver and Roxane de Gruchy (1977) Selle Français, World Cup runner-up. (I am indebted to the article, The Thoroughbred Roots of Modern Show Jumpers on the website www.tbheritage.com for this list.)
Germain Levallois makes the point that when he selected the filly the fashion in horse selection was rather different: "She looked very much like her dam and in those days one paid more attention to the conformation of the dam than they do now, when one is relying too much, I think, on genetics and indices. I always bought my horses for their conformation, their suitability, their balance and movements, and I have never changed my views. I am not against indices, but it is just one piece of information among many other important aspects. If I buy a colt, my main criterion is: is he an athlete?"
As the sire of her fifth foal, Jules Mesnildrey chose Grand Veneur, then a young stallion and standing at nearby Marigny.
Germain Levallois purchased the Grand Veneur foal out of Venue de Tot and christened him, Le Tot de Sémilly, and gave him to his son Eric to ride.
"With hindsight he was far too young for a horse like that. Le Tot was a powerful horse, but they grew together. From their first season together, the whole world wanted to buy the stallion, the Federation, the Americans… He had a superb foreleg technique. He had steadily grown into his work, without interruption." (again from Pascal Renauldon's article in Z magazine).
Together the pair made their names in the sport. They won 22 international and 63 national Grand Prix between 1988 and 1991, and almost €200,000 in prizemoney. He was the first French horse to be sponsored by the French Federation. At the age of seven, he was a member of the gold medal winning French team at the European Young Rider Championships, and placed fourth in the individual standings. The next year, he was second at the Nations Cup in Hickstead, and as a nine year old, was second in the Wiesbaden CSI Grand Prix, won the Bois le Roi Grand Prix and finished third in the Gijon Grand Prix and Nations Cup. When he retired in 1991, he had won 183,000 euros.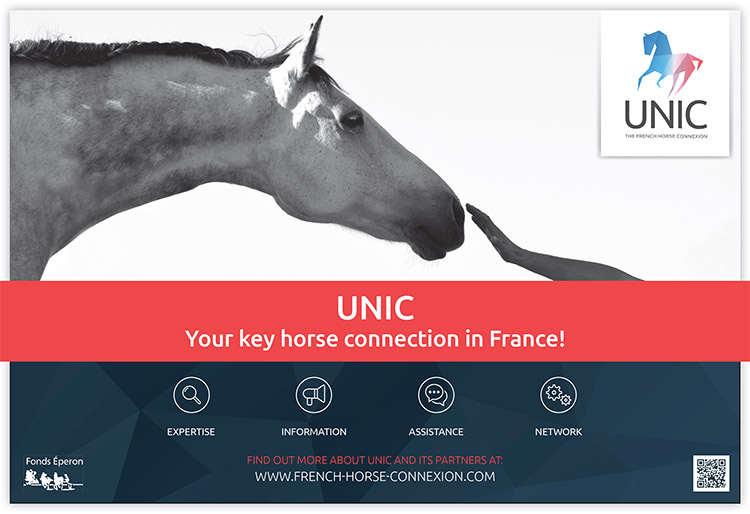 Le Tot de Sémilly did not commence his breeding career until he was eight years old, but once started he slowly gained popularity. Right until his early 20's, he was serving 100 mares a year – the maximum allowed by the French breeding authority – and in 1999 he was judged one of the 30 best stallions in France and the number per year increased to 150. Amongst his mares, we find Weihaiwej, Franke Sloothaak's blue eyed jumping star who visited him in 1999. Even in season, 2006, at the age of 29, Le Tot still covered 71 mares to be the 48th most popular stallion in France.
International competitors by Le Tot de Sémilly include: Michael Whitaker's Ashley, Fabrice Dumartin's Coppelia de lÉpine, Rodrigo Pessoa's Gandini Fidji du Fleury. Bolero de Brécey HN, Héloise de Sémilly (who represented Australia with Jeff Bloomfield at Jerez), Dohitzun Guernica, Étoile du Château, Fétiche du Pas, Fidélio de Ravel and Elkintot (who represented Italy at Jerez).
According to Germain, Le Tot has improved on the conformation of the products of Grand Veneur: "I have never heard anyone say that Le Tots use their back wrongly. They have very supple backs. Admittedly there are Grand Veneur products with a slightly weak back, long and stiff, and that was a problem. But you don't see that in Le Tot's offspring."
At the 2003 Finals in Fontainebleau, Le Tot de Sémilly, with 29 competitors was second only to Narcos with 33, in terms of representation, while his son, Diamant de Semilly was equal third with 28 of his progeny making the finals.
On the WBFSH jumping stallion rankings for 2007, Le Tot de Semilly was in 15th place, by 2012, he had dropped to 65th but made something of a re-emergence in 2013, rising to 40th, largely on the basis of points earned by Itot du Chateau and Picsoudu Chene…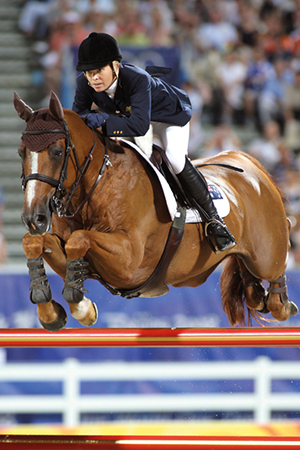 Edwina Alexander and Itot de Sémilly – by Le Tot de Sémilly out of a Galoubet mare
In the survey of the world's top 75 jumping sires that appears in the French publication, Monneron 2007-2008, Le Tot de Semilly ranks 11th with 11 CSI winners. His best son, Diamant de Sémilly comes in at 65th with 5 winners. Le Tot de Semilly is ranked 15th on the WBFSH Stallion rankings for 2007.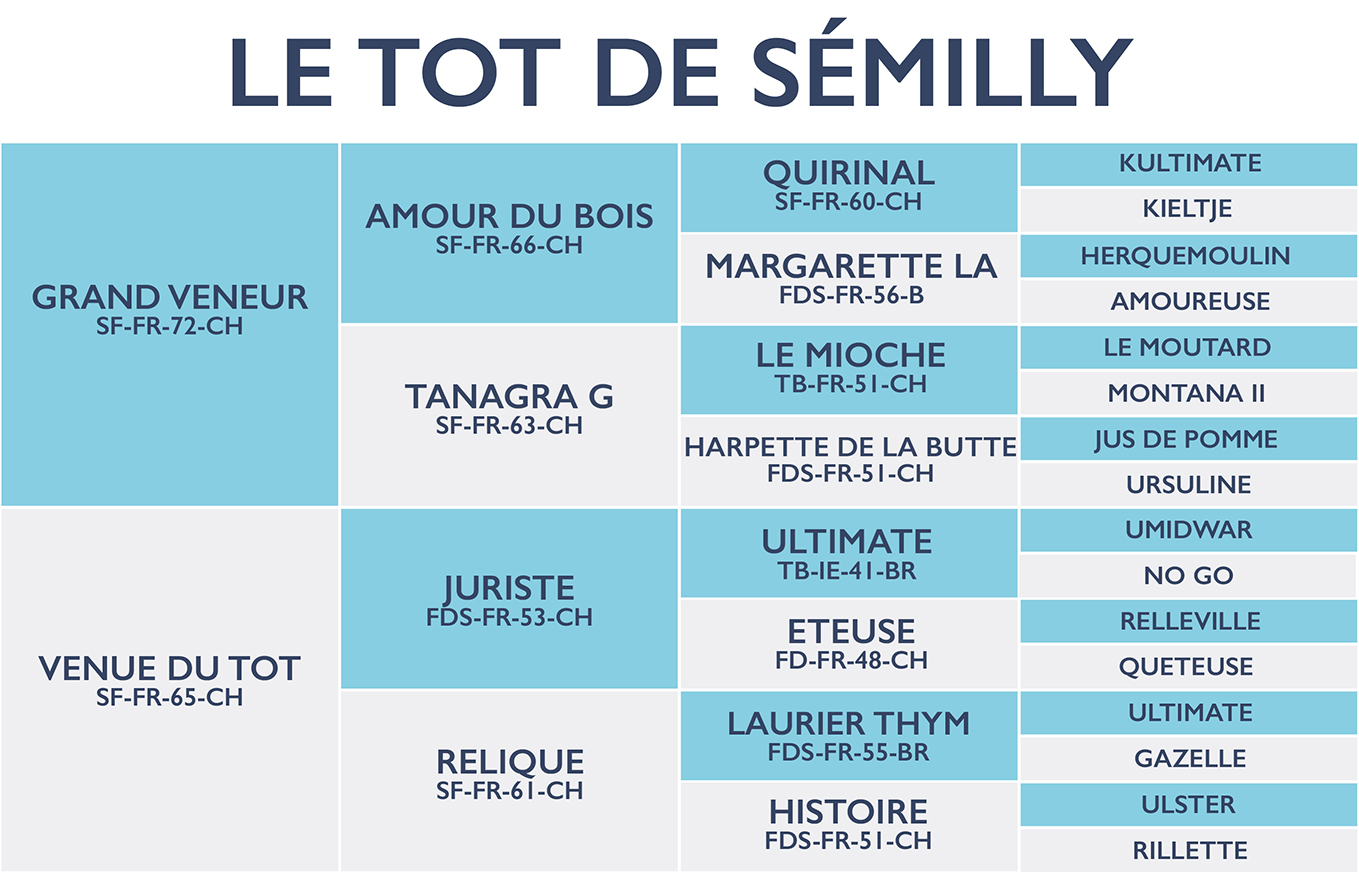 « Back to Great Stallions List