« Back to Great Stallions List
Bolero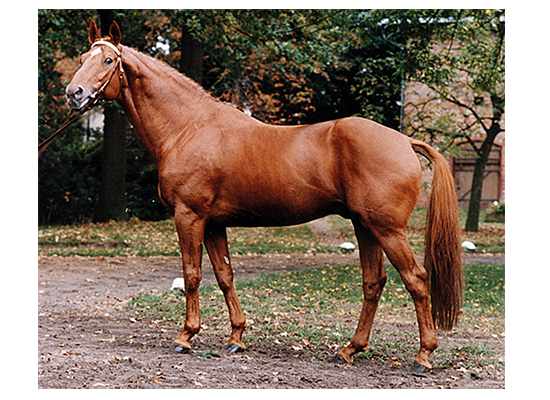 1975 – 1987, 16.11/2. Chestnut
Breeder: Heinrich Behmann
Stood at Landesbrück 1979 until his death from heart failure in 1987 at the age of 12.
Bolero was one of the new dressage sires in the Hannoverian studbook, with his abundance of Thoroughbred blood contributing to the elegant quality of his descendants. Actually his breeding was officially prohibited by the Hanoverian Stud Book regulations of the time, which regulated against the breeding of a mare by a Thoroughbred to a Thoroughbred stallion.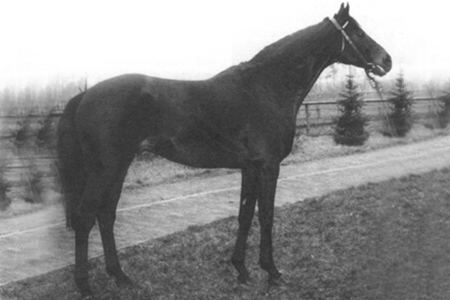 The Thoroughbred stallion, Black Sky
Bolero was by the elegant English Thoroughbred, Black Sky, imported to Germany in 1972. Black Sky's grand-sire Djebe was a son of Djebel, sire of the great stakes winning sire, My Babu, who when exported to the United States established a winning line of hunter/jumpers.
Black Sky stood at the private stud of Schmidt-Ankum, where he was somewhat in the shadow of Cardinal xx. Black Sky's progeny were always very rideable dressage horses, but with no jumping ability.
Bolero's dam, Baroness is by another English Thoroughbred, Bleep (described as 'unusually large framed for a Thoroughbred') who traces on her dam's side, to Hyperion and then of course to Bay Ronald. Her dam's sire Athos was regarded as a good sire of dressage broodmares. The dam line, Athos-Fliegerstern also produced the popular sires, Grenadier (Celle State stallion) and Hitchcock (Celle and Radegast state studs) as well as the private stallion, Winner.
At his performance test, Bolero performed only moderately, placing 6th out of 30 stallions in his 100 day test at Adelheidsdorf with a score of 111.
In his lifetime Bolero was a useful sire in a career cut short far too quickly, but he is now proving a wonderful sire of broodmares. He was stationed Landesbrück where he clicked with the daughters of Grande and Duellant.
In his nine seasons at stud, he sired 47 licensed stallions, including the champion of his year, Buenos Aires. His most influential stallion sons have been Brentano II and Bismarck. His son Beltain was the sire of the Champion Six year old horse at the 2005 Bundeschampionate, Bellissimo.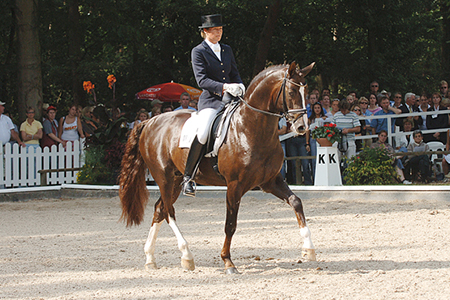 Belissimo M is by Beltain who is by Bolero and out of one of Dr Schulz-Stellenfleth's foundation mares, Ganseliesel (Grande-Marcio). Belissimo was a star at the Bundeschampionate and is now producing exciting young stock
Licensed sons include Bacardi, Bacardi Dry, Bacchus I and II, Balou, Banter, Barbarossa, Baryshnikov, Batavio, Batido, Batum, Beauvalais, Beethoven, Bellini, Beltain, Belucci, Bergkristall, Biagiotti, Biathlon, Bismarck, Bogenshütze, Boheme, Bold Grande, Bolero Son, Bolino, Bolschoi, Bon Bonaparte, Bonsoir, Bordeaux I and II, Borneo, Borodino, Brutus, Boroschino, Boruschkin, Boss, Brandenburg, Brentano I and II, Brilliant I and II, Bruderherz and Buenos Aires.
Bolero was the sire of 316 registered broodmares, of whom 98 were awarded State Premium status. The mare Baccarole was the Champion mare at the Louis-Wiegels Show in 1989, and European Champion mare at Brussels in 1990. Baltengracie was again Champion of the Louis-Wiegels Show in 1991.
Bolero sired three winners in the three year old Riding Horse class at the Bundeschampionate: Boruschkin (1984), Bini Bo (1987) and Bocaccio (1988). All three went on to advanced level dressage. The gelding son, Borsalino was a successful Grand Prix horse with Heike Kemmer, while another son, Bossanova looked sensational in Grand Prix classes with Anna Merveldt-Steffan before his untimely death.
As of the year 2002, which was the last year he appeared in the Hanoverian Stalliion book, Bolero was represented by 417 competition horses, with collective winnings of DM1,418,273.
There were 16 horses that had won more than DM20,000 in dressage competition. The most successful was Boney M with DM206,710, followed by Borsalino (DM194,680), Bini Bo (DM55,374) and Beauvalais (53,385).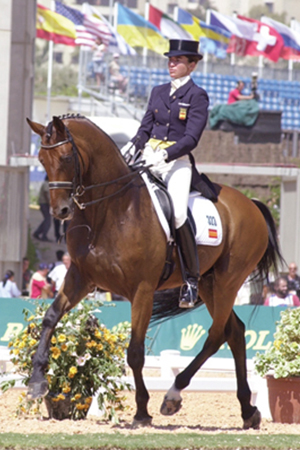 Beauvalais, ridden by the Spanish rider, Beatriz Ferrer-Salat, won the individual silver medal and team bronze at the 2002 WEG, and the team silver and individual bronze at the Olympic Games in Athens, 2004.
In the calculation of breeding values on the basis of the Hanoverian mare performance test, Bolero daughters give him a dressage ranking of 137 – as against a not unexpected 58 for jumping. He was scored highly for type – 165.
Bolero's sudden death at the age of only 12 reduced his chances to shine as a breeding sire, but nowadays, his line has achieved renewed prominence, thanks largely to the efforts of Bellisimo and Breitling, and now the promising sons of Breitling, Burlington I and II and the Burlington I son, Bodyguard.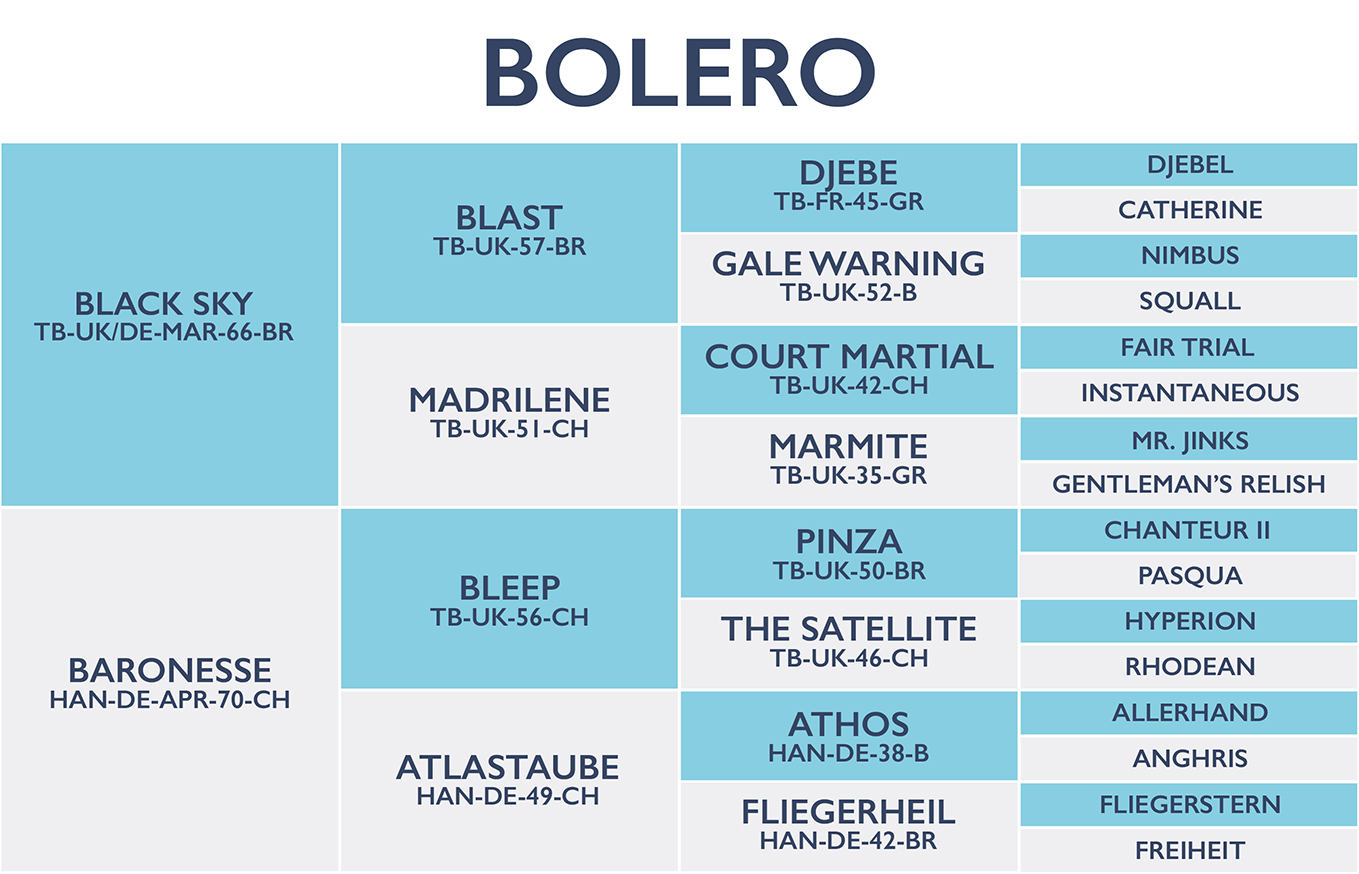 « Back to Great Stallions List