« Back to Great Stallions List
Gotthard

1949 – 1978 16.11/2 hh Grey
Breeder: Richard Kords
Gotthard almost didn't make it as a stallion – he really doesn't look that appealing as a younger horse… although his offspring do on the whole look much typier than their dad. There is even a rumour, that when the demand for Gotthard was great, way back in the days when stallions actually jumped their mares, the local stallion keeper occasionally used his second stallion, a chestnut Trakehner in his stead. Don't laugh –there are serious questions as to the ancestry of several of the more important sires that were crucial in making the modern Warmblood.
Even though Gotthard never really established a stallion line, it is impossible to ignore him, there are just too many influential modern stallions with Gotthard on their dam line to leave him out – and also he was a great producer of top-level competitors.
For seven years Gotthard was the leading sire of showjumpers in Germany. During his time he sired over 34 licensed stallion sons – the most highly rated of which was Goldberg who was based in Westfalia for only four seasons. In Hanover, Gardestern I was the most important, while the private stallions, Goldpilz, Goldstern and Godehard were all influential in their day. More recently his great-grandson, Grosso Z has emerged as perhaps his most interesting heir.
Gotthard was the sire of international showjumpers: Goya, Goldika, Gonzales, Galipolis, Queensway Big Q, Goldfink, Golden Gate, Graf Sieno and Graf 2. Gotthard's son, Genever sired Genius, the World Cup Showjumping Champion of 1992. Another son, Goldpilz is the sire of John Whitaker's Gamon.
Gotthard has also been influential as a broodmare sire, and he was responsible for 25 States Premium mares.
World Cup winner, The Natural (by Diskus) is out of a Gotthard mare, and Voltaire, the hugely influential Dutch based Hanoverian jumping sire, was similarly out of a Gotthard dam. Indeed Gotthard mares formed the basis of Léon Melchior's Zangersheide stud, then studbook, of jumping horses.
Gotthard's progeny were wonderful jumpers, but were rather stiff and untalented for dressage.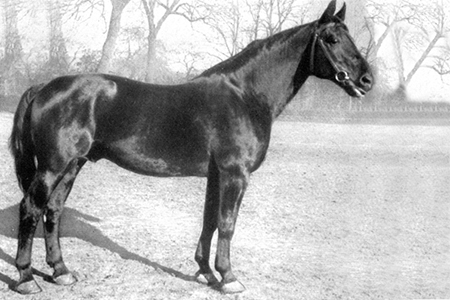 Goldfisch II 
Gotthard was by Goldfisch II who was the sire of nine licensed stallion sons and who is the grandsire of another great, Grande. Goldfisch II descends from the nineteenth century Thoroughbred sire, Goldschaum. Goldfisch II had a reputation for producing beautiful horses and good movers, yet neither of his most famous sons had exceptional conformation – Graf was a small chestnut, like his son Grande, while Gotthard was not the most elegant of horses.
The great breeding expert, Werner Schockemöhle in his text, Die Grossen Hengste Hannovers, described Gotthard as 'lucky' to be accepted into the stallion ranks at Celle:
"At the time he was not really ready. He looked weak and lacking in his expression – he was not developed sufficiently in the shoulder and in the formation of his neck. No one could guess at the time how lovely and expressive the horse would be ten years later. The fully matured Gotthard impressed through his perfect shoulder and his perfect neck, and even his head could be classed as nice – even though he had a few too strong cheek bones from his Arabian ancestry, otherwise the head was clear and dry with a wide forehead and a lovely big eye. His croup could have been a little longer and a little bit more sloped in the top line. His hind legs were quite good but you have to admit that his hocks could have been better."
Gotthard was bred on the famous farm of Richard Kords in Achthöfen, where the stallion brothers, Lugano I and II were also bred. His mother Ampa is by the grey Amateur, who not only gave Gotthard his colour, but also his athletic ability. Gotthard's grand-dam, Amelline H 31766 was by Altlobitz, who stood 1.69 cm and influenced the size of Gotthard offspring.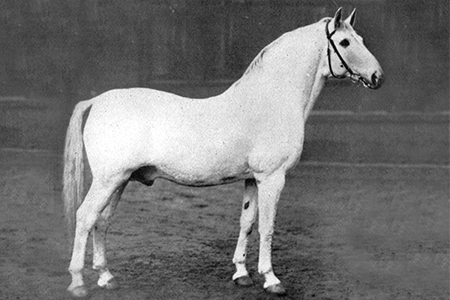 Amateur
On his dam's sire, Gotthard descends from the Shagya Arab line of Amurath – also on the dam line of another influential sire of jumpers, Ramzes. Amurath was born on the Austrian state stud of Radautz, and stood at Celle from 1902 to 1918, where he sired eleven Hanoverian stallions, before he left for Neustadt-Dosse.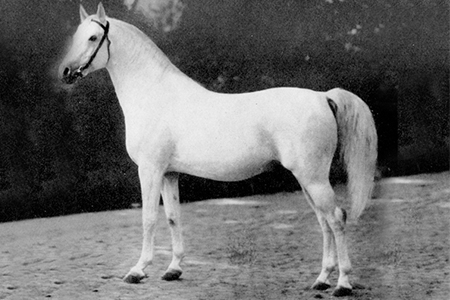 Amurath
The Shagyas trace back to the original Arab Shagya who was imported to Hungary in 1836 where he was bred over a very diverse mare band that included representatives from Holstein and Lipizza as well as Siebenbuergen and Moldau. The stallion spearheaded a breeding program to produce an elegant riding, driving and workhorse. It soon evolved into its own breed: the Shagya, described by Gerd-D Gauger in his article, Not A Vain Illusion (The Hanoverian, August 2001) as:
"An ideal proportioned horse with good lines, not quite in accordance with the often glorified beauty ideal of the original Arab, but still all-over clearly influenced by Arabian blood which overpowered its mixed roots."
When he was approved in 1951, Gotthard seemed short framed, insignificant and stocky and it is not surprising that he was not particularly popular, indeed he was put over all sorts of mares, including cold bloods – his daughter, Goldpuppe who was a successful S level jumper, was out of a cold blood. He was even bred to Norwegians.
Gotthard spent his first breeding season – 1953 – at Beversted, near Bremerhaven. For the next two years he was stationed at Langen before he returned to Celle where as a seven year old he was a 'reserve' stallion – this group of stallions waited for one of the other stallions to be injured or unable to breed, then one of them would go to take his place. For four seasons, Gotthard was on the reserve list.
In 1960 he was sent to Hänigsen, but was not well accepted by the breeders. In 1961, he went to Wilstedt before being sent back to Hänigsen in 1962.
So at the age of 13, Gotthard had nothing to show to indicate his worth. Even in 1966, when he was 17, his offspring had won only DM1,681 – while stallions like Ferdinand had earnings of DM43,500, Agram of DM37, 000 and Duellant, DM33,700.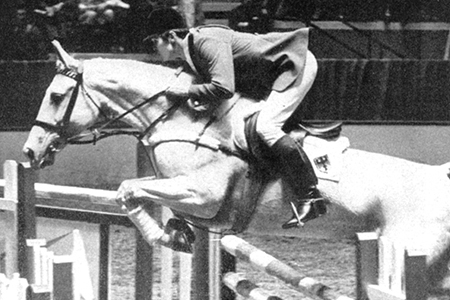 Goldika 
It was not until 1970 when his daughter, Goldika (out of a Mecklenburg mare with no papers) started her sensational jumping career with Gert Wiltfang that the breeders found him attractive. That year, Goldika won a total of 17 'S' classes, including three Nations Cups!
Gotthard, the great sire of competition jumpers, was finally recognized – he was to produce over fifty horses that went on to compete internationally and when in 1975, a list of top stallions was published, Gotthard was number one in terms of prize money. Eventually his competing progeny numbered 398, with earnings of almost two million deutschmarks.
Gotthard's influence as a brood mare sire, can be seen in the career of his daughter, Goldret. The grey mare was out of an un-named mare by Friesenkönig, out of another un-named mare by Franz. A son-in-law of the mare's breeder, Otto Fricke described the Franz mare to Jo de Roo, the author of the article: Zangeresheide Sport Mare Lines Part X: The line of Goldret (Z magazine, August 2013).
"She only stood about 153 cm. Together with a small gelding she was used on the agricultural farm of my father-in-law. Her dam was an East Prussian mare who ended up in West Germany after WWII. The explanation for the fact that the Franz daughter was a grey can be that there were several Arabian stallions active in East Prussian breeding."
Goldret was sold to Zangersheide, and acquired the obligatory 'Z' tagged on her name. She was a welcome acquisition, according to stud manager, Alex Korompis, she was "a tall, long-lined, correct, very modern grey mare with a very fine upper line and a square conformation. I give her a 9/10 for conformation. And if she were still alive today, she would not double, still score high with her model. Unlike most Gotthard daughters, who radiate toughness with a male aspect, Goldret Z looked very feminine." (the quotes are all from the Z magazine article).
Bred to Ramiro, Goldret produced Renomee Z, who was licensed in the Holstein studbook. His daughters can be found on the pedigrees of the stallions, Douglas and Silverstone.
Goldret was then bred to Almé, to produce Adoret Z, who was sold to the Belgian stud, Van de Helle, and they in turn sold her to Bernard le Courtois in 1989. Adoret was a gold mine at Bernard's Brullemail stud.
Bred to the Thoroughbred Laudanum, she produced Chergar Mail, a licensed stallion and an international jumper with Philippe Rozier – they were members of the French team that won the Nations Cup in Rome in 1999.
Two years later, Adoret – again bred to Laudanum – produced the filly, Elvira Mail. Bred to the American Thoroughbred, Hand in Glove, she produced Jaguar Mail, who competed at the Beijing Games for the Swedish showjumping team, and is now shaping as a leading sire of Eventers.
Bred to Calvaro, Elvira Mail produced Katchina Mail who competed internationally with Patrice Delaveau – at the World Cup Final in Geneva and the WEG in Lexington.
In 1993, Elvira Mail's full-brother, Ferger Mail was foaled. After a successful showjumping career, the stallion was sold to the Mexican, Alfonso Romo, and re-named, Chapultepec la Silla. He in turn sired a string of international jumpers.
Bred to Hand in Glove xx, Elvira Mail produced Hoggar Mail who was the 6-year-old champion of France. He enjoyed success with Penelope Leprevost before he was exported to Argentina in 2007. He died three years later.
Gotthard may not have established a stallion line, but through mares like Goldret, he had a crucial rôle in the shaping of the modern performance horse.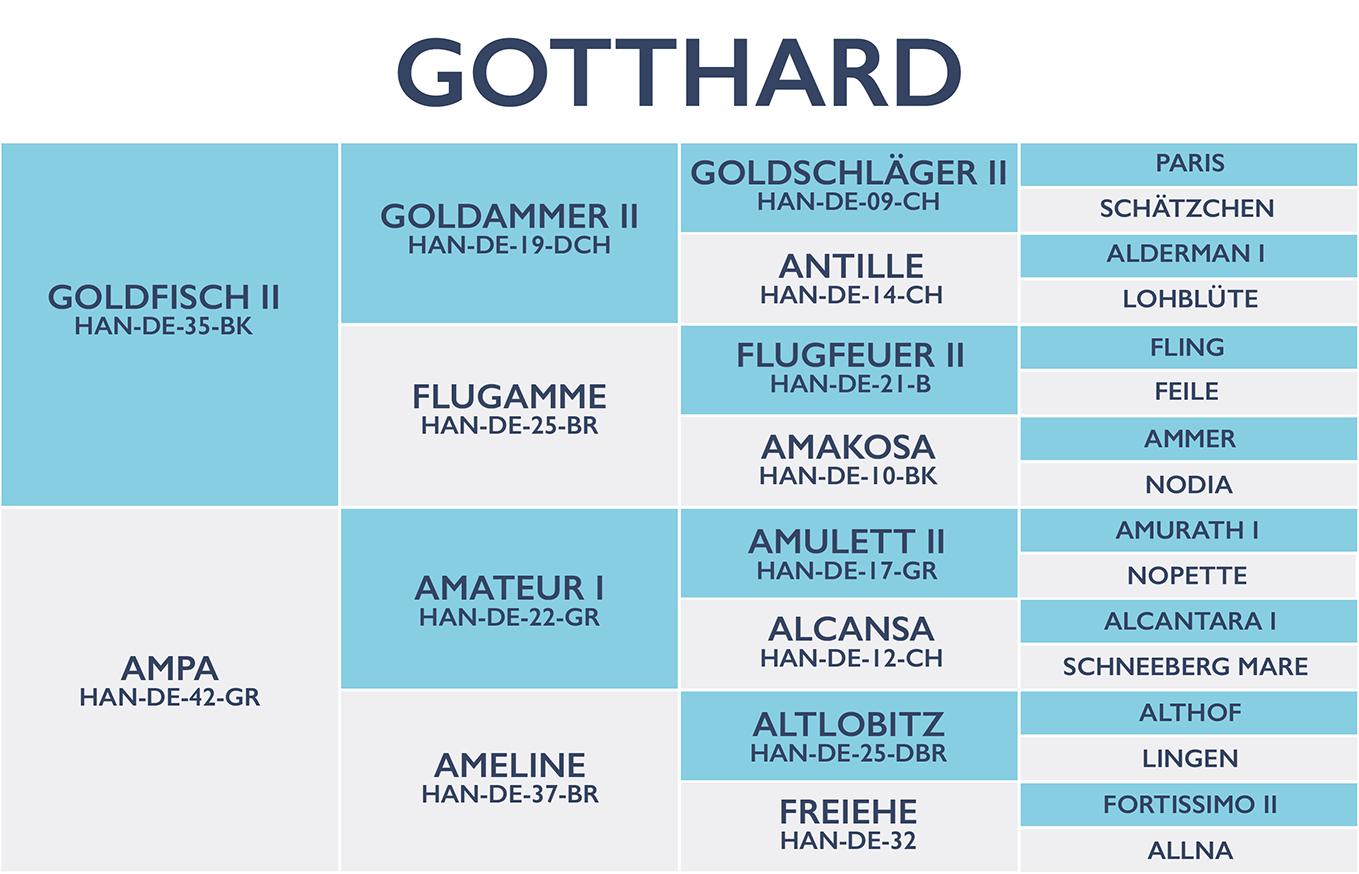 « Back to Great Stallions List