Our guide is again Joao Ralao Duarte, the Secretary of the Lusitano Breeders Association. Joao grew up in his grandfather's riding school in Lisbon, introduced the sport of horse ball to Portugal and is now passionately involved in promoting a new equestrian sport – Working Equitation.
When the narrowly American 'sport' of reining bought its way into the FEI ranks, I pointed out that a wider working horse based sport could easily be found that would offer participation for all those countries with a tradition of working cattle on horseback. In working equitation, you have just that – a competition that requires the skills of dressage, speed and agility, total obedience, and the ability to work a beast.
I guess 'cowboy' is not necessarily the first thing you associate with the Italians (then again, think of their boots) but it was they who first came up with the working equitation format back in 1996 Since then the sport has flourished and Portugal is to host the World Championships later this year.
Joao is uniquely placed to explain the new equestrian discipline:
 What is working equitation?
"It is a way of trying to bring into the competition arena, the riders who use the horse in their daily work with cattle. It started with Italy, France, Spain and Portugal – countries that still use the horse in the country. But we are trying to make it grow bigger. We have sent some trainers to Brazil, to Mexico, to England, and we now also have Belgium and Sweden, and we would like to have Australia."
"Working equitation shows the culture of the country, so each country sould use its own equipment, the bit, the saddle, they use in their work. It is important that it shows different ways of riding horses, different cultures, which is very interesting for the public. It is a competition that has four stages. The first is dressage in a 40 x 20 arena– they can only use one hand on the reins. They only use the working gaits – walk and canter, not trot. The movements are the pirouettes, the half passes, the flying changes – singles not sequences."
"Then the second part is manoeuvrability, in the arena they do exercises that they need in the field, for example, open the gate, pass over a bridge, jump over a straw bale, stay near a table and drink a glass of water, down a corridor, touch a bell and come back."
"The third stage is speed – more or less the same obstacles, but at speed. The fourth stage is a team stage, where three riders stay behind the line while a fourth takes one beast out of the herd and gets it to the other side. The team that does it quickly, gets the best score."
"This mix of dressage, or the classical way of riding with gymkhana, with cattle work, means that you need a very good horse. This is important to us because we think there are a lot of riders who don't want to do traditional dressage, they can compete at a high level in working equitation but still play and be happy."
You are holding the World Championships in Portugal this year?
"In the last weekend in October. These will be the second World Championships – with Italy, France, Portugal, Spain, England, Belgium, Sweden, Mexico and Brazil. We think that it is a sport that can grow. We have already formed the World Association for Working Equitation and we hope to become a member of the FEI."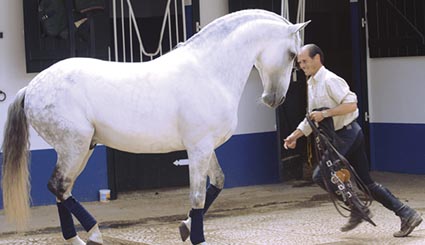 European Working Equitation Champions, Pedro Torres & Oxidado at home
Later we travelled to the Quinta da Marinha Riding Club, to meet Pedro Torres, the current European Champion of Working Equitation, and his top horse, the stallion Oxidado – who also happens to be by the same sire as Portuguese dressage star, Oxalis. Again it was a magnificent complex with horses and riders all over the place, and each little group of stables forming a neat little square. Pedro let Oxidado out of his stable – no bridle, no halter –the stallion just standing there while they put on bandages.
Then Pedro started playing a game with the horse, a game of chase me, which soon became a game of cutting, then the stallion added an unexpected twist, he charged out the stable yard and out onto the huge grassy field, galloping and bucking, having a great time. Up the far end to terrorise the guy trying to practice his dressage test on a chestnut gelding. Boring. Off on another circuit to see what fun can be had…
Finally, Oxidado is returned and saddled and we see a fabulous demonstration of the skills involved in this exciting event (On my return to Australia I contacted the Australian Stock Horse Society to tell them what a super opportunity Working Equitation presents to show their breed to the world. The marketing manager is on the case…)
Pedro Torres is a beautifully tactful rider and the stallion tosses off effortless flying changes and wonderful pirouettes before cantering sideways along a pole or dashing off to jump a little fence.
I caught up with Pedro after he had finished riding and found that he was also competing in Grand Prix dressage:
"First I started in dressage, and then working equitation, and now both."
Are you using basically the same training techniques for both?
"I think in the base it is the same. Working Equitation has a dressage test too and the basics are the same. Working Equitation has obstacles, so you have to work like a jumper, you have to work like a bull fighter – there are many things and styles, but the principles are the same as dressage."
The cattle work – is that difficult?
"You need practice, you need to understand the cattle, the movement, the distance, but for a Lusitano it is not difficult because he is a horse normally used to working with the cows."
Did you ever bull fight?
"Just for fun, not the real thing, but it is very nice."
You hope to be in the Portuguese dressage team for the WEG at Aachen?
"I hope. I am working for this. My Grand Prix dressage horse, Riopele is a young horse, only eight years old, with four competitions in Grand Prix but he needs time, and I am not going to hurry with him."
Martina Hannöver teaching Miguel Ralao Duart
Pedro was one of the group of about 12 riders who have worked with German dressage coach, Martina Hannöver:
"It's four years since I started with my first trip – in April – it was raining like hell," Martina recalls. "The international judge, Paolo Vidigal, invited me – before that he came to our stables and watched me for a whole day working my horses. He was only going to come for a couple of hours, but then he stayed the whole day."
"Why they picked me was that I was riding young horses, and I also was competing international Grand Prix. After the first clinic, they put together the details of the project. Half a year later we started with qualification trials and the project was underway. Normally I try to go there six times a year over the winter."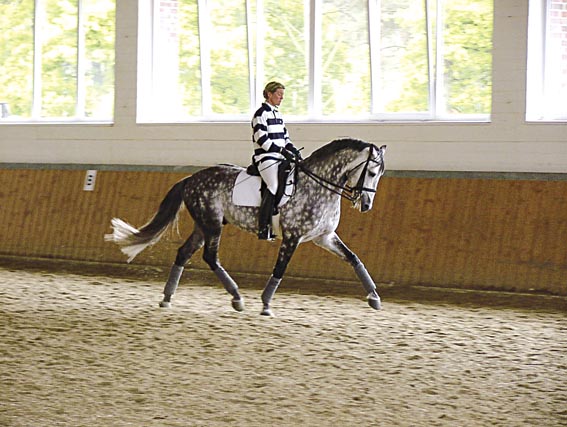 The riders also come to your yard in Germany?
"When there is a big event. We put up a tent with international stables and help them get ready for competitions like the World Young Dressage Horse 
championships."
When you got to Portugal was it a big surprise?
"I was really interested because it was a special project just for the Lusitano horses, and I thought that could be interesting because at the competitions the Portuguese and the Spanish riders would always look at my stallion, Ratino and say he could fit in with them with his long wild mane, not like a typical German dressage horse."
"Not to be too proud, but I thought I could show them how to make their horses trot better. When they are free running they can trot but when they have the saddle or the rider on, then they can't trot any more. I like hot horses, and the Lusitanos are very sharp and they have a lot of energy of their own."
"My uncle is Italian and I have spent time in Italy, so I am used to people from the South, to the mentality… I thought we can give this a try."
And the riders when you got there?
"Actually it was a little bit wild. That's four years ago but when I got there, they had forgotten about walking a horse. When I asked for centre line and halt, no horse was trained to stop. But they were all horse people, that was good. They have many stallions, and as soon as a stallion leaves its own place, they start to scream. And when they started to scream, the riders would pull the reins in a very small circle, and shout Ai Ai Ai! And I'd go – WHAT THE HELL are you guys doing!!! Just keep your horse busy, make it listen to you, and RELAX! If you put more pressure on as soon as the horse starts to scream it will 
get tense."
"It took me a long time… I was happy that I could jump on the horses and show that I could calm them down when I keep them busy. I have to look into the world with the eyes of a horse, so if a horse is coming and the stallion is getting excited, I have to keep the horse busy before and not wait until he starts screaming."
"It's like breeding, you put the semen in, and then you have to wait for the foal – it's like that with the project, now we are seeing the result. Now it is fun because the people believe in the project. There was no dressage four years ago, they were really behind, we had to motivate the breeders, we had to get people to believe in 
the project."
"We had to get them into the competition circuit, and last year, Miguel with Oxalis, an eight year old horse, to get 67% at the European Championships, that was the best result for Portugal."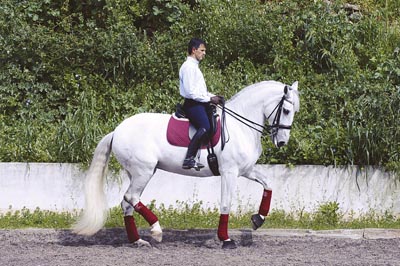 Tina's star pupils working at home – Miguel Ralao Duarte work with Oxalis
"It was great to work with them because right from the beginning they said, 'we don't want to buy German horses, we don't want to start with Grand Prix horses'. It's like with a house where you build the roof first, there will be a storm and it will all fall down. We want to build up young horses so that we can show in Europe that the breeding is good. That's why we focussed on the World Young Horse competition, but to take the pressure off the riders we never talked about this. The sponsors wanted to know what is the big goal – but we never set it officially because they are such young riders. If you keep telling them, this is the goal, this is the goal, then they are going to get tense, and as soon as they get tense, that's not what we need for the Lusitano horses."
"It was not easy for the riders, a lot of them are professionals, and they have to work their butts off to get the time off to be in the project. It's good we have some sponsors and they really stand behind the riders. The best horse from Miguel, Oxalis, was bought by a group of people so he can keep her until 2008. I think we have really good people backing us."
We are privileged to see Jaoa's brother Miguel Ralao Duarte work with Oxalis at home. This was not high class Portuguese dressage; it was high-class dressage full stop. Clean, athletic work with a horse that would be a star anywhere in the world, and a rider who would not look out of place in any training establishment.
Later, over the inevitable cup of coffee, Miguel talked about his career.
Looking at you riding it could be Germany, it could be America, is it an international style of dressage or Portuguese style of dressage?
"I think there is good riding, and bad riding wherever you are. The only thing in competitive dressage is that you have to be more precise in the way you ride. If you have a more artistic way of riding, you can ride with longer reins and with the legs more relaxed, almost abandoned – but if you ride asking for exercises at the letters, going for the scores, and having all the transitions in place, you need to ride with more precision. I don't know if I am in the good riding or the bad riding, but I have always heard that's it – good or bad riding."
You grew up riding with Dr Guilherme Borba the founder of the Royal Portuguese School in the classical Portuguese way?
"But like I said, if you listen to Dr Borba giving a lesson, he is a very educated equestrian scholar, and he talks about books and masters, and one of his main inspirations, is Steinbrecht, the most famous master in Germany…"
So it wasn't difficult for you to make the transition to competition riding?
"No, there is the demanding point – if you have to get your horse to be an athlete, and if you yourself are an athlete, then you have to be more demanding in what you ask, and how you ask."
How ambitious are you?
"I don't know. I am ambitious enough. My ambition is to feel good when I ride my horse. Of course, I would like to go all the way to the highest level of competition.
 I have been to one European Championship, now World Championships and Olympics eventually… but the main goal is to ride well and train all the horses – that are different – and get them to do things well, so then I feel well riding them."
Miguel's brother, Jaoa has been instrumental in establishing the training project with Martina Hannöver…
"In 1996 we began helping with money for the people who rode Lusitano horses in dressage. We knew that dressage is a sport where Lusitanos can be shown in the proper way. But we needed to teach our riders the proper way to compete."
"Four years ago we started the project with Martina. We started with the horses that had a good ranking in Portuguese dressage. We started with some young horses and now already we have some horses that are doing Grand Prix. We wanted to work like a factory – horses that are four years old and end in Grand Prix – always looking for new horses and new riders."
A big job promoting the Lusitano horse to all the world?
"We're trying, we're trying to promote it the most we can. Sometimes it is not easy and we need support in money because it is very expensive to do that work. We are concentrating on the centre of Europe, on Germany and in the north, Sweden and Finland, and in the United States. We go to the Fairs, to Equitana, trying to help the horses that appear in competitions, so they can publicise the Lusitano breed."
Hopefully, the world will become more aware of what this ancient breed, and this charming country have to offer. My very great thanks to my friend, Miguel Tavora who finally succeeded in persuading me to visit the country of his birth, to Joao Trigueiros de Aragao for his time and wisdom, to Joao Ralao Duarte for putting up with my endless questions and to all the wonderful people who made our stay in Portugal such fun… 
Hopefully we will be back before too long this time to visit the famous Horse Fair at Golega. We are promised you can see 500 horses all passaging at once… now that should be something.
Related articles
The Horses of Portugal – Part 1
The Horses of Portugal – Part 2
2009 Lusitano DressageSeminar – Ancient Breed – New Challenge
Miguel Tavora – Thinking Horseman – Part 1 – The Young Horse
Miguel Tavora – Thinking Horseman – Part 2 – The Iberian Horse
Miguel Tavora – Thinking Horseman – Part 3 – The Young Rider
Miguel Tavora – Thinking Horseman – Part 4 – Starting FEI
Miguel Tavora – Thinking Horseman – Part 5 – Teaching Teachers
The Integration Of The Baucher System in the Classical School  of de la Guérinière by Miguel Tavora
Riding as Art: Part one: A history of Dressage – Antiquity
Riding as Art: Part Two: Out of the Dark Ages
The Classical Dressage Tradition…
 The Masters of the High School
Riding as Art: Part Three:
The Masters of the Nineteenth Century
Riding as Art Part Four
The Modern  Training Scale: How old are our principles?