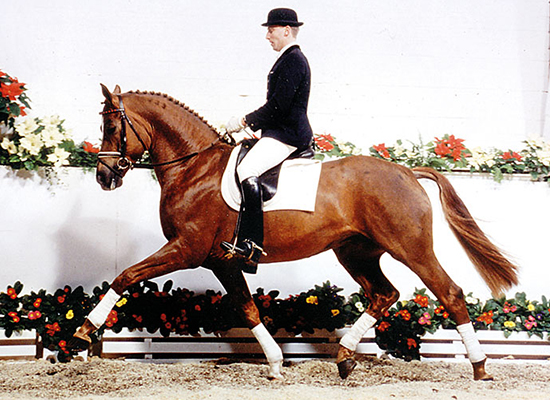 1989 – 2015 168 cm Chestnut
Breeder: Friedrich Oppermann
When Werner Schockemöhle bought Alabaster, he was looking at the total pedigree in a very sophisticated way as he explained in this interview I recorded in 1998…
"I prefer some lines, no, not so much 'lines' as progeny of some special stallions. When I know the stallion, I know his pedigree and I know his progeny, and I have a good idea of what his progeny will be like."
"Sometimes it is a little wrong to think only in lines. Sometimes when you see a horse, the influence comes much more from the bottom line. You sometimes have horses, that they say 'this horse comes from the W line' but when you see the horse you know that he has been produced from the influence of the genes of the other lines on his pedigree."
"With Alabaster, it is a combination of several genes. The special factor with Alabaster is the clear influence from Abglanz, but he doesn't have some of the mistakes that are usually associated with the Abglanz pedigree."
"For twenty years I have judged the foals in the areas to the north, near Bargstedt, where Argentan stood. Then he was the most important stallion – for type – in Hanover. He made fantastic types, but he had the mistakes of Absatz/Abglanz. He was not so good in the shoulder, and often he was not good in the front legs, especially the fetlock and the pasterns. The fetlock was often not large enough, it was too light, and the pasterns were too short. Together that shortens the life of the front leg when it is used hard in the sport."
"Alabaster doesn't have this fault. He has a top front leg, and that is the influence of several other genes in his pedigree. For example, Busoni, the Thoroughbred horse, who is Alabaster's great grand sire on the dam's side, and was also the grand-sire of Gigolo. He was not discovered while he was a breeding stallion; he was never even discussed because he didn't produce the best types. When he was gone, suddenly came Gigolo, and suddenly Busoni was interesting."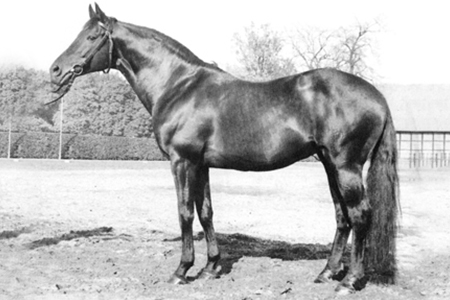 Busoni – you need the Thoroughbred for soundness 
"Alabaster is also influenced in his pedigree by the famous horse, Ferdinand. Ferdinand was a great producer of showjumpers, but sometimes he also produced very good dressage horses."
"The first Olympic horse of my brother, Alwin, who won a team gold in 1960 at Rome, was Ferdl by Ferdinand. Ferdinand produced horses with a good canter and good walk. Reiner Klimke's Olympic dressage horse, Mehmed was by Ferdinand. Another with very nice style was Hugo Simon's Flipper – that was a horse, fifteen two and a half hands, but with the heart of a lion."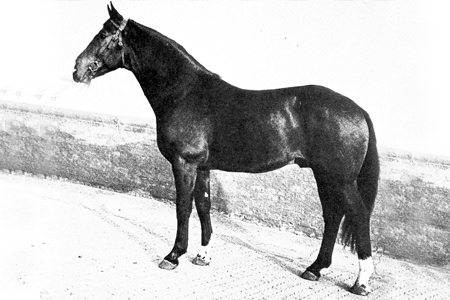 Wendekreis – carrying on the Ferdinand line
"Ferdinand was a horse who only seldom found the right mare. He needed mares with blood, and there were few mares with blood that went to him."
"When you look on the top line of Alabaster's pedigree, you find Akzent 11, this is Absatz by Abglanz. Abglanz comes again on the pedigree on the bottom line, Aalfaenger is directly by Abglanz, and that is the explanation for the special type."
"We often had problems with the walk with Abglanz progeny but this influence is balanced by the influence of others – Waidmannsdank, another Thoroughbred, and Busoni, and again Ferdinand. We see two times the influence of Ferdinand, on the sire line, Fernanda by Ferdinand, and on the dam's side, Wendepunkt by Wendekreis by Ferdinand, and then Wendepunkt is in-bred to Ferdinand. Wendepunkt is out of Eingabe, by Einglas, by Athos, and the next dam on that side is Memoire by Marcio xx, out of Fernglück, by Ferdinand, so again we find Ferdinand. The dam of Einglas, Faki, was in her time the best mare in the whole of the breeding area. The sire of Einglas, Athos, was not so good but Faki was wonderful."
"Together this makes the special pedigree of Alabaster, and maybe I recognized these things even more than the owner did when I bought him! He has the type of Abglanz, and when you breed him to mares with a little Trakehner influence, then it always comes back."
You like to breed him over mares of Trakehner breeding?
"No, I don't like so much the Trakehners. I come from another side of breeding, my brothers only discuss showjumpers. I don't like horses that don't have the possibility of being sporthorses. I think there are too many Trakehners without the ability for sport. For some years, I think the Trakehner breeders had it wrong in their heads, they thought when they had the nicest looking horses, they had the best horses. That was a mistake."
"In the middle of the 1950's the breeding of horses for agriculture was finished. Along came the tractor and all the breeders had to change their aims. For example in Oldenburg and Holstein they produced very heavy coach horses and for working on the farm. These horses were often over at the knee."
"The Trakehner always had horses that had very flat gaits. It was discussed when I was a young man, and even then, I thought it was a terrible mistake. The flat gait is always wrong. The flat gait is always combined with a strong back, not enough elasticity. The Trakehner breeders however believed that the high movement in the trot was extremely wrong, and the flat movement was extremely good."
"In reality, we needed more elastic gaits, and they must come more forward, not extremely high, but they must move over the knee – that is important for a showjumper, and it is important for a dressage horse. It is simple. It is necessary to jump clean, and it is important for piaffe and passage, but the Trakehner breeders went the wrong way, and because it is a closed stud book, it is very difficult for them to fix the problem."
"For the last ten years, they have been aware of the problem, but it is difficult for them to find a solution because they have to use their own lines, and that is the big problem for the Trakehners, in showjumping as well as dressage."
"For that reason, I don't like to see too much Trakehner on the pedigree. When you look at Alabaster's pedigree, you find Absatz in the third generation, and Absatz again in the fifth generation, and in my opinion that is close enough. You still get the wonderful type, and the Absatz is balanced by the other influences, Busoni, Ferdinand, Marcio, Waidmannsdank."
"On the dam's line we have Landeck, a half bred horse, by the Thoroughbred Lancelot – one of the best Thoroughbred stallions in the national stud before the last war. Because he was so good, the central management took him away from Celle, and put him into Trakehner breeding because they thought he was too good for the breeders in our area."
As of the 2015 Hanoverian Stallion Yearbook, Alabaster had produced 311 competitors with winnings of €574,794, but his only star, has been Isabel Werth's Grand Prix horse, Apache, who won €208,937.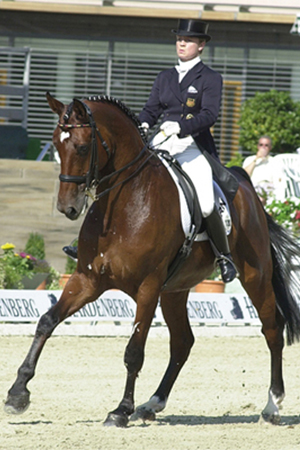 Isabell Werth and Apache
Alabaster is the sire of seven licensed stallions of which Abanos has been the most successful.
Alabaster's  FN dressage ranking for 2014 is 124 with a negative 87 ranking for jumping.  He has a 2015  Hanoverian dressage breeding value of 120 and a jumping value of 90.
On the 2015 breeding values, he has a dressage value of 121 (reliability 98) and a jumping value of 86 (95). His Hanoverian dressage breeding value is 123 and the jumping value, 90.
On the new breeding values introduced by the German FN, Alabaster has a Jungpferdprüfungen (young horse) dressage breeding value of 119 and a Tuniersport (open competition) value of 121.
In the 2017 Hanoverian Stallion Book, Alabaster is recorded with 323 competition progeny with winnings of €599,316. Six dressage horses have earned more than €10,000: Alabama (€17,117), Allerbeste (€16,575), Aly Mc Beal (€31,152), Amüsant (€28,704), Apache (€208,937) and Athletic Dreamboy (€25,781).