1980 – 2007 17 hands Bay
Breeder: Jacob Buether
Argentinus is the most influential son of the Hanoverian stallion, Argentan I. Argentinus' dam is by Duden II who was highly esteemed as a producer of top quality performance horses and wonderful broodmares.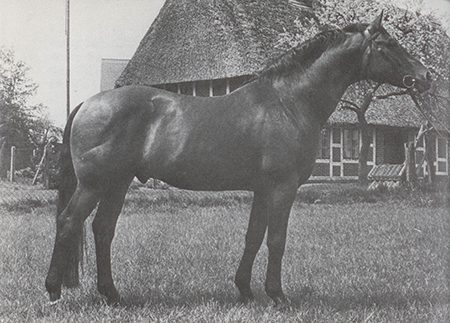 Argentan, the sire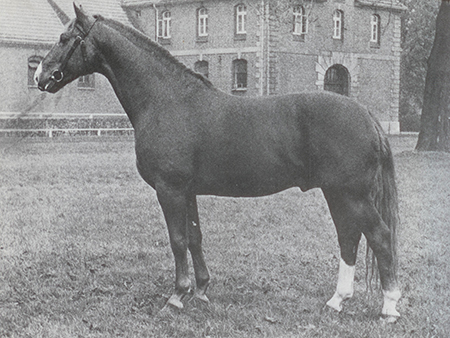 Duden II, the dam sire 
By 1996, Argentinus was the youngest millionaire among Germany's top sires and he remained a top sire right up until his death in 2007. A successful advanced level jumper himself, Argentinus produced both jumping and dressage competitors and stallions.
His progeny include over 20 approved stallions, including the stallion performance test winner and Vechta price record breaking, August der Starke (sire of Victoria Max-Theuer's Grand Prix dressage horse, Augustin) and numerous State Premium Mares, many of which have proved themselves on a national level.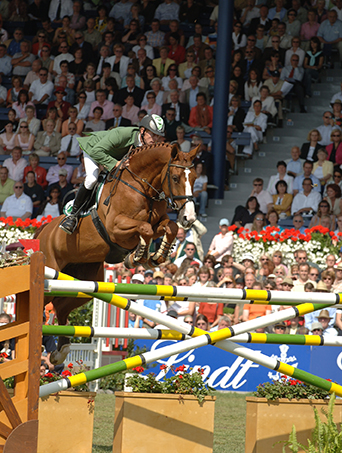 Anka and Marcus Ehning at Aachen  
Performers include the World Cup showjumping champion, Anka with Markus Ehning. Of his dressage horses, there is Amaretto, Isabell Werth's dressage horse who died just as his career was getting underway, and Albano with Heike Kemmer – team gold medal winner in the 2001 German European Dressage Championships.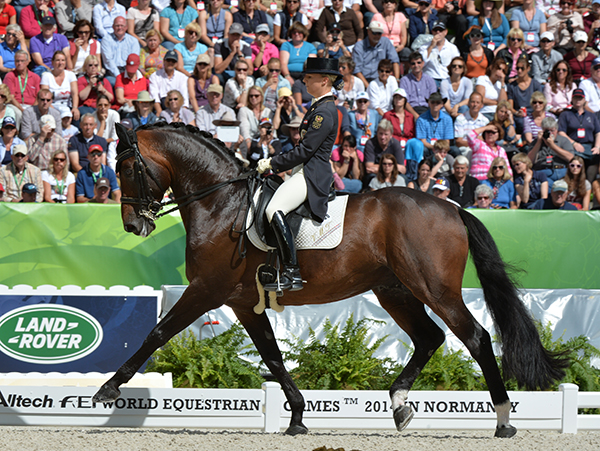 The Argentinus grandson, Augustin and Victoria Max-Theurer in the Kür at WEG
In the survey of the world's top 75 jumping sires that appears in Monneron 2007-2008, Argentinus is ranked 16th the world, with 15 CSI winners.
Argentinus was the Hanoverian Stallion of the Year 2005, and the 2015 Stallion Yearbook, takes an extra page to detail his career. So far he has produced 1482 competitors with winnings of €5,286,991 – 544 in dressage and 1134 jumpers. Albano was clearly the most successful dressage horse with winnings of €208,443, while the most successful jumper was Anka with €773,497, followed by the stallions, Air Jordan (€467,332), Asti Spumante (€454,240) and Adlantus As FRH with €407,662.
Argentinus has a 2014 FN ranking of 100 for dressage and 119 for jumping. His Hanoverian value for dressage is 90, and for jumping, 129.
He comes in 17th place on the Monneron 2007/2008 top 75 stallions ranking, with 15 representatives.
On the WBFSH 2007 jumping stallion standings, Argentinus was in 7th position, with 18 representatives, six of whom have 200+ points: Special Ed (Grannus), Arko III (Beach Boy), Asti Spumante (Landfrieden), Air Jordan (Matador), Anastasia (Zeus) and E & W Armani (Weltmeister). Markus Ehning's star duo – Anka (Waidmann) and Armitage (Grannus) are just behind, tied on 130 points.
In 2008, he was ranked 3rd, but then disappears from the standings, although he makes a brief appearance on the 2009 Dressage stallion rankings in 27th place.
His son, Air Jordan (Matador) who was second in the World Cup Final of 2007 with Daniel Deusser, died at the age of 17 in August 2013 after complications arose during surgery for inguinal hernia. Air Jordan has been cloned, and his clone, Air Jordan Alpha Z was approved by the Studbook Zangersheide in 2013. He has just commenced four year old jumping competitions.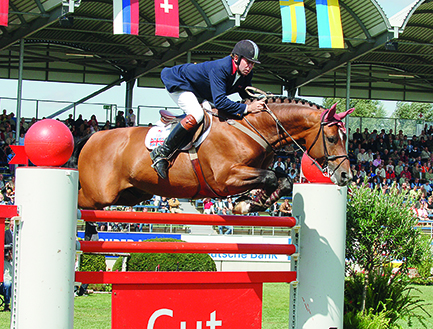 Arko and Nick Skelton
After a successful career with Nick Skelton, Arko III (out of a Beach Boy mare) is now emerging as a sire, his son, Argento (out of a mare by Gasper) won the big World Cup class at Amsterdam in January 2014, with John Whitaker.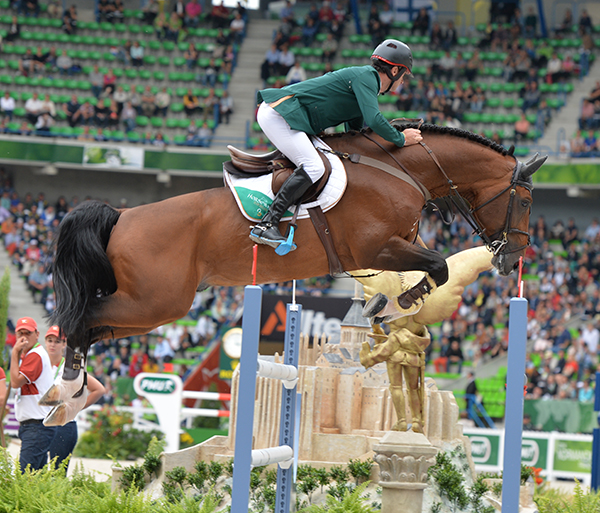 Another star for Argentinus, All Star and Denis Lynch at the WEG 2014