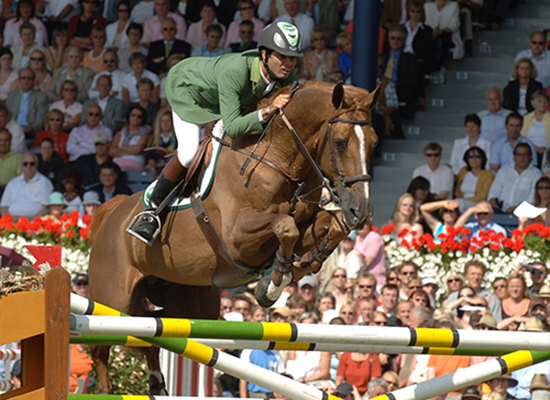 1989 – 2017 173 cm Chestnut
Breeder – L. Fardin
It was certainly not love at first sight when Rodrigo Pessoa met up with Galoubet's megastar son – Baloubet:
"When I saw Baloubet getting out of the lorry, I said to myself 'what on earth is that thing?' He was gangling and uncoordinated. We made him jump but no more, he was too green. The next day, just to clear our conscience we had another look at him. Well I did, because my father insisted. And I was stunned. All the mistakes he had been making the day before had vanished. He had been thinking things over during the night and had found the answers. It was unbelievable. A really unusual intelligence, which is still working well for me today in competition." (quoted in Pascal Renauldon's tribute to Galoubet in the Annuaire Monneron 2003)
Baloubet had been raised on Normandy's lush pastures, near Mont Saint Michel, on the St Aubin de Terregatte farm of the celebrated breeder, Louis Fardin. When he was three years old, Baloubet was shown to the Portuguese couple, Nicole and Diego Coutinho Pereira, and it was they who sent him to their friend Nelson Pessoa.
Like his sire, Galoubet, Baloubet du Rouet was first-and-foremost a star in the competition ring. Nelson Pessoa carefully brought along Baloubet on the French stallion circuit for Young Horses, winning the 7 year old stallion test at Fontainebleau in 1997 before gently beginning international competition. When the horse was nine, Nelson decided to give the ride to his son Rodrigo.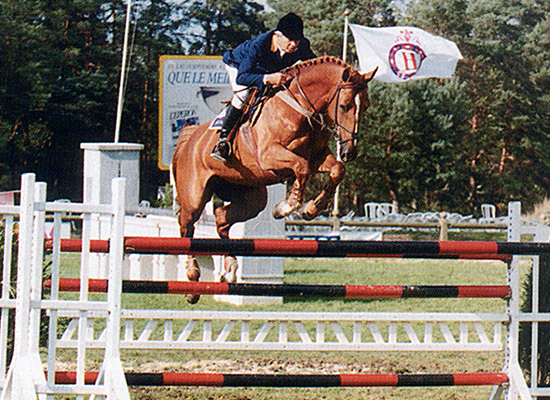 Baloubet as a young horse with Nelson Pessoa
Just one year later, Rodrigo and Baloubet won in Göteborg, Paris Bercy, Falsterbo and Donaueschingen, and a remarkable career was underway. Baloubet set a record that is unlikely to be bettered, winning three World Cup Finals in a row, 1998, 1999, 2000, and narrowly missed out of a fourth in 2001!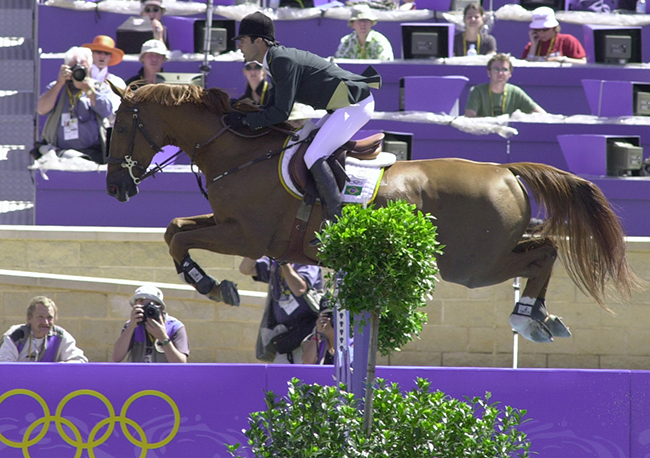 Although the horse may have had his disappointments, notably at the Sydney Games and Jerez WEG, two years later, they still had a more than respectable 2002 season, winning in Geneva, Calgary, Aachen, Hardenberg, Paris Bercy and Bordeaux.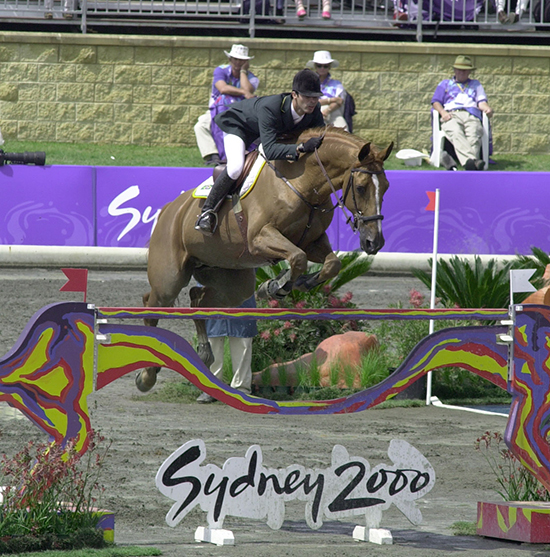 In 2003 Baloubet won Grand Prix at Balve and s' Hertogenbosh. He was also successful in 1.50 m and 1.55 m classes at Verona, Bremen and Calgary. In 2004 Baloubet had another extremely successful year, winning Grand Prix at Bordeaux, Geneva and Paris Bercy before going on to win the gold medal at the 2004 Olympic Games when Waterford Crystal, who was first awarded the medal, failed a drug test. He won the Las Vegas World Invitational Grand Prix in 2005 and the Budweiser Invitational in Florida in 2006. He retired from competition in February 2008.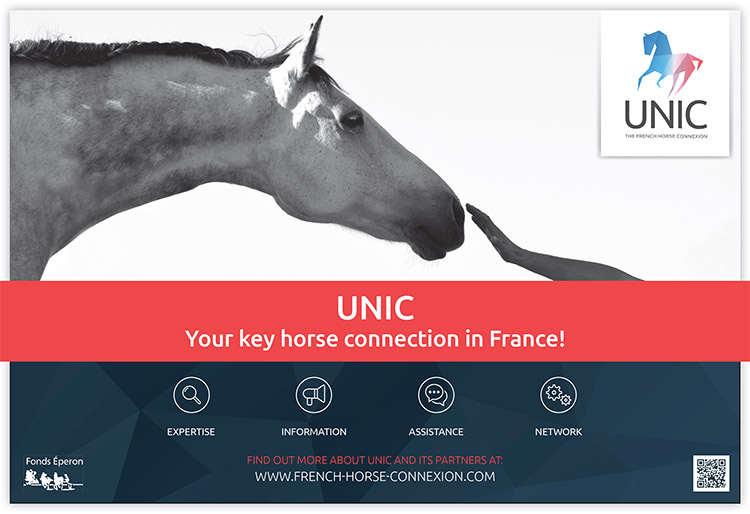 Baloubet's story begins in rural France, at Juilley, between Avranches and Rennes, when Louis Fardin senior, purchased his Grand Rouet farm in 1920. Back then his horses were honest toilers in the field not sporthorses. It wasn't until his son, Louis took over the farm that thoughts turned to performance horse breeding, and in the sixties, he purchased his first sporthorse broodmare, and with his first try, struck gold.
The mare was Perle de Norval, born in 1959, by the Thoroughbred, Rantzau out of Hautesse by Bouton d'Or out of Rigolette, a half Thoroughbred mare by Vingt Mai.
Rigolette produced 13 foals, including Jivaty (born 1953) by Ultimate xx, who was the dam of Quidam V (1960, by Rantzau) who competed in all three disciplines for Italy. Jivaty bred to Ibrahim produced another international competitor, Norvale (1957) and mated with Bel Avenir, produced the Belgian international, Venise de Brion. Jivaty's son, Arabel (1966, by Bel Avenir) became a state stud stallion.
Another daughter of Rigolette, Fabienne (born in 1949 by Hedjaz) bred to the famed Thoroughbred, Furioso, produced Futuro (1966) who stood at Ludwig Kathmann's stallion station in Oldenburg. Futuro is best known as the sire of Liz Edgar's star of the early 80's, Forever, winner of the Grand Prix and Nations Cup at Aachen, and twice winner of the Hickstead Grand Prix.
Yet another daughter of Rigolette, Hautesse (1951, by Bouton d'Or) had two foals by the Thoroughbred, Rantzau (best known outside of France as the sire of Cor de la Bryère) Qualobet IV who was a serviceable competitor, and M. Fardin's pearl, Perle de Norval.
When purchased, Perle de Norval was in foal to Rêveur, and produced the filly Aurore du Rouet, and the suffix was used for the first time.
Perle de Norval produced 13 foals, two became State Stallions, Gandin (1972, by Nankin) and Kiva du Rouet (1976, by Et Hop AA), although neither made much of an impact. She produced two competent performers in Hilda (1973, by Nankin) and Lutin (1977, by Quastor) however her two most important foals were Badine (the only one without the suffix) born in 1967 by Bel Avenir, and Milady du Rouet, born in 1978 and by Quastor.
Louis Fardin had become a shareholder in the stallion, Galoubet A, and bred to him. It was Milady's first foal by Galoubet, Quatoubet, born in 1982, who put Grand Rouet on the European breeding map. Ridden by Roger-Yves Bost, Quatoubet was second in the Aachen Grand Prix, before being campaigned by Nelson Pessoa, and ending his career with the young Olivier Guillon. Quatoubet won over a million French francs before retiring to the life of a state stud stallion. Quatoubet with limited opportunities has produced two international performers, Flanagan, with Laurent Goffinet and Ivoire and François Mathy.
Bred again to Galoubet, Milady produced Caloubet du Rouet (1990) who was an international star with Jean-Marc Nicolas, before enlisting in the service of the state, and retiring to stud.
In all, Milady produced 18 foals before retiring in 2002.
Her full-sister, Badine, produced 20 foals, eight at the studfarm of Philippe Dugué who purchased her in 1984. She produced some fine broodmares, and worthy competitors in all three disciplines, but her place in history rests with her daughter, Mésange de Rouet, the dam of Baloubet.
Mésange, born in 1978, is by the Rantzau son, Starter, and is therefore linebred to Rantzau.
Starter was out of Kaironnaise by Jus de Pomme. He is described by Jean Delannoy, in the Annuaire du Cheval de Sport et d'Elevage 2000 as 'slightly flat, his and hocks were curbed, but he was very chic, had an excellent pedigree, and possessed magnificent hindquarters with excellent thigh descent. He was not only a very good stallion, but was also a remarkable sire of dams (Ranked 3rd in 1986-87-95, 1st in 1988-89-93 and 4th in 1990-94).'
Mésange was herself a successful competitor in 4 and 5 year old competition. Her first foal, Unadore du Rouet, was by Eric Navet's Olympic jumper, J'T'Adore. Unadore was a good sport horse with Jean-Marc Nicolas and Olivier Guillon.
Mésange had a foal every three years. The next one was Baloubet by Galoubet, followed by his full sister, El Ira du Rouet, Mésange's only daughter, who became a brood mare. (For this history of the maternal line of Baloubet, I am indebted to Marc Verrier, whose excellent article, A Miracle of line breeding, appeared in the December 04/January 05 edition of Z Magazine.)
Not surprisingly, Baloubet was sort after as a sire, although as usual, there are dissenting voices. The famous Holstein breeder, Harm Thormählen tried Baloubet, and did not like the result:
"My results with the French stallions have not been good – only good results with Quidam de Revel. We have better stallions in Holstein than France. Our clients want a modern type and a nice face with a big eye, and that is a problem with the French stallions. We tried with Pessoa's Baloubet de Rouet, and the eyes for me are not clever enough, they have a stupid face, and I hate that. All my good horses had a big and very sensitive, clear eye. The foals by Baloubet were out of my best mares, but the face was not clever enough!"
Perhaps the master breeder may have got it wrong this time, since Baloubet has emerged as the number one sire of jumping horses on the WBFSH standings for 2012.
As a stallion, Baloubet's influence extends right across Europe. He is licensed in studbooks of the Selle Français, Belgian Warmblood, Holsteiner and Hanoverian.
His top performers include:
Chaman (KWPN) 
out of an I Love You
 mare. Ridden by Ludger Beerbaum, the stallion in 2013 alone, recorded wins at Donetsch, Aachen, Göteborg, Paris, Zurich and Basel.
VDL Bubalu (KWPN) 
out of a Nimmerdor mare. With Jurg Vrieling, Bubalu has competed at the Lexington WEG, the London Games and the European Championships in Herning, and is a key member of the Dutch team.
Southwind VDL (KWPN)
 out of an Ahorn
 mare, was a regular member of the Irish team with Cameron Hanley before the ride was taken by Tiffany Foster in 2011. At the World Cup Qualifier in Calgary 2013, the pair were 4th.
The Belgian bred (in case you can't tell from its impossible name) West Side van de Meerputhoeve (out of an Apollonius
 mare) has been a consistent performer for Switzerland's Clarissa Crotta – their highlight in 2013 was a 2nd behind Corradina in the Grand Prix of Braunschweig.
The chestnut stallion Babluche van het Gelutt Z out of an Aldato mare, has been another solid performer for 
Athina Onassis.
 The pair were 3rd in the King's Cup in Madrid in 2013.
The French bred Murat De Reve out of an Arpege Pierreville
 mare, has been a moderate campaigner for the Spanish rider, Natalla Golding.
Napoli du Ry (out of a Silvio mare) was ridden by Simon Delestre in the French team at the London Games.
AD Rahmannshof's Bogeno (Elanville) carried Alvaro de Miranda Neto to victory in the Valkenswaard and Wellington 2013 Grand Prix, and the pair finished in =12th on the final standings at the London Games.
Palloubet d'Halong (Muguet du Manoir) carried rising Swiss star, Janika Sprunger to international fame with a 2nd in the Grand Prix of Aachen and a 7th at the European Championships at Herning before the gelding was sold reputedly for €16,000,000 for Edwina Alexander to ride – although before she had the chance to enjoy her new pony, it was sold yet again, this time to Qatari rider, Ali Yousef Al Rumaihi.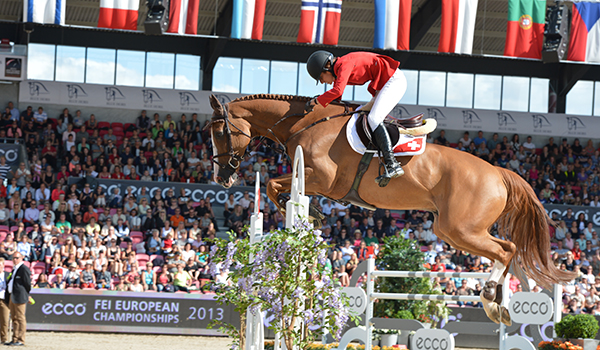 Palloubet and Janika Sprunger
In the magazine le Selle Français (no 16 – 1st Trimestre 2013), Bernard le Courtois considers the top 15 stallions of the 2012 season and we find Baloubet in equal 8th place on the list of stallions ranked by the number of winners, with two winning competitors in the season. Baloubet is 5th on the list of stallions ranked on the number of winners to progeny born in the period 1999 – 2003, with 2 winners out of 91 foals, a success rate of 2.19%.
On the WBFSH rankings for 2014, Baloubet is in 4th place, with 67 points earners, the most successful of which were Chaman and Bubalu.
In November 2010, Baloubet moved to his owner's home in Portugal, there as befits the world's number one jumping sire, Baloubet has his own, very flash, website: www.baloubetdurouet.com
The stallion line with the most representatives at the WEG in Normandy was the French line of Ibrahim with an astonishing 36, through Almé and Double Espoir. Most descended through Almé with the most influential representative his grandson, Baloubet de Rouet with five. Diamant de Sémilly from the Grand Veneur line, is represented by four.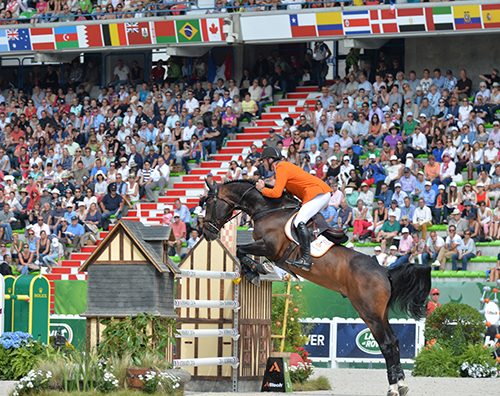 Representing Baloubet at the WEG in Normandy, VDL Bubalu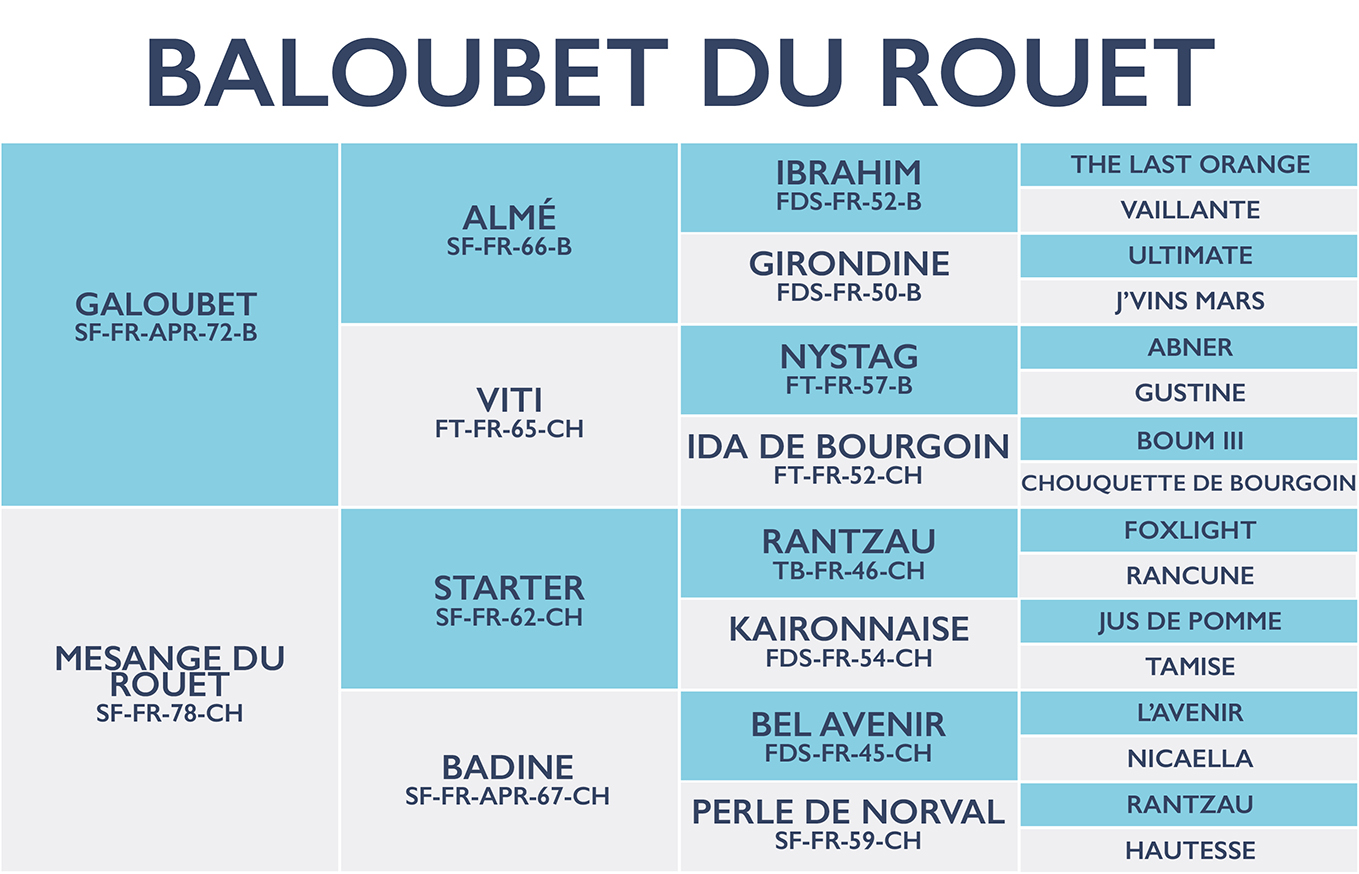 ---
Breed to a son of the great Baloubet in Australia – Balou du Rouet – for information go to: www.ihb.com.au