1983 – 2006, 173 cm bay/brown
Breeder – I. and J. Block, Hagen, Germany
Landgraf has been richly represented in Holland by his son Burggraaf, who died in 2006 at the age of 23.
In his first season as a breeding stallion, Burggraaf covered only 40 mares, but from that year, two foals went on to become international showjumpers, one with the Austrian rider, Thomas Frühmann, the other with Holland's Roelof Bril.
Roelof Bril was also the rider who started Burggraaf in national and international competitions. The pair cleared the puissance wall at Indoor Brabant at a height of 2.10 metres!
Here's what Bril said about the stallion: "Burggraaf is a great horse to ride, and he knows what it is to work. The fine character he has in the sport, he passes on to his children, and that gives him the possibility to grow and become one of the important Dutch stallions."
Burggraaf combines two of the most successful Holstein jumping lines: Landgraf and Cor de la Bryère. On his maternal side he goes back to the famous Holstein lineage 7126, a family which has produced the approved stallions: Acord I & II, Acrobat I, II, III, Arico, Fra Diavolo, Chicago and Freeman.
Burggraaf's most successful jumping progeny have included Leslie Howard's S'Blieft, Roelof Bril's Burggravin, Peter Wylde's Kuno, Piet Raymakers' Now or Never, and Thomas Frühmann's Procobs Dumbo.
Licensed sons include: Graaf, Habsburg, Kroongraaf, Manhattan, Mermus R, Murano, Budweiser and Orion Fortuna.
Burggraaf seems to pass on his size, power and jumping ability and has produced a many many top class broodmares.
He is also the sire of several Grand Prix dressage horses, including Denis Calinin's Florijn and Leunus van Lieren's Louiseville.
But Burggraaf almost did not get the chance to become a stallion. While he was undertaking his KWPN stallion test at Ermelo, he was sent home in very controversial circumstances. A blood test showed that Landgraf could not be the father of Burggraaf!
The German breeder was contacted but was sure that no other stallion could have covered the mare – so the Holstein Verband was contacted and asked for a blood sample – whereupon it was revealed that the Holstein Verband had made an error in the recording of their leading sire's blood type. Burggraaf WAS by Landgraf, and the young stallion was back into the 100-day test.
He was successful in that test and received 8.5 points for his jumping and 9 for his character (on a scale of 1 to 10).
However, like many of the greatest stallions, Burggraaf had difficulties with the Dutch Licensing Commission. After inspecting his first crop of foals, he was only awarded a reserve premium, but fortunately his progeny soon rehabilitated their sire.
Burggraaf stood for many years at the Nijhof Stud, according to Jeanette Nijhof: "Burggraaf stamped a lot of his babies with the nice Landgraf face. Most of them were good movers and jumpers. His best combination was with some Thoroughbred on the mother line, for instance, he crossed well with Furioso xx bloodlines, through the stallions, Voltaire and Le Mexico."
In the 2006 Super League season, the majority of the British team horses were offspring of Burggraaf. He is the sire of Tim Gredley's Omelli and John Whitaker's Peppermill, and grand sire of Michael Whitaker's Portofino (Habsburg) and William Funnel's Mondriaan (Topas).
At the 2008 Olympic Games, he had two representatives: Canada's Ole (with Mac Cone) and John Whitaker's Peppermill who was controversially taken out of the competition at the very last minute.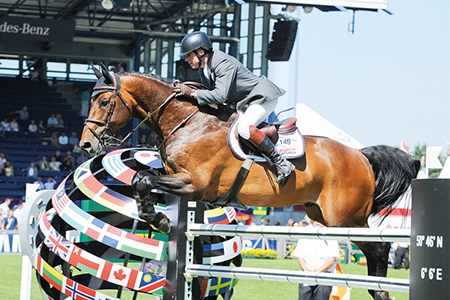 John Whitaker and Peppermill – stalwarts of the British jumping team 
At the 2008 Young Horse Finals at Fontainebleau, the five year old male champion was Dakar C by Burggraaf out of a Codexo mare ridden by Thierry Rozier. The stallion sold at the 2006 Fences Auction for €60,000.
Burggraaf was ranked in 6th place on the Monneron 2007, list of the top 75 stallions – with 26 winners in CSI.
On the WBFSH standings for 2008, Burggraaf had his highest ranking – 7th place. The previous year he was 10th with 36 representatives, four with 200+ points: Peppermill (Voltaire), Lucanor (Candyboy), Van Schijndel's Now or Never (Jasper) and Ole (Dukaat).
By 2013, he had drifted down to 76th place…
The KWPN 2015/16 Breeding Values ranks Burggraaf in 46th place on the standings for stallions with a reliability of 90%+, with a value of 122 (98%), just below his son, Mermus R, who has a value of 124. Burggraaf produced 3486 progeny over the age of 4, with 1238 competitors (35.513%).
On the 2016/17 Dutch values, Burggraaf is in 49th spot, with a jumping value of 122.