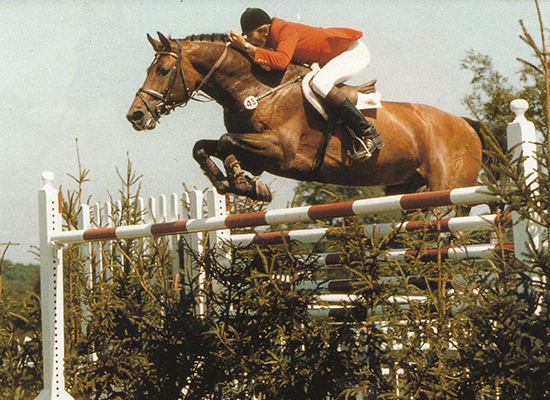 1975 – 1999 175 cm Bay
Breeder: Klaus Martin Both, Herzhorn
Stood at Vornholz, 1978, Elmshorn, 1979, Wöhrden, 1979, in competition 1981-85, Langenhagen 1986 to 1999.
Caletto I was approved in Neumünster in 1977 and passed his performance test at Medingen the following year. It was a vintage year for the Holsteiner Verband – Capitol I was also licensed that year.
According to the Stallion Book of the Holsteiner Warmblood Breed by Dr Dietrich Rossow, Caletto was a "tall, important sire with the smooth topline of a modern riding horse. Good face, rather heavy neck and a thick throat latch. Prominent withers, rather flat through the loin, sharply dropped croup in which the muscle doesn't carry down well. Strong bone with mild crookedness in front and faults behind, somewhat base narrow. Good trot, absolutely marvelous canter. Extraordinary jumping ability with fantastic form over fences."
And the progeny?
"Sires performance horses of his type with his strong points and faults. Very energetic individuals with great jumping ability."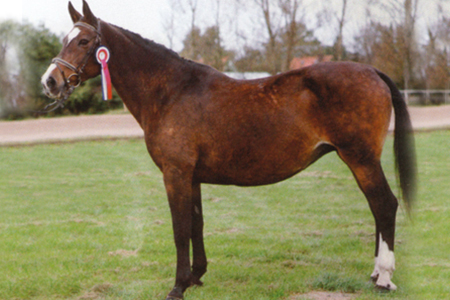 Deka – one of the great mares…
As is so often the case, Caletto is the product of one of those mares that 'make' a breeder – Deka – in this case a young farmer, Klaus-Martin Both. He wanted to start breeding horses and with a friend, bought the 12 year old mare, Oekonomie from Hugo Thiedemann of Langenbrook. The mare was in foal to the great Thoroughbred stallion, Ladykiller and had a filly foal at her side, by the Cottage Son xx son, Consul. This was Deka.
An article in Der Holsteiner (March 2016) by Joachin Tietz gives some background to Deka's breeding:
"Oekonomie had been a large and heavy mare. Her sire was Matador, who earned high premiums at the DLG show in Hamburg 1951. Matador was a first class bred sire, whose dam, Schiene had been one of Holstein's most important driving horses. Oekonomie's pedigree showed a high level of inbreeding to the top class sire, Heintze. Other lines of Deka's go back to another sire important in Holstein to jumping, Achill. More than 83% of Deka's true Holsteiner blood goes back to Ethelbert and Achill. The consolidates her high heritability."
"In 1971, Oekonomie had a filly, Havel, by  Moltke. Via Lord – Ahorn Z and Cascabelle, this blood is found in the forebears of Lacrimoso HDC, who was successful at World Cup competitions and Grand Prix with Patrice Delaveau. A year later Oekonomie had Impera, by Cor de la Bryère. Impera became the grand dam of Graziana by Calaoto, successful in sport with Toni Hassmann."
"Deka belongs to Holstein's line 730 b, quite a large family that is among the most successful in Holstein. It started in 1866 with Liesch by Champion… Liesch had two daughters by Young Ethelbert, Konradine and Hochmütage. Today's line 730b is built on them."
What a mare Deka proved to be – she produced eleven living foals before she died at the age of 23 – the eleventh being Caletto III. Today the herd of Klaus Martin Both has three grand daughters who pass on Deka's genes.
Amazingly all Deka's foals have competed at the highest level. All but one of her sons went on to become licensed stallions, and her daughter, Nathalie is the dam of a KWPN approved stallion, Telstar by Nimmerdor. In 1973, Deka was bred for the first time to Cor de la Bryère, producing Cordeka who with Herbert Blöcker competed successfully in showjumping and eventing competitions. Bred to Cor de la Bryère the following year, Deka produced the first of the three stallion full-brothers, Caletto I, II and III. There was a fourth product of the cross, born in 1976, who never made it to licensed stallion status. Caletto II was born in 1978 and Caletto III in 1984.
Caletto I was selected by the master breeder, Baron von Nagel to stand at his Vornholz Stud in Westphalia. According to Claus Schridde in the 2006 edition of Bernd Eylers German Stallion Book, the Baron 'was a great authority on horses. He instinctively did the right thing in horse breeding over several decades. Baron von Nagel had internalized the credo, 'breeding is equivalent to thinking in terms of generations.' His horses had a high percentage of noble blood on the one hand, and on the other hand, Holstein bloodlines played a great role in his breeding planning. He had destined the bay Caletto I as the successor to Ramzes AA, Krol Walca, Herold, Pernod xx and Kallistos AA, as a Vornholz sire. This decision was to be the last 'great success' of the ingenious hippologist. Baron Clemens von Nagel, however, had passed away by the time that the first Caletto I foals were born."
It was this first crop that produced the stallion, Cartusch, who stood in Westphalia and Oldenburg, as well as the dams of two successful international stallions, Aldatus (Junior European Champion under Christian Ahlmann) and Iberio (Derby winner with Soren von Rönne).
Posted to the Woehrden stallion station, Caletto I had almost completed his breeding duties for his third season, when he was kicked by a mare in the genitals, and despite the best of veterinary attention remained infertile for months afterwards. The Holsteiner Verband sold him to the showjumping rider, Michael Rüping and he went on to earn DM101,693, as well as a team bronze at the 1983 European Championships. In 1985, Caletto I was the most successful German Nation's Cup horse – it seemed his breeding days were over!
But then his little brother Caletto II was killed in an accident. The distraught Holstein breeding authorities contacted Michael Rüping and persuaded him to test Caletto I once again – after a break of five years the stallion was now producing fertile semen!
Caletto I resumed his successful breeding career in 1986 and in the 1991-2000 WBFSH standings was represented by 12 progeny who had taken him into 28th place – finishing 5th in the 1999/2000 standings.
Overall 758 of his progeny went on to compete. Successful products include: Cabrol Amicor, winner of the German Derby with Holger Wulschner, Cocetto with Meredith Michaels-Beerbaum, Roofs, who Jan Tops rode at the 2000 Games and the 2002 WEG in Jerez.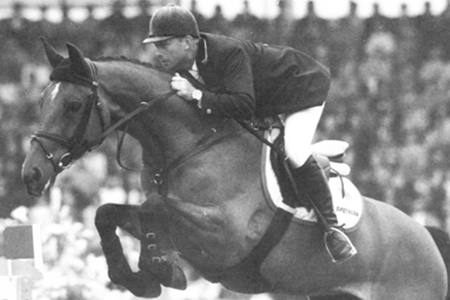 Roofs was one of the many jumping stars by Caletto 
His best son has been Calvaro  who was out of a Capitol mare. He was not registered for Holstein because he came from a Hanoverian mare line, and therefore lacked the required five generations of registered dams in Holstein. Calvero was not only a successful sire, but a fine competitor, his wins included the Grand Prix at the CSIO Hickstead and he competed at the Sydney Games with John Whitaker.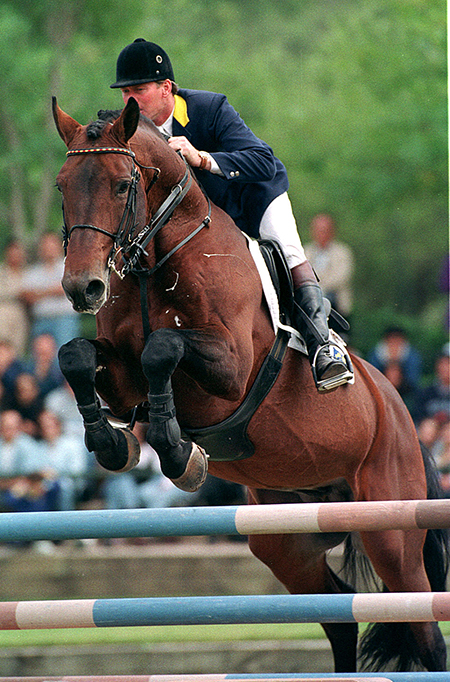 Calvaro with Jos Lansink in the saddle
Caletto I appears in 65th place on the 2006 Monneron rankings, but he is represented in the top 75 by his son, Cantus in 30th. Two sons of Caletto II feature: Caretino in 24th and Calvaro Z in 65th.