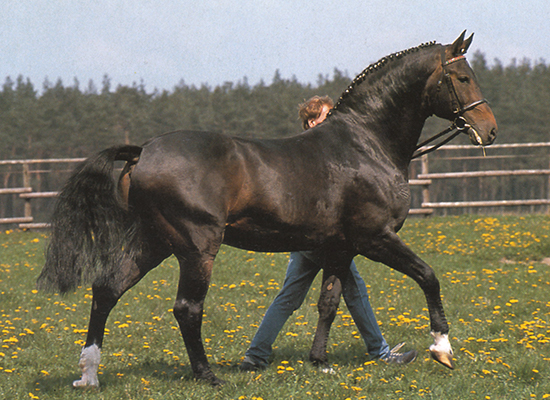 1974 – 1995, 1.71 Brown
Breeder: Otto Ernst Lill
Stood at: Rabenkirchen 1977-1978, Elmshorn 1979-1980, in competition 1981, Langenhagen 1982-1984, Pageroe 1985-1986, Hänigsen 1987-1988, Schillerslage 1989, Amselhof Walle 1990-1995.
Calypso II has been one of the most important sires in both Holstein and Hannover where he bred international competitors, and influential breeding stallions. It was Calypso II who introduced the Cor de la Bryère blood to Hanover, ushering a new era of Hanoverian jumping breeding.
He was stationed in Holstein until 1986, and then he was leased by the State Stud Celle from 1987 to 1989. From 1990 until his death from colic in 1995, he stood at the Amselhof Walle, the private stud owned by Joachim Kemmer, father of dressage rider, Heike.
But it took all of Celle director, Burchard Bade's charm to persuade the mare owners to use the new stallion:
"I think he was the first Holstein stallion we brought into the Hanoverian studbook, now Calypso features on many mother lines, and they all tend to have very good jumping ability and good riding ability. Calypso II is a big very strong and heavy horse – we knew him from the performance test and when he was offered to me from the Holstein Association when he was about ten years old, I said 'yes'. But when I offered him to the breeders, and I saw their faces! Such legs and such hooves!! I think 900 kilos weight. They said, 'oh well if you think it is a good idea, we will try with him'. And they had very big success."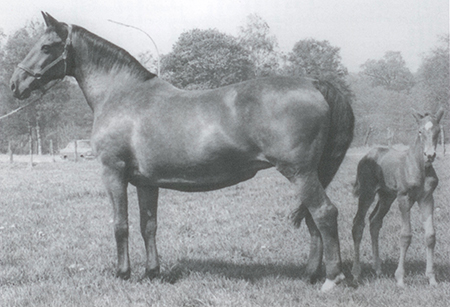 The great broodmare, Tabelle
Calypso II's dam, Tabelle produced SIX approved stallions, starting with one by Congress, then when bred to Cor de la Bryère, the five Calypso brothers – all of whom were useful horses and valuable sires. Tabelle is a full-sister to Salmei, who was the dam of the great Granat, a world champion dressage horse with Christine Stückelberger.
Calypso II produced a number of international performers including Calyno, Chin Chin, Cheyenne, Crazy Cocktail, Montemorelos la Silla, Caras J, Dobel's Cara Mia, Asien, Cartier S, Capella 3, Champ of Class and Zarina de San Patrignano.
The Calypso II progeny tend to show not only great jumping form, but also a wonderful rideability.
His last appearance in the Hanoverian stallion book, was in 2006, where he is credited with 891 competition horses with winnings of €1,606,332 comprising 185 dressage horses, 20 at S level, and 620 jumpers with 135 competing at S level.
Sixteen of his progeny earned more than €15,000, with the most successful Chin Chin with €60,302 followed by Capella with €43,497
Calypso II produced a number of licensed sons for Holstein: Contender, Classiker and Champ of Class. Classiker stood for only three seasons, producing three stallion sons: Colani, Charon and Claas J.
Calypso II's first Hanoverian foal crop produced three more stallions: Chasseur I, a successful sire of showjumpers, his slightly less successful brother, Chasseur II, and Crazy Cocktail, who was initially not approved for Hanover and only gained approval after his own competition successes, at a time when his progeny were already enjoying success at an international level. To safeguard the bloodline three more sons, Cardano, Carismo (stallion performance test winner) and Compliment, were acquired by Amselhof Walle.
The Calypso II son, Carbid is out of a full-sister to Grundstein I and II, and stood near Verden from 1994-2000 where he was a moderately successful sire of jumpers.
His FN breeding values in 2006 were 125 for dressage and 145 for jumping, while his Hanoverian rankings were 119 for dressage and 155 for jumping, with a very modest 89 for type, although he recorded a positive 108 for conformation.
Calypso II's great gift to the breeding world was the stallion, Contender.