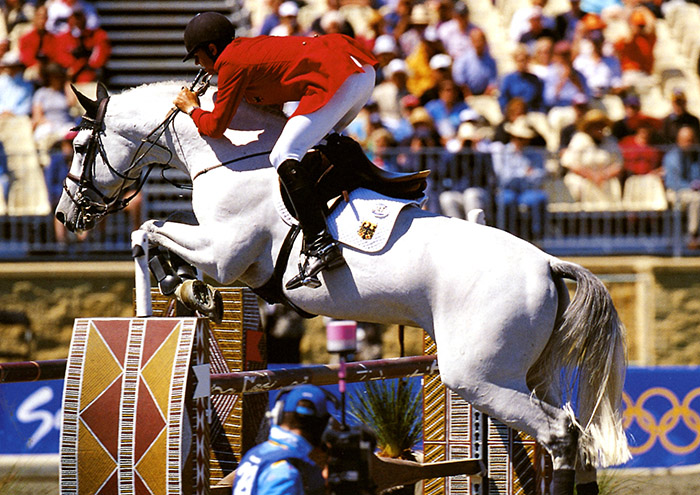 Cento at the Sydney Games – photo Werner Ernst
1989 170 cm Grey
Breeder: Heinrich Schoof
The Capitol son, Cento is one of the great competitor stallions – and the most successful competitor by Capitol.
Partnered with Otto Becker he took out the World Championship for Breeding Stallions in France, when only a young horse, before going on to win at most of the world's major jumping contests. Cento won the World Cup Final at Leipzig in 2002, as well as the 'big two' Grand Prix – Aachen and Calgary. He won team gold at the Sydney Games, and bronze at Athens. During the 2006 WEG in Aachen, he was retired from the sport in front of 50,000 spectators. With winnings of over one million euros, he is one of the most successful Holsteiner jumping horses of all time.
His dam, Voila XI, from the famous line 2137 of the family Schoof, is by Caletto II. The grand-dam, Lady Legenede was an advanced showjumper. Bred to Lord she produced the stallion, Ligorett who was exported to Denmark. Her dam sire, Liguster was champion of his licensing. The great-grandam Legende, won the Grand Prix of Rome with Reiner Hedde in 1960.
Cento's rider, Otto Becker feels that the grey stallion, fitted in with the trend for a new sort of horse, the sort of horse, he rode best:
"Our riding style changed in the last 10/20 years, it changes a lot with lighter horses, which is why our way of riding is a little closer to the Americans," he told me in 2009, "Before we has this heavy horses, and they needed more dressage than the horses now. For me, and my way of riding, this new style of horse is good, because I always rode like this. I rode all sorts of horse but I always liked the Thoroughbred. I think also the course building changed, everything is much lighter, and that changes everything…"
And yet Cento came from a power line, from Capitol, not so much Thoroughbred?
"Yes, on the outside he might be the older type, but inside, he was like a Thoroughbred, that is why he was so careful, right till the end, and so sensitive. Inside he was like a Thoroughbred."
How old was he when you started riding him?
"I rode him once when he was five, then we agreed that I would get him when he was six, at the end of the year. I rode him for twelve years. Because he was so sensitive, when he was seven he went quite quickly and it was a big surprise when he won a big stallion class in France. From the beginning, whatever the course, he was most times clear. But with him I really took time, until he was nine or ten and he was consistent at the really big shows."
What was the secret to keeping him going in such a long career?
"When I was sure he was good, I took time, even if it took a year longer. I had the feeing he was not ready, finally when he was ten, he was really consistent. Before that he was good but I had the feeling he was a bit weak and it was a bit early, so I took time and waited… With all my horses I took time and gave them the chance to grow up."
Have you ridden many of Cento's progeny?
"Yes, they are all the same, they need a little more time but then in the long run, you have them longer."
Are there any particular mares Cento works better with, any particular bloodlines…
"Not so much bloodlines, but mares with some blood, Thoroughbred."
On the 2006 Monneron ranking of the top 75 stallions, Cento is in equal 34th place with nine representatives.
On the 2013 WBFSH stallion rankings, Cento is in ranked 30th with 26 representatives, the most successful of which was Cella (Chin Chin) a superstar with Ben Maher, with wins in Aachen, London and Wellington, as well as being members of the winning British nations cup team at Dublin.
Cella started 2014 in great style winning the $125,000 Grand Prix CSI*** at Wellington.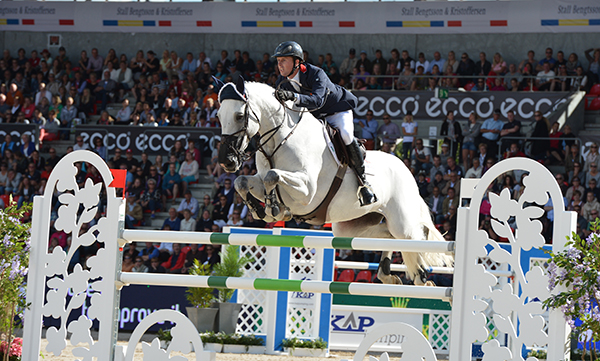 The stand out star, Cella 
On the 2015 WBFSH rankings, Cento is in 40th place, with far and away the most points earned by one horse, Cantinero (Cash). Ridden by Henrik von Eckermann, Cantinero won the Grand Prix of Rome in 2015, and placed 19th at the European Championships.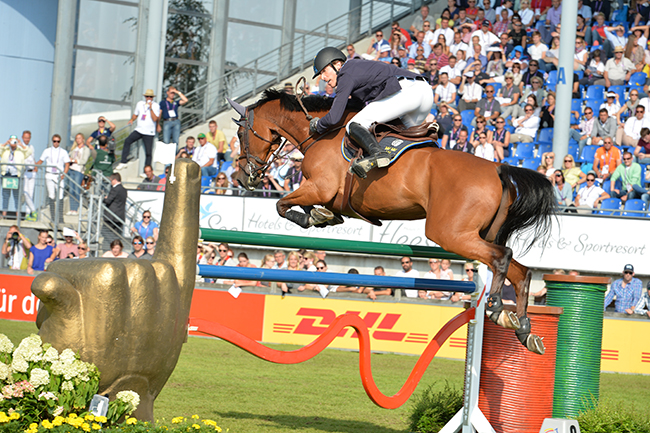 Starring at the Euros in Aachen – Cantinero and Henrik von Eckermann