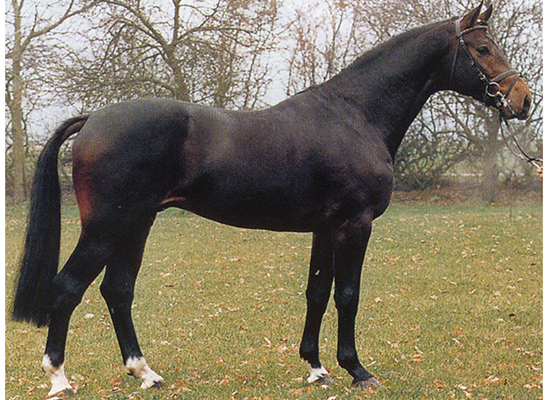 1984 – 2014 171 Brown
Breeder: Niko Detlef, Westfehmarn
Contender died in January 2014, just short of his 30th birthday, but not before he proved himself to be the most influential son of Calypso II and one of the greatest of the stallions to descend from Cor de la Bryère.
Here is his description in The Holsteiner Horse by Dr Thomas Nissen, Gabriele Pochhammer, Donata von Preußen and Joachim Tietz:
"An important stud stallion with fantastic lines, great expression and charm. All in all a stud stallion of exceptional class: first class conformation with very well balanced paces and good rhythm, whereby he could have had a more ground covering walk and a more pronounced flank. Outstanding jumping ability, as could be expected, considering his genes, very good style and technique."
Contender's dam Gofine is very much the product of the Haseldorfer Marsh – and all the stallions on the dam line, stood at the Haselau Station, where Contender spent his last years. Her line goes: Ramiro x Ladykiller xx x Heidkrug x Loretto-First-Mirza-Rudolf-Defregger-Justinus-Achill-Fritz.
In 20 years of breeding Gofine produced 17 foals, all of whom, with the exception of the mare, Goldküste by Lord, competed. The mare Ulina (by Chicago) won the German Championship of 1992 with Susanne Behring – Ulina's grand daughter, Think Twice by Corrado I, was a successful international showjumper with Leopold van Asten. Gofine's daughters were excellent producers: Fine Kiss by Caletto I out of M-Lareen by Leander, competed at the WEG in Jerez and the 2003 European Championships, with the Austrian rider, Tatjana Freytag von Loringhoven. A full brother to Fine Kiss was ridden by the American, Candice Schlom-King. Gofine's daughter, Akelei by Landgraf was the dam of the winner of the 1992 stallion licensing, Cassandro – who went on to win the Grand Prix of s'Hertogenbosch with Jerry Smit.
Nico Detlef bred Gofine to Caletto I in 1988, to produce the stallion, Cornetto who was a successful competitor on the international circuit with Lars Pedersen.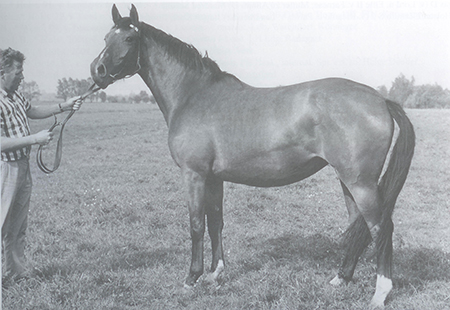 Cita H grandmother of Contender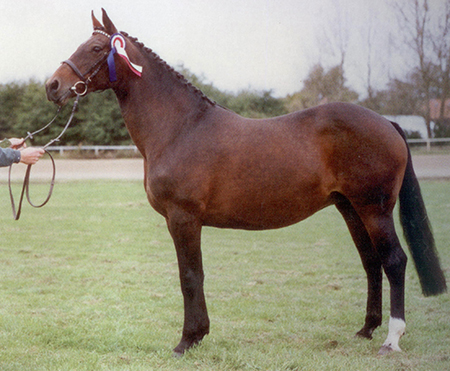 and, Gofine, his dam…
Contender won the 1987 Adelheidsdorf stallion performance test with a jumping index of 146.6. He went on to be the 1-b main premium vice-champion in Oldenburg on the basis of his excellent first crop of foals.
It is interesting how Contender came to be standing at the beginning of his career in Oldenburg. In an interview with Etienne van Muylem in the December 2007/January 2008 Z Magazine, the Manager of the Holstein Verband, Norbert Boley explained:
"I bought Contender as a foal. Eventually he was brought to the selection and half way during his performance, Klatte from Oldenburg had expressed his interest for the stallion over a pint of beer. Things developed so enthusiastically with a number of studbook people that Klatte already believed that he had bought the stallion, while I, the authorized person, did not know anything about it. When I learnt one day later that Klatte genuinely believed he was the new owner, I did not send him away just like that. Never treat your clients with disrespect – at least not when they act in good faith. We talked about it and came to a compromise. The stallion was leased to Oldenburg for three years."
Contender was in his time, one of the most sought after stallions in Germany. He has produced 127 approved sons, and 59 state premium mares including Riconda who won the Elite Mare Show at Rastede in 1993. As of 2006, in Holstein, Oldenburg, Hannover and Rhineland, Contender had produced 782 registered mares, 498 successful offspring in the sport.
During his first three years at stud in Oldenburg he produced an impressive number of foals that went on to international careers: Niko (Geoff Billington). Copa d'Oro (Yves Houtackers) and Maria Callas (Ben Schröder) – there is also Herbert Blöcker's eventer, Chicoletto. His first crop also produced Contango, the winner if the stallion licensing test in 1991, and the sire of the 2009 Dressage World Cup winner, Ravel. Other stallions bred during his time in Oldenburg include Continue, Caius, Clinto, Calvador and Cashman.
Contender returned to Holstein and was stationed at Hans-Jürgen Köhncke's stud at Badenhof. It was Mr Köhncke who bred the three-time Hamburg Derby winner, Collin.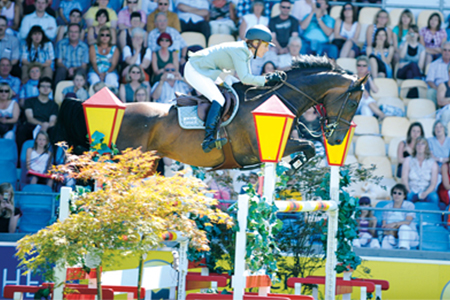 Checkmate and Meredith Michaels-Beerbaum, another great jumper by Contender
Still it took a while for the breeders to appreciate Contender. His first foals in Holstein weren't as spectacular as the ones in Oldenburg and it gradually became apparent, that Contender worked best with mares with a high proportion of Thoroughbred blood.
The success of his offspring made him so sought after that in 2000, the Holsteiner Board decided to limit the use of Contender to registered Holsteiner mares.
At the Holsteiner Stallion Show in Neumünster in 2001, several stallions, including Contender, contracted Equine Virus Arteritis (EVA). As a result, Contender was moved from the Elmshorn stallion depot to the very traditional stallion station at Haselau, from whence his dam line originated.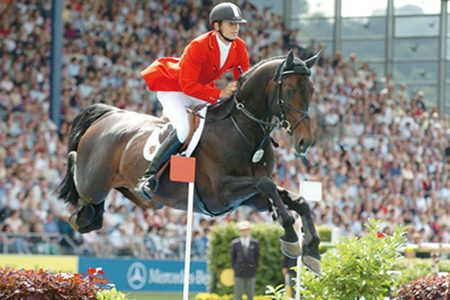 Montender and Marco Kutscher – he likes the Contenders
Marco Kutscher had great success with his progeny – riding three approved Contender sons in international sport: Contreo, Conterno Grande and Montender (German Champion of 2003, bronze medallist at the Athens Games and European Champion 2005). Toni Hassmann won the German Showjumping Derby three times in a row with Collin without picking up a single fault. Checkmate – bred in Hanover and out of a Pik Bube II mare – won on the Rider's Tour with Meredith Michaels-Beerbaum and was her ride at the European Championships. The licensed Holsteiner, Controe (out of Amalva by Aloube Z) has twice been runner up in major classes at CSIs in Stockholm and Amsterdam. Another Contender, the 2004 world champion of sires, Con Spirito R (dam, Galaune by Caletto I) is based in Switzerland at the Ruetimann Stud, and has been successfully competed by Theo Muff – he too is proving a handy sire. Other stars include Nick Skelton's Carlo and Ludger Beerbaum's mare, Chiara who was second at the World Cup in Lyon 2014 as well as winning the five star Grand Prix in Doha.
Contender dominated German breeding values for many years now and produced a number of top stallions, including Contendro (premium stallion in the approval of 1999, and winner of the performance test at Adelheidsdorf the following year).
On the 2014 WBFSH standings, he is in 20th place largely due to the efforts of Ludger Beerbaum and Chiara.
Contender's influence spreads throughout Germany, with his two sons, Cordobes I & II acquired by the Westfalien stud at Warendorf. Cordobes I was the winner of his performance test in 1998 – scoring almost exactly the same jumping score as his celebrated sire, 146.29!
His son, Canabis Z is another successful sire who now stands at the Nijhof stud in Holland after commencing his sport and breeding career at Zangersheide. For six seasons, he competed at an international level with Manuel Fernandez Saro from 2003 to 2009 with moderate success. Their best win was a Grand Prix at Vejer de la Frontera but it was a pretty ordinary line up of jumpers…
His breeding career has been limited but he has produced an impressive group of progeny: Cabreado Z and Daniel Deusser (their best a win in a 1.55 class at Lyon*****), Zoltan and Gerfried Puck (3rd in a 1.45 class at Reifnitz), Caesar and Andre Thieme – their best in 2012 was a 3rd in a 1.45 class at Neustadt-Dosse, although they did win a Grand Prix at Thermal** back in 2010. The most promising of Canabis' offspring is Cadjanine Z who Gregory Wathelet rode at the London Games, and who started the 2014 season in great style, carrying Rodrigo Pessoa to a 1.45 and a Grand Prix win at Wellington.
Thomas Mohr, the director of the Maas J. Hell stallion station, told me, that like all good stallions, Contender needs 'his' type of mare:
"He has proven what he has for the breed, he gives lots of power. He is the sire of many horses on the international showjumping scene. He is a great stallion, you either like him or you don't like him, but he has set his footmark. He is comparable to Grannus in Oldenburg, or Pilot in Westphalia, but he needs a special mare, a blood type mare. Each stallion needs a special mare."
"That's the problem with the hobby breeders – if they have a good mare, they want to breed her to Contender, but everybody knows it doesn't fit, because the mare is heavy. That's the difference with the older breeders, you can say to them, 'don't do that', and they take the advice."
As one of the 'big three' stallions in Holstein, Contender was limited to a book of 350 mares a year – and each year over 700 applications were received!
It is sad to think that he no longer looks over the stable door out to the cemetery at 'his' stallion station at Haselau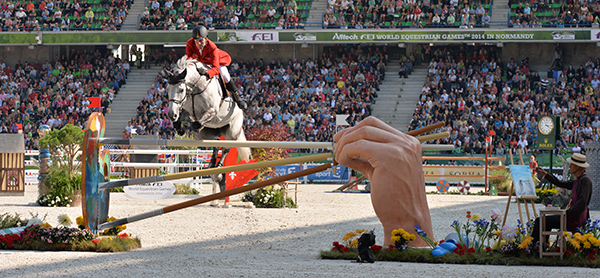 Representing Contender at the WEG in Normandy, Chiara out of a Coronado mare