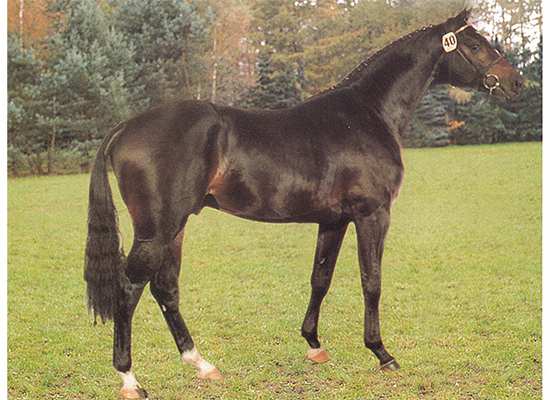 1997 163 cm Brown
Breeder: Manfred Birchler
His dam Bravo, when covered by Caretino produced the Zangersheide stallion, Caretano, who competed first with Toni Hassman and then with Jos Lansink. The dam sire, Reichsgraf was a promising Holstein stallion who died after only a couple of seasons. The grand-dam, Ofarim produced two stallion sons, Caballo (by Coriano) who was exported to America, and Conteur (by Contender), a private stallion in Hesse.
Contendro is strongly inbred to the Anglo Arab foundation sire, Ramzes AA through Ramiro with two crosses on his dam line, and then Ramiro again as Contender's dam sire. There is also a heady dose of Thoroughbred, with Tin Rod xx, Rantzau xx, and two crosses of Ladykiller xx.
Contendro was the winner of the 1999 licensing, and won his performance test at Adelheidsdorf the following year.
His younger brother, Contendro II also won the Holstein licensing and was fourth in his performance test, but a clear winner in the jumping.
In 2004 eleven Contendro I sons were licensed at Verden, Neumünster, Münster-Handorf and Krueth. All told, he now has over 30 licensed stallion sons in the Hanoverian book, including Captain Fire, the Five Year Old Jumping Champion at the Bundeschampionate 2006.
His standout stallion son has been Codex One (out of a Glückspilz mare) who was in the German showjumping team with Christian Ahlman at the London Games, was 12th at the European Championships in Herning, and in 2013 won the Grand Prix at Hamburg. Codex One has won just on half a million Euros!
Contendro has been an important source of Contender blood in Hanover, and was initially hailed as a dual purpose sire, however Ludwig Christmann is not convinced of his value as a dressage producer, in his review of the top stallions of the year 2006, he notes:
"The son of Contender – Contendro – is one of the most favoured producers, even though he is still quite young. He won his stallion performance test with exceptional performances and stands at stud at the Breeding Farm, Famos. In the performance test Contendro also received high scores in the dressage index. However, in the case of this stallion, the integrated breed value system of the FN and the Hanoverian breed value estimation do not fully agree. The integrated breed value estimation shows 132 dressage points, heavily influenced by a very positive result with 138 in stallion performance test results – which is not surprising since he already has nine approved sons. The Hanoverian breed value estimation on the other hand shows Contendro as an average producer for dressage with 101 points from 30 evaluated descendants. The canter is a highlight, whereas the walk shows weaknesses. Further developments will show which breed value estimation result comes closest to the true breed value. With respect to his breed value for jumping, both estimations are in agreement: FN 146, Hanover 145 – Contendro belongs in the top five percent of the jumper horse producers."
Contendro headed the Hanoverian jumping stallion standings in the 2014 stallion book, with a ranking of 158 and again in 2015, although his value had dropped to 156. In 2015 his dressage ranking was 98 and his score for type was 110.  His Hanoverian jumping ranking of 154 in the 2016 Stallion Book, has him once again at the top of the Hanoverian jumping stallion rankings, notwithstanding his defection to France.
As of the 2016 Stallion Book, he had 1352 registered competitors with winnings of €4,179,082 – he had 251 dressage competitors, 13 at S level and 1252 jumping competitors with 36881 placings – with 209 at S level. He is the sire of 31 licensed sons.
In the 2017 book he has 1417 competitors: 273 dressage, 1319 showjumping and 62 eventers with winnings of €5,075,677
In the 2018 book, he has 1491 competitors (291 dressage / 1393 jumping / 67 eventing) with €6,169,325 in winnings, with 34 showjumpers earning more than €15,000.
The FN jumping ranking for 2015 of 156  has him just out of the top ten, but in decent company, equal with Cardento and Diarado. His dressage breeding value is 116.
On the 2017 FN breeding values, Contendro has a Jungpferdeprüfungen (young horse) value of 112, and a Turniersport (open competition) value of 119. His 2018 Hanoverian breeding value for dressage is 94, for jumping 152. For type he scores 108.
At the end of 2013, Contendro was purchased by the GFE group, and moved to France… while his son, Codex One, with Christian Ahlmann in the saddle, continued to keep his name before the jumping – and breeding – public. In May 2013, Codex One (out of a Glückspilz mare) was the winner of the Global Champions tour leg in Hamburg, in 2014 he won both the Grand Prix of Aachen and Valkenswaard, in 2015 he won Stuttgart 5 star, and in 2016 won the five star GP at Basel, and was 1st at Neumünster 3 star….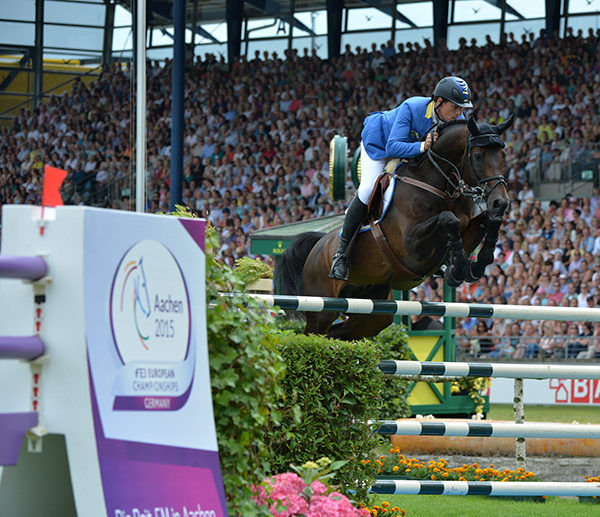 Codex One winning the Grand Prix of Aachen, 2014 
On the 2014 WBFSH rankings, Contendro is in 8th place, with Caballito (Argentinus) his greatest points earner with 845, with Codex One, second, on 680.
In 2015, his WBFSH jumping ranking is 16th with Caballito once again his top points earner. In 2015, Caballito and Andres Rodriguez won two 1.45 classes and a Grand Prix in Wellington. The pair were 59th at the WEG in Caen.
In 2016 on the WBFSH rankings he was 21st on the Jumping rankings (with Codex One by far his most successful competitor) and for the second year in succession, number one on the eventing stallion standings.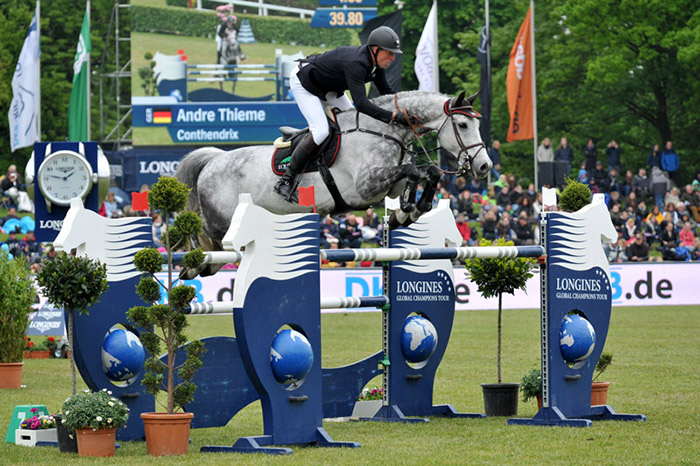 Conthendrix 
On the 2017 WBFSH jumping rankings he was 19th, with his best representative, Conthendrix (out of a Cor de la Bryére mare). Ridden by Andre Thieme, Conthendrix has won €481,051, with two five star GP wins – Saugeties and Lummen.
Number One Eventing Sire:
On the 2017 WBFSH Eventing Sires rankings Contendro is Number 1 for the third year straight.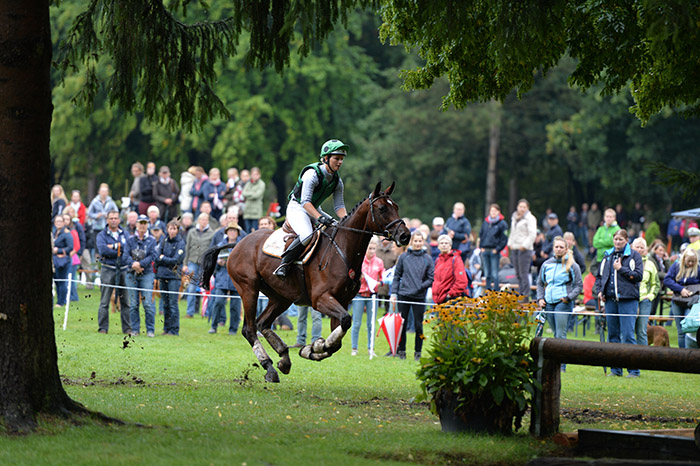 His most successful competitor was Chipmunk FRH (Heraldik xx) ridden Julia Krajewski.Second to the Oldenburger, Chatwin, out of a three quarter blood mare – by Oldtimer xx out of a Barzoi xx mare, ridden by the American Francis Thierlot. And third to Campino (Pinkus) and Mark Todd.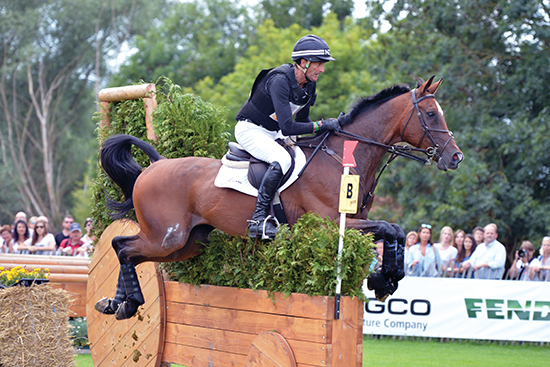 Campino and Mark Todd