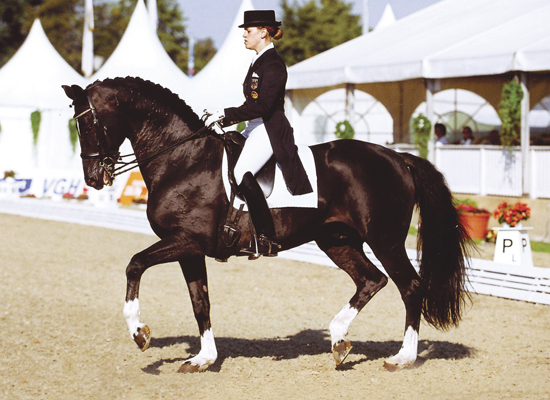 1993 170 cm Black
Breeder: Brigitte Pahl
Licensed for Hanover, Oldenburg, Westphalia, Rhineland, Saxony-Anhalt, Mecklenburg-Vorpommern, Sweden, Denmark and France
Donnerhall was the first of the great competition dressage stallions. Instead of staying at home in his breeding barn, coming out to cover mares (or more likely the phantom mare), Donnerhall hit the competition trail so successfully that he was a valued member of the all-conquering German dressage team, and in doing so started the fashion for breeding stallions who were also serious competitors – a fashion carried on by his son, De Niro.
De Niro comes from the Akzent II mare, Alicante, who was herself a successful dressage competitor, and who produced De Niro's full brother, Dimension, a stallion with a good reputation in Westfalia. Akzent II was particularly noted as a sire of broodmares and as well as De Niro and Dimension, he is the dam sire of: Gralshüter, Carismo, Welton, Trend, Pik Labonics, World Man G, Grannus As and Gracieux.
The dam sire is the Thoroughbred, Wiesenbaum, with the great Ferdinand on the dam line – from this dam line comes Franke Sloothaak's international showjumper, Landdame.
At the stallion licensing in 1995, De Niro demonstrated his jumping ability, and although in his performance test at Adelheidsdorf the following year, he went better in his riding score – 145.41 and best of the year – he was also competitive in the jumping section with a score of 117.75 which put him into 11th. Overall De Niro finished 2nd with a score of 141.93.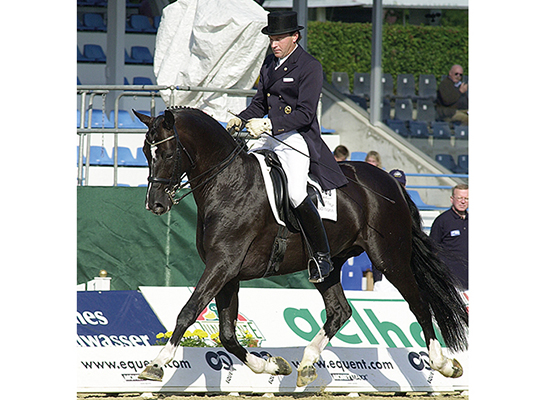 Competing with Dolf-Dietram Keller
By the year 2000, and at the age of only seven, he was already competing in Grand Prix dressage with Dolf-Dietram Keller – and the following year carried Mr Keller to the title, German Professional Champion. In 2002, De Niro won international Grand Prix and Grand Prix Special tests at Saumur and Berlin, and in 2003, he was the winner of the German Dressage Derby at Hamburg.
Dolf-Dietram Keller has a special relationship with De Niro. "He was the horse that I rode the longest." He told Britta Züngel for her story in The Hanoverian ((8/2014)
"De Niro was very trainable. He learned the one-tempi changes in only two days as a six-year old. He did them every day from then on. We tried Piaffe and Passage very early at home. De Niro accepted the aids very well. Because of his great talent, he never really encountered stress during his entire training."
The ride was taken over by his owner's daughter, Theresa Wahler and the stallion gracefully introduced the youngster to Grand Prix level dressage.
As a sire, De Niro has been a huge success.
In 1997 he was awarded the 1-a main premium by the Oldenburg Association on the basis of his progeny.
In 2000 his daughter, Die Weingard was the 1-b 'diamond ring' mare at the Oldenburg Elite Show at Rastede.
In 2004 he was the sire of Dancier, the Hanoverian licensing champion at Verden, as well as two of the vice-champions. The following year, the Verden champion, Hotline was out of a De Niro mare – this young stallion was sold for the record price of €800,000.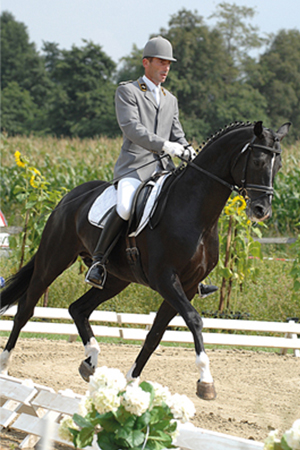 Dancier – licensing champion in 2004 – out of a Lancier-Espri mare
In 2006, De Niro was represented by 14 progeny at the Bundeschampionate, making him the most successful sire.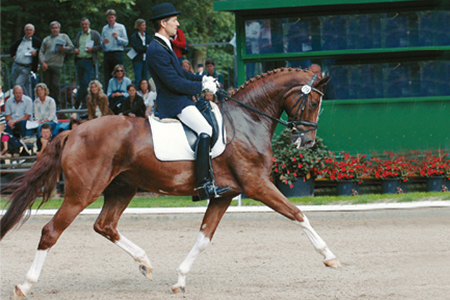 Bred in Westfalia, out of an Ehrenmarsch mare, the De Niro son, Daily Pleasure was the 4 Year old Riding Horse Champion, in the mares and geldings class, at the 2005 Bundeschampionate 
The 2015 Hanoverian Stallion Book records him as having produced 1058 (!) competitors, with winnings of €2,000,499, with 195 of his progeny competing at S level or above, with 27 of his get with winnings of more that €10,000. In the 2016 book, he has 1108 competitors with winnings of €2,406,601, with 29 progeny earning more than €10,000.
The 2017 Hanoverian Stallion Book is more of the same. 1148 competitors with winnings of €2,751,698. Thirty one dressage competitors with winnings of more than €10,000. Desperados FRH has €516,505, D'Agostino – €245,891, Dablino – €194,699.
On the new German FN breeding values, he has a young horse value of 129, and an open competition value of 138.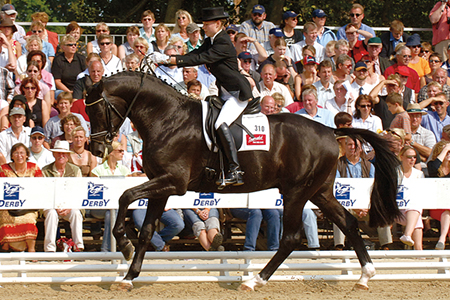 The De Niro son, Desperados was a star in the young horse classes and now is a member of the German team with his young rider, Kristina Sprehe
When I interviewed his owner, Burkhard Wahler in 2007, he was rightly proud of his horse:
"Some people might disagree, but in my opinion, there is no son of Donnerhall as successful as De Niro. He is only 14, the oldest progeny are ten, four are already placed in Grand Prix. Twenty-four are placed in Prix St Georges and Intermediaire. The offspring last year won almost €195,000, in just one year. When you start thinking that next year there will be more horses, at a higher level, that means they will probably win even more – and the stallion is still very young. My daughter Theresa competed last year with him in Grand Prix, and she will ride him again this year."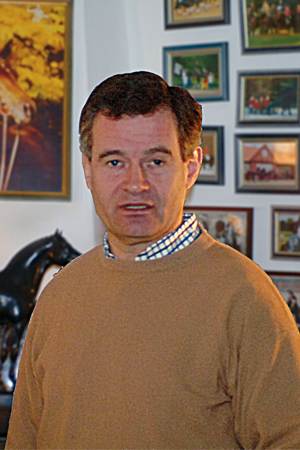 Mr Wahler liked the cross of Donnerhall on Akzent II:
"I love to buy the Donnerhall blood but I don't like the very popular Donnerhall / Pik Bube cross – very heavy big horses, and I didn't like that so much because I am from the other side, from the Trakehner side and I like more an elegant horse. I really liked De Niro, because he was out of a mare with Wiesenbaum / Akzent breeding. Akzent is through Absatz, Trakehner, Wiesenbaum is from Thoroughbred – so in my opinion, this was a very interesting bloodline."
The story of how Burkhardt Wahler acquired De Niro is entertaining, and bears out Burkhardt's maxim that with every stallion comes a story…
Wahler's Klosterhof Medingen stud is in the middle of Hanoverian breeding country, but had always stood Trakehner stallions. He found the Hanoverian breeders would only visit his farm – once:
"We thought, okay we have so many Hanoverian breeders but they don't come back – because they used our stallions to breed F1 – half Trakehner, half Hanoverian, then they go back to a Hanoverian stallion and not to a Trakehner again. We had to buy a Hanoverian stallion."
"It was the first time I'd been to the Stallion Licensing in Verden, and in the catalogue, I had three stallions marked – and one of those three was De Niro."
"At that time, Celle could choose ten stallions for a certain price and it was not possible for private breeders to buy those stallions. When I looked at the stallions, there was only one I wanted to buy, that was De Niro. Then I asked Mr Jahncke, the President of the Hanoverian Association, do you think the state stud will take him? Yes. Probably he goes to Celle."
"It's always the same weekend with two stallion licensings – Verden has the Hanoverians, Neumünster has the Trakehners. So I left Verden and went to Neumünster. I called the next day after the freejumping – is he going to Celle? No. They thought Dr Bade didn't take him because he is by Donnerhall, and Donnerhall was a private stallion, and he didn't want to make private stallions popular. In this time they took Weltmeyer, Weltmeyer, Weltmeyer…. Every year twelve Weltmeyer stallions. So then I called my partner, Tönne Böckmann from the Böckmann stallion station, and I said, I am here in Neumünster, you go and buy that stallion…"
"It was in the days when they didn't have a proper auction for the licensed stallions, just the people who are interested used go into some rooms of the Verband office and bid amongst themselves for the stallions. Paul Schockemöhle was on the phone to the Hanoverian breeding director, Dr Wilkens who was doing the deal. The price went up to 150, 170, 180 Deutschmarks – so 80/90,000 euros – and Schockemöhle asked, who's bidding against me? Oh it doesn't matter… No, who is it? Böckmann. I want to talk to him… Okay, Paul said, I stop now, you buy him and we can talk later. But what he didn't know was that Böckmann already had a partner!"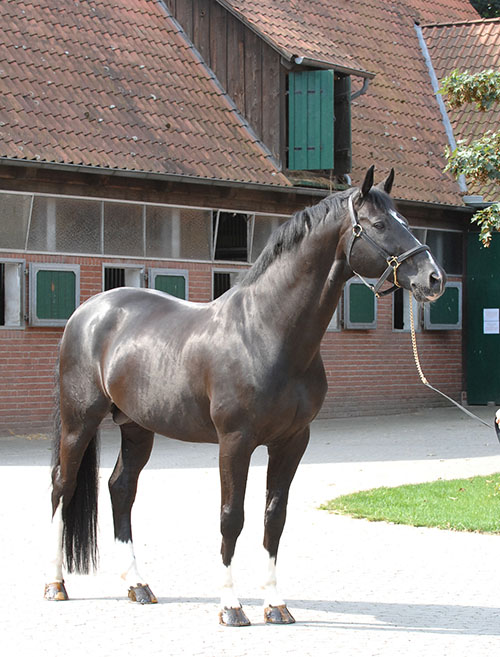 "Then on Monday the telephone was ringing, Schockemöhle's manager was ringing Böckmann wanting to know how they were going to make the arrangements for the stallion. There's one problem, Böckmann said, I have already a partner, and you have to talk to him. Two days later Paul calls me and says, listen I stopped bidding. And I said, yes Paul that was very nice, we have been friends for a long time… but now I have him and I am not interested in having a third owner in him. You should think about it, Paul said. At the end, I had no more arguments, and I didn't know what to say, so I said, I really can't decide – I have to ask my wife!"
"Paul said, are you crazy? Böckmann says 'I can't decide, you have to ask Wahler'. Wahler says 'I can't decide I have to call my wife!' At the end Böckmann and I had De Niro ourselves. We got very lucky…"
According to Mr Wahler, De Niro crosses over a wide variety of mare lines:
"We have bred a lot with Weltmeyer mares, in Oldenburg with many Rubinstein mares. Okay with the Donnerhall blood, once in a while they could be a little heavy, Donnerhall himself produced some heavy horses, that can happen – that's why we try all the time to make sure we don't get too heavy mares for De Niro. He makes very good dressage horses, especially with a good hindleg."
Currently De Niro is the sire of 60 licensed stallion sons around the world.
On the 2015 FN rankings, De Niro has a dressage score of 134, as against a jumping score of 67. That puts him into 59th place on the FN rankings behind a score of horses that will disappear without trace (or a decent foal) in the next couple of years. On the 2015 Hanoverian calculations he has a dressage index of 116 and a jumping index of 74, which is not good enough make the Hanoverian topliste. What a joke these breeding values are!
De Niro was number 1 on the 2013  WBFSH dressage stallions rankings,but on the 2014 standings he dropped to 2nd place, with 25 horses adding to his total points. In 2015 he is back where he belongs, number one with 29 representatives. The first five are all genuine international stars: Desperados, Delgado, d'Agostino, Glock's Voice and Dablino.
On the 2016 WBFSH standings he is once again in first place. I asked Hanoverian breeding expert, Ludwig Christmann what made De Niro such an exceptional sire:
"I think you should probably talk to the riders and trainers, I think it is the minds that they like. When I talk to Mr Sprehe about Desperados and he says the horse is always fit, even if it is 35 degrees like in Rio, he always does his job. They have the talent for collection and the higher movements, but it is the mind that makes them so special."