1981 – 2006 172 cm Liver Chestnut
Breeder: Otto Gärtner
Donnerhall was the founding stallion at one of the first truly glamorous private studs – Grönwohldhof. It was a trend that was to strengthen and grow as the private studs that reflected the affluence and taste of their mega-rich owners mushroomed. Grönwohldhof with its mill pond and waterwheel, its beds of azaleas, and picture perfect paddocks with foals with neatly trimmed tails, threw out the challenge taken up by later establishments like Gestut Famos where the magnificence of the setting overwhelms the breeding operation.
Sadly of recent years, the trend has been reversed, and many of those famed Oldenburg studs – including Grönwoldhof – have disappeared.
But beautiful as Grönwohldhof may have been, it was also brilliantly designed, and laid out so that the founder Otto Schulte-Frohlinde who was confined to a wheel chair, could observe all of the operations of the establishment via closed circuit vision in the central control room, from which the various wings of the main stud building fanned out.
There was the round court at the centre, usually packed with the luxurious tack boxes of visiting teams, celebrity riders and the rich and hopeful. Off to one side, in the centre of the riding hall sat Herbert Rehbein, like some oriental pasha, surrounded by his followers, as he directed the activities of the dozen or so riders in the school at any one time.
And what riders he produced! Riders like Martina Hannöver, Ingo Pape, Susan Draper (now Pape), Falk Rosenbauer, who came out of the stables themselves – and visitors from all over the world.
Martina recalls the time: "I remember my first day at Grönwohldhof, I had to warm the horses up for Mr Rehbein, I rode Charmeur and Mystique, both of them big, with a lot of big trot, and a lot of schwung. When I started to trot, I had big problems to do rising trot, but then when I had to go into sitting trot I felt that I would land on the roof, every single step, I couldn't sit on these horses. I thought he was going to throw me out on the first day! But he didn't do this, he just sent me for a few weeks in the small hall to learn to sit."
"After a while I got the very good job, I was the one warming up the horses for Mr Rehbein, and I got to go to competitions with him. I started at quarter to six with the first horse, warm him up, then Mr Rehbein came."
"That is how I learnt most of what I know now, because I got the good horses to ride. I'd just warm them up, sometimes he'd say, do an extended trot, do this, do that. Later on, he would let me do a little bit of piaffe, and he was always telling me you have to get the real feeling on the better horses. If you don't feel it you can't teach it – not to the horse and not to the rider. He was a super teacher. He didn't say so much, if you 'stole' with your eyes, you could watch him when he taught other people, but the main thing was when you got back on the horse after he had ridden it, and you felt that it was one metre shorter, it was always an amazing experience."
At that time there were some very good riders at Grönwohldhof?
"The best in the world. The whole Swedish team were there all the time. The Americans were there, the Finns, the English. It was very busy; when you came in the entrance hall of the arena it was always full of the big tack lockers of the overseas riders."
And while Grönwohldhof was a magnet for riders, Donnerhall as one of the first super star stallion competitors, was a magnet for mare owners…
It must be admitted that Donnerhall hardly comes from a 'good family'. Admittedly his sire, Donnerwetter disappeared into the wilds of the United States in the mid seventies, but while there are a couple of Donnerwetters 'gracing' the German dressage arenas, they are pretty ugly, untalented creatures. Even Donnerhall's famous rider, Karin Rehbein noted in an interview I conducted in 2000, that despite the large number of foals Donnerhall has sired, she had yet to find one that matches up to the stallion.
"There are a lot of Donnerhalls who have a little similarity to him but it is difficult to get another just like him," said Karin, "Look at Donnerhall's full-brothers, you couldn't compare any of them to him. In appearance, in everything about him, the full brothers don't come anywhere near Donnerhall. There were even two brothers who competed Grand Prix, but they were nothing compared to Donnerhall. They don't even look the same, don't move one little bit the same."
Mrs Rehbein started riding the liver chestnut stallion when he was four years old. When she first got on the youngster she thought 'this horse could be something'.
"He was always a good horse to train. Good in the head, he was always straightforward and learnt everything really quickly. He is still fantastic, he could still go out and win right now."
To see Donnerhall compete was to marvel at the imposing power of the big stallion, but surprisingly, even though Mrs Rehbein is not very tall, and certainly not very big, the ride he gave her was 'very good'.
"He was very soft. Sometimes you had to hold him a little bit through, but you have to do that with every horse."
Donnerhall's talent was apparent right from the start, and he scored 131.92 to be second in his performance test at Adelheidsdorf in 1984. Donnerhall's competition career is the stuff of legend. He won many Grand Prix, Grand Prix Specials and Freestyles for Mrs Rehbein.
In 1994, Donnerhall was individual bronze medallist (and team gold medallist) at the 1994 World Championships at The Hague. Donnerhall won the European World Cup Freestyle League final standings twice, in 1997 and 1998. He retired from competition in 1998.
What Donnerhall seems to give to his offspring, is a trainability and a strength to handle the more collected work, even if their natural paces are not so spectacular. It would seem that the mix of Donnerhall and a large drop of 'blood' (Thoroughbred that is) in the dam is more likely to produce competition horses. Donnerhall's son Davignon is out of a Pik Bube mare and those direct Donnerhall progeny that are going well at FEI level – like the mare, Dona Castania – are out of Pik Bube mares. Another son consistently producing exciting looking youngsters is Don Primero, again out of a Pik Bube mother.
 Davignon and Ingo Pape
1997 saw the first of the Donnerhall grandsons to star at the Bundeschampionate, with the gelding Duvalier (by Davignon out of a Bolero mare) winning the 5 year old dressage title – while the following year, this class was won by the black Donnerhall son, Del Piero (out of a Matcho AA mare).
The Donnerhall son, De Niro (out of a Akzent II mare) started competing at Grand Prix level at the tender age of seven. De Niro's foals look great – better than their dad.
Another Donnerhall son to impress was Dream of Glory who sired the 1998 three year old stallion winner, Dreamy's Dream, and had a number of representatives in the finals at the 2000 Bundeschampionate, and they all looked sweet rideable horses. Once again, Dream of Glory is out of a Pik Bube/Romadour II mare). Dream of Glory died after just a few crops of foals.
Perhaps the most exciting son of all is Damon Hill (out of a Rubinstein mare). The stallion has had a charmed life. Twice a world champion young horse with Ingrid Klimke and Helen Langehanenberg, and now one of the top three dressage competitors in the world – he too looks like being a valuable sire.
The 2011 Hanoverian Stallion book (the last in which he appears) records that Donnerhall has had 998 competitors, 840 dressage competitors (226 at advanced level) – and even 97 in the jumping ring – for total prizemoney of €2,137,490. Far and away the most successful of these progeny has been the mare, Donatha S, who won €174,242 followed by Don Schufro with winnings of €109,257. At that point, there were 40 horses with dressage winnings of more than €10,000.
Donnerhall had FN dressage ranking of 150, jumping, 77. His Hanoverian ranking is 158 for dressage and 75 for jumping. He was the sire of 50(!) licensed sons at that stage.
Indeed there are those, like the trainer Jo Hinnemann, who believe that it is the second and third generations of Donnerhalls that will produce the goods:
"Donnerhall produced a lot of good stallions. You see a lot of very good performing riding horses by Donnerhall. He makes them pretty – sometimes I think that in his time, like Rubinstein, it was a very very good generation, but when you see horses like Roman Nature or Fidermark, or Laurentianer, it is a step further on in the breeding. They are always a little more pretty and more elastic. The breeding becomes again a little bit better – but if you didn't have a Rubinstein or a Donnerhall, there is no going further in the breeding. These stallions were good in their time – perfect – but I think the three stallions I have named are a step further on in the breeding already."
Donnerhall was ranked number fifth on the WBFSH rankings for 2013 based on FEI recorded performances, with most of his points earned by three of the world's top ten – Damon Hill, Donnperignon and Digby – with one son, De Niro, ranked number one, and another, Don Schufro, in sixth place.
Donnerhall was well represented at the 2008 Olympic Games. His son, Digby, competed for Denmark, while his daughter, Donna Carrera was Australian dressage reserve. His grandson, Dundee (by Duntroon) represented Australia, while another grandson Dow Jones (by Don Primero) was selected for Japan.
The 'D' line horses were out in strength at the London Olympic Games. By Donnerhall himself, we find three, Donnperignon, Damon Hill and Digby. De Niro provided Dablino, Donnerfee and Desperados, then we have D'Niro (by D-Day), Diva Royal (by Don Frederico), Don Auriello (by Don Davidoff), Dorina (by Don Schufro).
Looking at the start list for the dressage at the WEG in Normandy, the first thing we  observe – yet again – is the outright dominance of the Donnerhall line. He, himself, was represented by four competitors, a total only matched by his son, De Niro. Donnerhall was further represented by two sons, Donnerschlag and Don Cardinale. Another son, Don Gregory was represented by two of his sons, Don Davidhoff and Don Ruto. De Niro's son, Danone I was also the sire of one competitor. That's thirteen D-liners out of 103, almost 13%.
In the Freestyle, the percentage of D's rose to 46.66 (7 out of 15). Three by the grand old man himself, the rest by four of his sons. There is little doubt that 'D' is the dominant line in dressage breeding and given the ability of the line to produce a succession of exciting breeding stallions, the influence will continue to grow…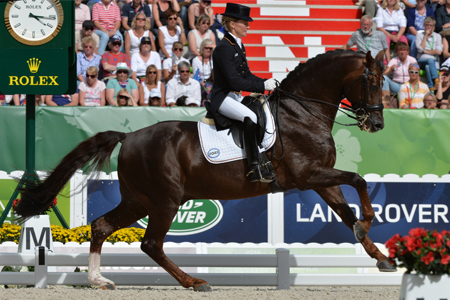 Damon Hill, dressage superstar – and siring some very nice progeny…