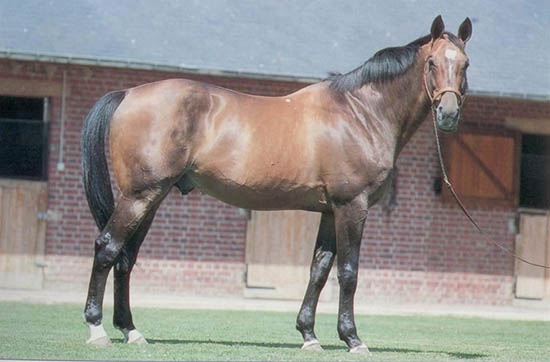 1975 – 1994 174 cm Bay
Breeder: G. Sabras
We were at the big Paris December Horse Show. Our French was not quite good enough to catch the rapid-fire announcement over the sound system, but it was obvious that someone very important was about to arrive at the Salon de Cheval in Paris. The President perhaps? Certainly the crowd was on its feet welcoming the visitor, a slightly rickety looking old stallion, the great Jalisco B.
The French breeders have passion!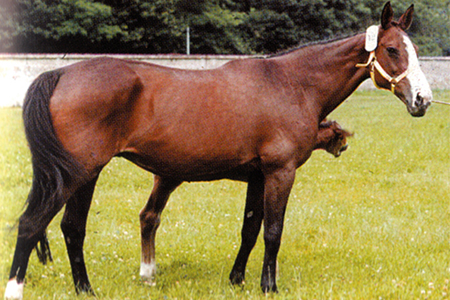 Jalisco's dam, Tanagra, by the great Thoroughbred, Furioso
Like so many of the great stallions, Jalisco was not an immediate star. As a five year old, he finished a respectable 8th at the French championships, the following year, he was 8th in the Grand Final, and ranked fourth in prize money earned of his generation.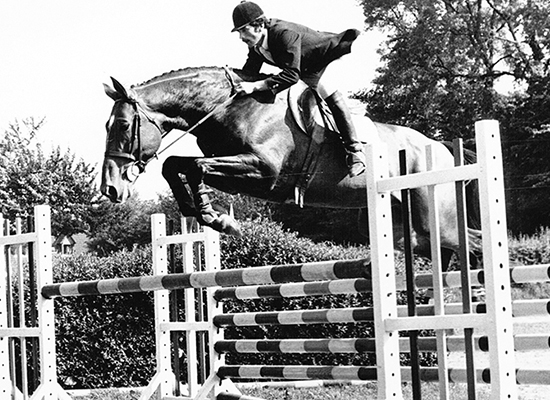 Teamed with Xavier Leredde, son of the famous breeder, Ferdinand Leredde, Jalisco won the Grand Prix of Paris in 1983, and was on the selection list for the 1984 Olympic Games in Los Angeles. Before he had the chance to compete at the Games, he was injured on the Spanish circuit, and sold to Portugal, and competed for that country with Manuel Malta da Costa at the Seoul Olympics in 1988.
He returned to France in 1988 to a breeding career – but was limited in the number of mares he could cover as his semen was not suitable for freezing, or even chilling and transporting. He served for only three seasons before being struck down by colic at the beginning of the 1994 season. He was 19 years old.
Jalisco was bought as a two year old by Henriette Van Riemsdijk – later to become the wife of French breeding expert, Arnaud Evain. Henriette knew very well Jalisco's sire, Almé who had been broken in and trained at her stable, eight years earlier. While Jalisco was in her possession, she gave him to Xavier Leredde to ride, and decided with Fernand Leredde only to breed her stallion to mares with performance or breeding.
In 1980, international jumping star Olisco, was foaled – he went on to compete internationally with Michael Matz; the following year, Privilége (Helmut Morbitzer) and – with M. Leredde taking his own advice – Papillon Rouge.
Leredde also bred Rochet M, a bronze medal winner with Alexandra Ledermann at Atlanta.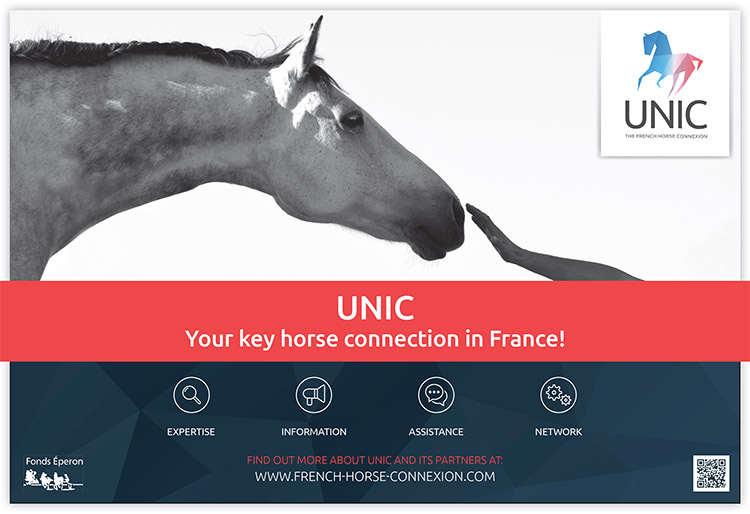 In an interview with Xavier Libbrecht in Breeding News in February 1997, Fernand LeRedde has this to say about the stallion:
"One should consider that Jalisco has four half brothers, sons of Almé, from a generation which distinguished itself at an equivalent level of competition. In no particular order, and with some different results, there is Joyau d'Or A (Fabulation by Vin d'Honneur SF), I Love You (Elyria by Nykio SF), Lord Gordon (Taviane by Brule Tout SF) and Galoubet (Viti by Nystag TF). Assuredly, Jalisco has not been the most dazzling performer of the lot. Joyau d'Or and Lord Gordon had short or interrupted careers, I Love You, winner of a Volvo World Cup Final (Vienna 1983) and Galoubet have been more spectacular than Jalisco in the ring. But, there again, history proved that Jalisco used his weaknesses to his advantage. Out of the five, he was the biggest, moved with the greatest elasticity, with the longest stride. He was also, intrinsically, the most powerful. His pedigree and, notably, his maternal line, was perfect, since his mother, Tanagra, pride of the Sabras breeding, never produced anything other than good horses (Geisha N, Danoso etc.). On the other hand, he was sometimes a little phlegmatic and lacked respect for obstacles, and his competitive honours were never as high as those of his half brothers. However, fifteen years after the end of his sporting career, he was considered to be the best stallion of the five best French Almé sons of his generation."
In 1982, Jalisco sired two stallion stars – Quidam de Revel, 4th at Barcelona who went on to be for a while the world's most expensive – and successful – stallion, and the 1990 World Champion, Quito de Baussy.
By 1995, Jalisco was number one on the WBFSH rankings with eight horses competing at the highest international level. At the 1996 Olympic Games, he was represented by Rochet M, Surcouf de Revel, Vert et Rouge and Revoulino.
According to Arnaud Evain: "What Jalisco brought was the scope – scope and long strides. Behind his very strong body there was a lot of blood, but you must have a lot of respect and passion with the Jaliscos because they are generally not very spectacular when they are four. When you combine the blood of Jalisco with the blood Nankin or his son, Uriel, that is often very successful. Quidam de Revel, is Jalisco / Nankin, Dollar du Murier is Jalisco / Uriel. You find that quite often."
In the survey by Bernard le Courtois of the top 75 stallions of 2006, Jalisco is ranked =30th with 10 representatives.
Jalisco was the sire of 63 approved stallion sons, but the most important has been Quidam de Revel and his sons, Guidam and Nabab de Reve.