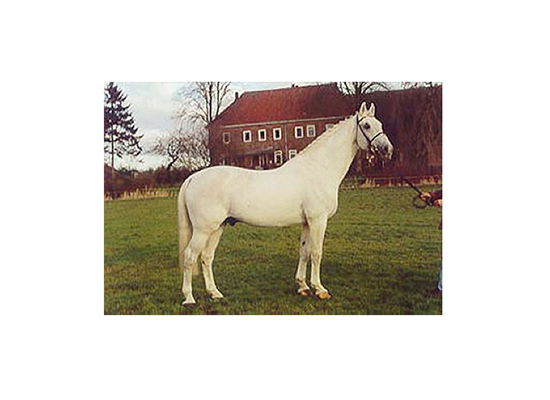 1980 168 cm Grey
Breeder: Harm Thormählen
I guess when Harm Thormählen bred Lacapo, he didn't have the future of Dutch dressage breeding on his mind, but he was to play a key role anyway…
Lacapo is by the great Landgraf but out of one of the Thormählen mares – Larsa, who is by Capitano who is out of one of their greatest foundation mares, Retina.
On his dam's side, Lacapo traces to another of the foundation mares of the farm, Cera (also called Sarbit). Cera was a jumping star in her own right and is the great grand dam of Fein Cera who starred at the 2002 WEG.
Licensed in Holstein in 1982, Lacapo is warmly praised for his movement in the Stallion Book of the Holsteiner Breed, by Dr Dietrich Rossow: "Medium sized stallion with good expression and beautiful neck carriage. The shoulder could be more sloping. Small dip in the back. Short hip. Adequate bone with faults in the hocks and pasterns behind. Very good mover. Good jumper despite some difficulties with use of the back. Produce: Offspring of medium frame with beautiful faces and lots of appeal. Very good movers."
Lacapo stood at Siethwende in 1983, Sollwittfeld 1984-85 and Marne 1986. He produced three approved daughters but obviously did not set the world on fire… His most successful son was Lucky Luke, who was successful in Young Jumping Horse classes before going on to jump in international classes.
 In The Netherlands Lacapo was to found a dressage dynasty through his son, Flemmingh and his grandson, Krack C.
At one stage it looked – briefly – as if the Dutch were about to grab the initiative from the Germans in the dressage breeding stakes. At the 1986 World Dressage Championships, the Germans won the team gold, but they were all riding Dutch horses: Gina Capellman on Ampère, Jo Hinnemann on Ideaal, Reiner Klimke on Pascal, and Herbert Krug on Dukat. However it should be said that this was not the best dressage team the Germans have ever fielded (bronze to Ideaal was the best they could do in the individual medals) and none of the horses was a particularly 'modern' type – nor did any of the sires of the threesome establish an ongoing line.
Ideaal's sire, Doruto at one stage boasted more FEI dressage competitors than any other stallion in the world, but he, and his influence, appears to have faded from view. Two years later, a refreshed German team, led by the epitome of a modern dressage horse, Rembrandt (Romadour II) took the gold at the Seoul Olympics, and German breeding pride was restored.
Still the Dutch are very serious about their dressage breeding, and they were amongst the first to divide their stallion testing into two streams: jumping and dressage and Flemmingh has been one of the most important dressage sires.