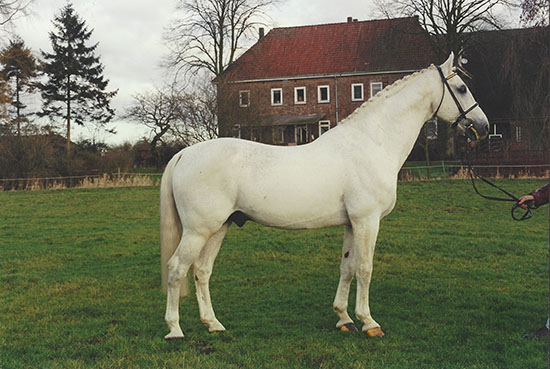 Photo – Gerd Küst
1980 – 2013 168 cm Grey
Breeder: Harm Thormählen
I guess when Harm Thormählen bred Lacapo, he didn't have the future of Dutch dressage breeding on his mind, but the stallion was to play a key role anyway…
Harm Thormählen admits he didn't have dressage in mind when he planned the mating: "I would not have thought that Lacapo would become important for the Dutch dressage because of Flemmingh, but his mother Larsa, had really good basic gaits and a lot of elasticity. So the movement was there. With Flemmingh this movement was doubled because his dam sire, Carneval (by Cor de la Bryère) who is bred by my now 91 year old neighbor Michel Magens, had a lot of movement as well and his mother moved also very well."
Lacapo's sire, Landgraf produced life 20 advanced level dressage horses in his lifetime but he was much more successful in producing jumpers
Lacapo is out of one of the Thormählen mares – Larsa. Larsa is by Capitano who is out of one of their greatest foundation mares, Retina. Larsa also produced Gera VI (by Calando I), she started in Germany at 1.40m level under Philipp Baumgart and continued in the USA with Michael Morrisey. The Morrisey-Gera partnership formed when Morrissey was still a junior rider. Morrissey and Gera successfully competed in numerous Grand Prix's in the US and Europe.
Morrissey recalls: "She is my most favorite animal I have ever been involved with. I had her at a very young stage in my career. She was the kick-start for me at the junior amateur level and first horse to get me into the international divisions. She was a true winner and true competitor. She was a smaller mare but her heart and competitiveness set her apart from others. She was the ultimate confidence builder because no matter what I knew she would give 110% every time. I am very lucky to have had her and also very lucky to have bred her after her career because I see those same traits passed along to her young offspring that we have in our stable."
Larsa's dam Sarbit (by Galvani I), became famous under the name Gera. Rheder Thormählen discovered and purchased Gera and she went on to win and place in show jumping competitions, starting at the age of six all the way up to Grand Prix, with his son, Harm Thormählen. Under Kurt Jarasinski, the wiry bay who only measured 15.3 hands, became one of the most successful Holstein show jumpers of her day, including gold on the German team in the Nations Cup of Madrid/ESP.
Sarbit's daughters Larsa and Mandalyn (full sisters) were both successful broodmares. Mandalyn is the dam of Cera I (by Cor de la Bryère). Cera I made her debut in sport under Harm Thormählen but placed later with Karsten Huck, Philipp Baumgart and Carsten-Otto Nagel. As of 1995 she started to win at international competitions with Ireland's Paul Darragh, including Hamburg, Aachen, Frankfurt and Stuttgart. In 1998 Otto Becker won the German Championships in Gera and the Nations Cup in Aachen. Cera I is mother to Fein Cera (by Landadel) who starred with American Peter Wylde at the WEG in 2002 WC in Jerez. They went on to win team gold in 2004 at the Olympic Games in Athens.
Licensed in Holstein in 1982, Lacapo is warmly praised for his movement in the Stallion Book of the Holsteiner Breed, by Dr Dietrich Rossow: "Medium sized stallion with good expression and beautiful neck carriage. The shoulder could be more sloping. Small dip in the back. Short hip. Adequate bone with faults in the hocks and pasterns behind. Very good mover. Good jumper despite some difficulties with use of the back. Produce: Offspring of medium frame with beautiful faces and lots of appeal. Very good movers."
Lacapo stood at Siethwende in 1983, Sollwittfeld 1984-85, Marne 1986, Bredenbekshorst 1987-1990, Wahlstedt 1991, 1992-1998 Salzwedel, 1999-2007 Kollmar-Langenhals.
After 2007 he wasn't only used as a teaser for the mares from Harm Thormählen, he still covered some mares. Harm says: "Sometimes I let him to cover a mare, even in his last year that he was a live he covered a mare. He was a very strong and healthy stallion and reached the exceptional age of 33. He had a very honest and strong character. He was also very friendly, he was a real pleasure to have around."
He produced for Germany 146 broodmares and 9 approved stallions (8 in Stallion book I). His most successful son was Lucky Luke, who was successful in Young Jumping Horse classes before going on to jump in international classes.
In The Netherlands Lacapo was to found a dressage dynasty through his son, Flemmingh and his grandson, Krack C. Flemmingh produced for the KWPN six approved stallions; Amazing Star, Kelvin, Krack C (Grand Prix dressage), Lingh (Grand Prix dressage), Mooiman (Grand Prix dressage) and Westenwind.
The Dutch are very serious about their dressage breeding, and they were amongst the first to divide their stallion testing into two streams: jumping and dressage and Flemmingh has been one of the most important dressage sires.