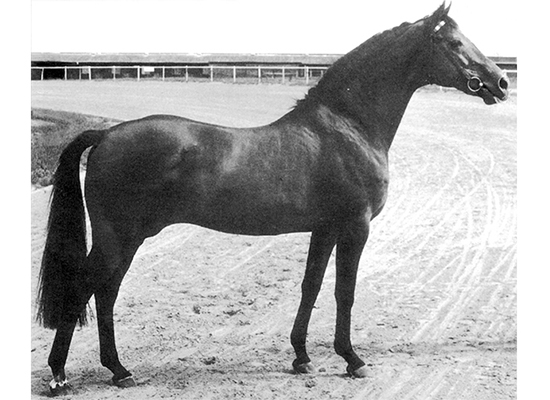 1961 – 1979 164 cm Brown
Breeder: Mrs A L Adda (UK)
When the German Warmblood breeders in the 60s and 70s turned to the Thoroughbred for refinement and athleticism, there were a number of important stallions that played a key role in the shaping the modern sport horse: none was more significant than Ladykiller.
While he stood in the far north of Germany, in Holstein, his influence continues to spread… in 2002 the most expensive horse at the prestigious Fences Auction in France, was l'Arc de Triomphe, sold for €460,000, a world record for a three year old – and he is a direct descendent of the great Ladykiller, indeed with a double cross on the sire line since he is by Landor S – by Landadel by Landgraf by Ladykiller, out of Novella out of Furth, also by Ladykiller.
Ladykiller was born in England in 1961 but he was no star on the racetrack, racing three times in two years and rating only a 80.5 kilo handicap – which luckily for him, was 0.5 kilos more than the minimum required for a Thoroughbred stallion to be accepted into German breeding ranks. Before his death in 1979, he sired 35 stallion sons including the twin pillars of Holstein sport horse breeding: Landgraf and Lord. Both, it should be noted, out of mares with a good percentage of Thoroughbred blood – Lord's dam was a full blood, while Landgraf's dam was 25% Thoroughbred.
Ladykiller's breeding features all the usual suspects found on jumping Thoroughbred pedigrees – Blue Peter, Phalaris, Son in Law – the great descendants of Bay Ronald.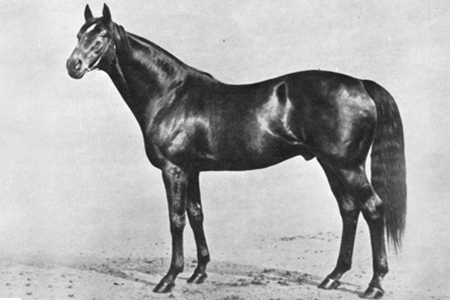 Two crosses of Phalaris
In his Stallion Book of the Holsteiner Warmblood Breed, Dr Dietrich Rossow had this to say about Ladykiller and his influence:
"He was an averaged sized, clearly masculine type with a beautiful head, really heavy neck, good shoulder, rather flat loin, and a nicely coupled, heavily muscled croup. He had first-rate legs and feet for a Thoroughbred and was an elastic mover. He was everything a state breeding program could wish for. With his 35 approved sons and 195 approved daughters, he has had the greatest impact of all on the Holsteiner breed. His best produce came through crosses with mares with some Thoroughbred blood. This was just the opposite case as with Anblick. When crossed with coarse, common mares, Ladykiller produced accordingly. Today (1988) he must be viewed as one of the most important jumper sires of modern time. To enumerate all of his great performance offspring in the world of jumping goes beyond the limits of this essay. He sired fewer dressage horses. Whereas Marlon and Anblick influenced this Holsteiner modification phase more in the direction of riding horse types, Ladykiller offspring correspond more to performance, jumper types. As a rule, they are strong horses, they are not, at first, very tight with their front ends. This however, quickly improves with increasing maturity."
Despite the proliferation of C line horses in Holstein breeding, the Ladykiller line retains its pride of place; indeed Claus Schridde draws attention to its concentration even on the one set of papers:
"Today it is almost a necessity of fashion in Holstein that a horse carries Ladykiller xx blood at least two or three times, whereby it occurs from time to time that horses in the first generations are inbred five or six times to this invaluable foundation sire. All along, a certain measure of inbreeding has been a regular formula for success in Holstein breeding. Anyone looking more closely at Holstein bloodlines or respectively, the pedigree papers of individual horses down to the roots, is frequently taken aback about how frequently the same name literally jumps into one's face in the earlier generations. Today, where fresh blood in Holstein does not take effect at all, continued inbreeding to the proven 'classic' Ladykiller xx is a piece of brinkmanship that demands a great amount of sure instinct by the breeders of Holstein." (from Selected Sires of Germany – A Yearbook of German Sires 2000)
In his review of the 'Holstein Upgraders' in Z Magazine, August/September 2004, Jasper Nissen has this to say of Ladykiller as a stallion:
"Passed on a good temperament, although sometimes a little hot. In spite of his early injuries he did not pass on any defects in the limbs. Produced numerous first class broodmares and licensed stallions, including the top progenitors, Landgraf I and Lord. Founded his own wide-branched stallion line. Ladykiller xx passed on specific characteristics, such as a fine head, an often light brown colour with white on the legs, sometimes less coupled loins, good, powerful and correct bones, very good jumping qualities (lots of guts, power, fine technique and rounded back over the fence), excellent basic gaits and on average, good sized products; his chestnuts were often a bit more noble than his bay offspring."
At the 2014 WEG in Normandy we find that  Ladykiller's line is responsible for  11 of the entrants in the showjumping championship.