1982 – 1996 16.3 hh Bay
Breeder: Ilse Hell
Sadly for the Stallion Commissions, no one remembers it when they got it right – but everyone remembers when they get it wrong – and the Holstein Commission got it seriously wrong when they rejected the Landgraf son, Landadel.
Thomas Mohr, the director of the Maas J. Hell Stud where the stallion was born, told me the story in an interview in 2007: "Landadel was not accepted for the stallion licensing at Neumünster by the Holsteiner Commission, they said he was too light – a good sport horse not a stallion!"
"So then he was leased to Böckmanns, and they bred with him for about ten years before he died, and every year he was in the top three for jumping sires, but he also bred dressage horses. Most of the foals went to S class. Calvaro and Landadel were from the same family – Landadel's dam was Calvaro's grand mother."
"The Landadel mares were very typey, with a lot of blood. The geldings and stallions were a bit bigger, not so Thoroughbred looking as the mares. In the back of Landadel's pedigree is Farnese, and Farnese is very heavy."
Despite the Licensing Commission's assessment, Landadel went on to be champion of his 100-day test at Medingen in 1985.
Landadel is one of those rarest of creatures – a stallion who sires top dressage as well as jumping progeny. Indeed at the 2001 World Cups, Landadel was unique in producing representatives in both the dressage and jumping finals, with the exquisite Leonardo da Vinci in the dressage with Gonnelien Rothenberger, and, in the jumping, Helena Weinberg's Little Gun.
Landadel is regarded as one of the most important sons of Landgraf – and carries a double cross of the great Ladykiller, and bears out the theory that Landgraf worked best with mares with a high proportion of Thoroughbred blood. Landlord 4 and Lausbub 148 were out of mares by Tin Rocco xx. Lanciano is out of a mare by Marlon xx and Lucky Luke is out of a mare by Fra Diavalo (by Frivol xx). Landadel's grand-dam is 3/4 Thoroughbred (Ladykiller xx / Gauner xx).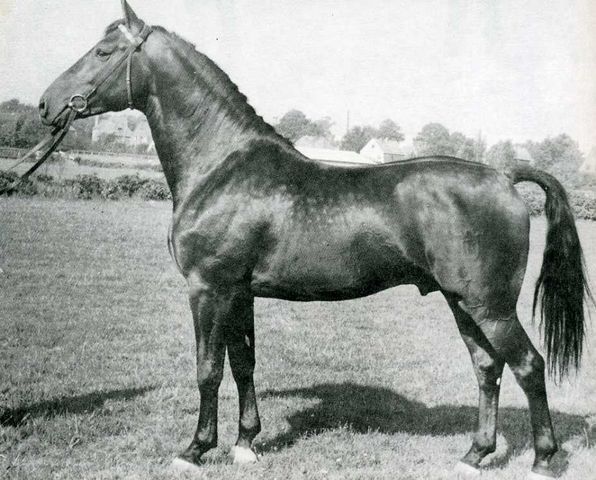 Foundation sire, Farnese…
His dam's sire, Farnese was famed for this extravagant trot, and was used as a demonstration stallion by the Holsteiner Verband – besides the movement, the line was noted for its great substance and good conformation. Farnese's son Farmer was on the 1984 German Olympic showjumping team with Franke Sloothaak.
Landadel's stallion sons include Le Cou Cou, Landfriese I, Landstern, Landjonker, Landclassic, Landkoenig and Landor S. Landadel is the sire of four Oldenburg Stallion licensing champions: Lord Kemm, Lagoheidor, Landkaiser and Laudatio. Perhaps his most famous performer has been the mare, Lady Weingard, who was ridden in her competition career by Markus Beerbaum.
Landadel's grandson, the Hanoverian gelding, Lantinus (by Landkoenig out of an Argentinus mare) had an extraordinary series of wins in 2008 with the Irish jumping rider, Dennis Lynch. The pair won in Grand Prix in Rome, La Baule, Hamburg and Doha, to go to the head of the WBFH standings.
In the 2007-2008 Monneron leaderboard of the top 75 jumping stallions in the world, based on the FEI results of the top 2515 jumpers, Landadel was 30th with 10 winners. Landadel's son, Landfriese I, ranked 52nd with six successful competitors.