1966 – 1996 16.3 hh Brown
Breeder: Graf von Kielmansegg
When you visit Elmshorn, outside the century-old Riding and Driving School, there you meet – in bronze – that characteristic shape of Landgraf I in front of the complex: the symbol of the modern Holsteiner Sport Horse and performance sire. The original died in 1996 at the age of 30.
In his article in Breeding News (August 1999) French journalist, Pascal Renauldon records the great stallion's passing: "On 10 April 1996, the Holstein breeders had celebrated, with great pomp, their charmed stallion, during a ceremony which had assembled some of his most celebrated progeny: Libero H, Taggi and some 30 others. Exactly one month after this homage, Landgraf passed away due to heart failure, even though his physical condition had showed no signs of decrepitude. His strong back was not swayed, his proud eye of a dominant stallion and imposing neck were still as superb as when they appeared on photographs of him as a youngster."
Yet Landgraf was not initially widely accepted as a stallion in Germany because sons of Thoroughbreds were still regarded with suspicion. It was after the 1975 Equitana in Germany, where Landgraf easily cleared a 6'6″ several times a day that international riders started to buy his offspring.
Born in 1966, Landgraf I belongs to the first vintage of his sire, Ladykiller xx.
His dam, Warthburg, came from the stem No. 275 and carries the performance genes of Ethelbert, Achill and Cicero, who are responsible for laying the foundations of the Holsteiner Sporthorse.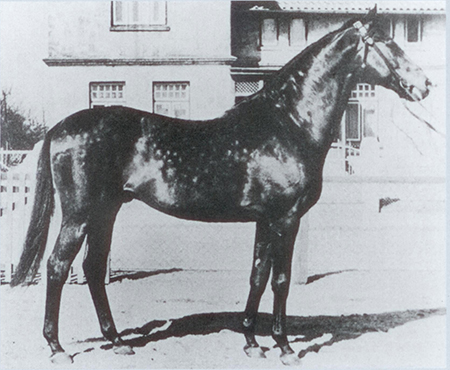 The dam line comes from the influential Thoroughbred, Anblick
The stem number indicates the mare family and in Holstein where they talk families, mare families, you will even find signs on individual farms, celebrating 'their' stem number. The first studbook, '1 Gestütbuch der Holsteiner Marschen' was published in 1886, three years after the first registrations of mares took place. The system of numbering the mare lines has been unchanged since then. New family numbers are given to mares with a Holsteiner father and four generations of Holsteiners on the mother's side.
In 1885 they started with 1777 families, today there are 515. In 1948 there were 15,000 mares in Holstein, but as in other areas, with the replacement of the horse by machines for agricultural purposes, by 1960 there were only 1000.
Landgraf's dam Warthburg was born in 1962 and was bought as a weanling by Baron Friedrich Christian von Kielmansegg. After a competition career as a jumper, she produced Jenni, by the Thoroughbred stallion, Little Lion xx. Jenni is the dam of Orchidee, who was a member of the gold medal winning German jumping team at the Seoul Olympic Games with Dirk Hafemeister. Orchidee in turn was the dam of Avion (Athlet Z) ridden in international competition by Ludger Beerbaum.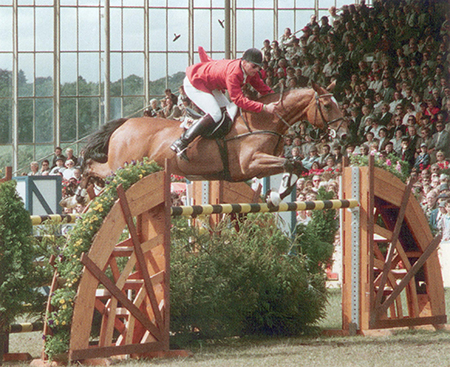 Orchidee – a jumping star for Germany 
Warthburg then produced six foals by Ladykiller. Landgraf was born in 1966, the following year saw his full brother, Landgraf II, who was sold to the south of Germany where he was gelded. Under the name – Leon III – he went on to compete at Grand Prix level with Manfred Schlusselburg. In the following two years, the fillies Eva and Frederica were produced – Frederica when bred to Farnese produced the licensed stallion, Fredericus. In 1970 Warthburg produced another filly, Landgrafin who was ridden in the 70's and 80's by Hugo Simon, winning many speed and puissance classes. Bred to Cor de la Bryère, Landgrafin then produced the stallion Cash, who also competed internationally with Simon before his death at the age of 10 while competing at Aachen.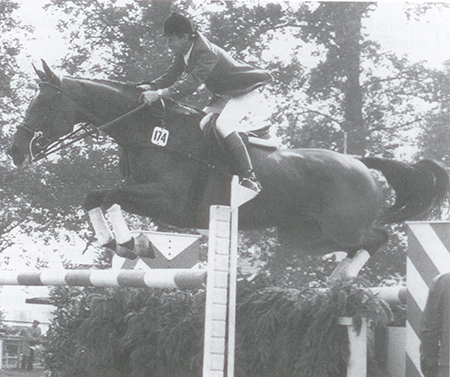 Landgräfin by Ladykiller out of Warthburg 
Landgraf was licensed in 1968 along with twelve other sons of Ladykiller xx. Landgraf finished in 5th place with the comments: 'a lot of presence, good gaits with excellent propulsion, good conformation and average hindquarters.'
However, the great Landgraf was almost lost to Holstein! He was sent to the stallion station at Haselau, where his sire, Ladykiller xx, also stood, and since the breeders preferred the full-blood, Landgraf didn't attract many mares.
In 1970, the Holstein Association Board decided to sell Landgraf to Hans Dussler in Balingen, Baden-Württemberg.
The Holsteiner Horse (published 2009 by the German FN) notes: 'In hindsight it should be noted that as a stallion containing a lot of Thoroughbred blood he was primarily paired with heavily built mares, which as it turned out, weren't really the right match for him. In 1972 Landgraf was chosen to represent the Holsteiner Association at the DLG Exhibition in Hanover. It was clear to the Holsteiner Breeding Board that the stallion didn't stand a very good chance of leaving the exhibition ground a winner. They knew that the panel of judges had an aversion against Thoroughbred offspring. The outcome was as expected: Landgraf was placed last in his class and was the only stallion to receive a 2nd prize. They criticised his walk, as well as the corresponding leg defects typical for a half-bred. The Holsteiner delegation was disappointed and protested. The judges finally gave in and altered the 2nd prize into a 1c prize. However this still didn't change the ranking.'
'In Baden-Württemburg, Landgraf's offspring ony met with modest approval. The local breeding board were of the opinion that paired with their native mares, the offspring produced by the stallion were too big. The Holsteiner Association management decided to buy Landgraf back and secure him for the Holstein breed for the rest of his life.'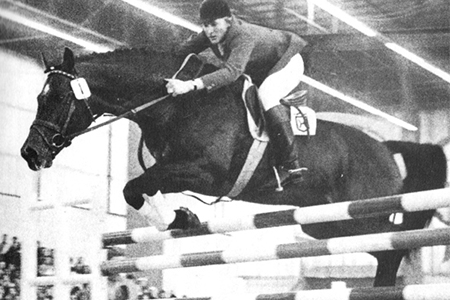 Landgraf was not really accepted – until he proved he could jump!
'Landgraf dominated the breeding scene in Schleswig-Holstein for over ten years. The success of his offspring both in terms of breeding and sport performance led to the demand for the stallion becoming almost insatiable. As a result the management decided to regulate the use of Landgraf by contract in order to secure for themselves the first refusal to buy the colts. Furthermore, Landgraf's use was restricted to mares, who, according to their pedigree, could possibly produce graded stallions and who were over a specific type.'
As a sire, the list of his showjumping offspring is impressive. For example: Freestyle (formerly Lalique) won Aachen Grand Prix, Libero won the Dutch National title five times and the 1994 Volvo World Cup. The licensed stallion, Lacros, is another, along with top performers: Lucky Luke, Lanciano, Landlord, Lausbub and Taggi.
Nearly sixty colts by Landgraf I have been licensed for the Holsteiner studbook, like the licensing champion of 1991, Linaro, and the dressage talent, Loutano. Perhaps his most valuable son was the versatile Landadel, who produced three champion stallions for the Oldenburger breed alone, and World Cup finalists in both dressage and jumping.
340 broodmares by Landgraf I are registered in the Holsteiner stud book, 260 of these are in the Head Stud Book, 70 have been awarded the State Premium, and a considerable number have been champion mares at shows. In his Stallion Book of the Holsteiner Warmblood Breed, Dr Dietrich Rossow delivers his verdict on Landgraf:
"Imposing appearance with enormous crest and neck carriage. Smooth total topline and much presence. Beautiful face with marvellous eye. Long, rather broad neck, long sloping shoulder. Withers could be more clearly defined. Well-shaped, muscular croup. Strong bone. Good in front. Slightly sickle hocked in youth (became very straight with age). Tied in below the hock and faults in the hind fetlocks. Good mover. Marvellous temperament. Phenomenal jumper; tight in front, lots of bascule, careful and talented. Great performance capabilities."
"Offspring are of various sizes and usually late developers. In youth, the tall ones appear leggy and narrow. Nearly always passes on his face, type and also his hindleg faults. Almost all offspring are endowed with their sire's jumping ability. In the beginning they jump rather awkwardly with less than ideal form which improves with increased maturity. Seldom passes on his overly heavy neck. Huge number of international class jumpers. Up to now (the book was published in 1988) Landgraf is far and away the most important jumper sire in the world!"
In all, Landgraf progeny have won over €4.5 million.
In the 2007-2008 edition of Monneron, on the basis of his list of the top 75 stallions in the world, Bernard le Courtois identifies four dominant male lines: Almé, Cor de la Bryère, Capitol and Landgraf.
Landgraf is the sire of five stallions out of the top 75, with two in the top ten. The most successful of his sons is Burggraaf, who has 26 winners to occupy 6th place. The World Cup winner, Libero is in 9th place with 22 CSI winners. That year, Libero was the only stallion with two representatives – Libertina and No Mercy – in the World's top ten performers.
Landgraf is also represented on le Courtois' list by Landadel, who despite dying at the age of 13, occupies 30th with 10 winners. Landadel's son, Landfriese I, ranks 52nd with 6 successful competitors.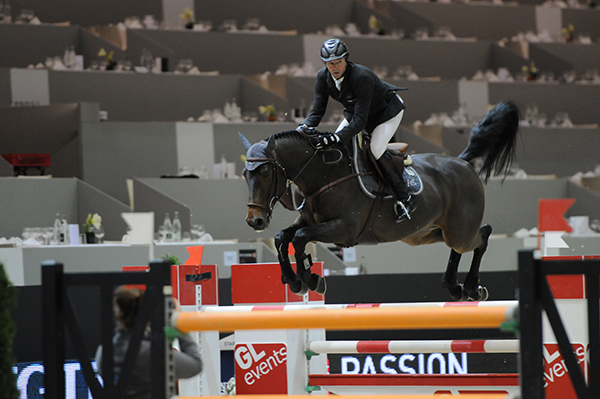 Lacrimosco and Patrice Delaveau at Equiata Lyon 
Landgraf may have died over 20 years ago, but his influence continues to shape the sport of showjumping. The winner of the Liepzig World Cup qualifier, in January 2014, was Patrice Delaveau riding Lacrimoso HDC – who is by an own son of Landgraf, Landjunge (Metellus).