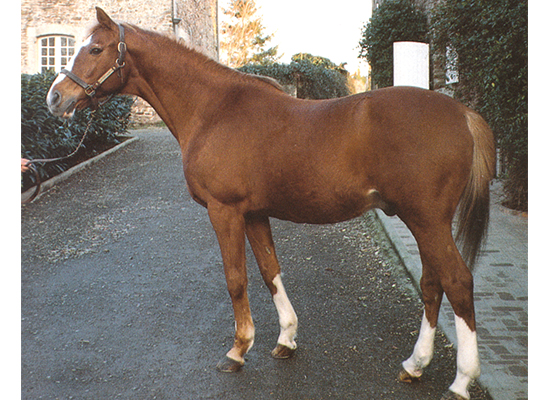 1967 – 1997 162 cm Chestnut
Breeder: André Laurans
In the era when a stallion has to also be a performer to attract mares, it is increasingly difficult for a Thoroughbred stallion to make any impression. Ladykiller, for instance, never appeared in the competition arena, and in today's environment, would not have attracted mares, and the Holstein Studbook – and world jumping breeding in general – would be much the poorer as a result.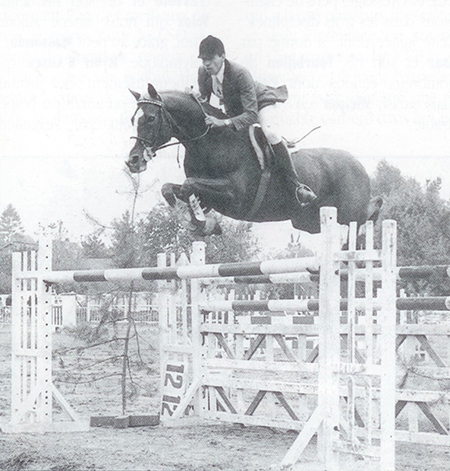 Laudanum, a jumping star for young Pierre Durand 
The modern exception to the rule is the French Thoroughbred stallion, Laudanum. He was the first international jumping star for the young Pierre Durand – winning Grand Prix, Puissance and Nations Cups and more than 100,000 French francs in prizemoney. He was described at the time as both careful and courageous. Laudanum is the only French Thoroughbred stallion to have jumped at the international level.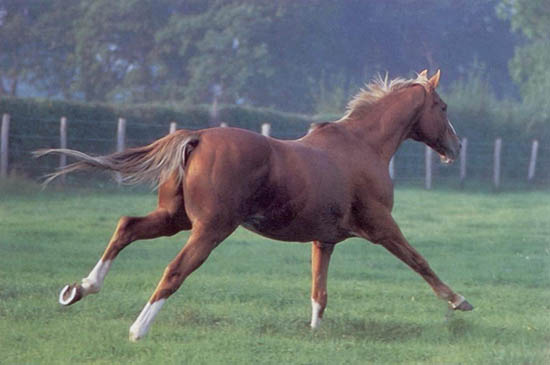 Laudanum at home…
He is the sire of showjumping performers such as Jonggor's Ajonc (Yves Houtackers), Raspail Bose (ridden internationally by Roger-Yves Bost), Aferco (Alexandra Ledermann), BB Nithard (Niklaus Schurtenberger) and Chergar Mail (Philippe Rozier).
Licensed sons include Raspail Bose, Oberon du Moulin, Valbaussy and Nissan Duc de Moyon Z. His influence spans the world and the Mexican jumping stud, La Silla, stands the Laudanum son, Chapultepec La Silla.
Laudanum was the first stallion purchased by French breeder, Bernard le Courtois, who syndicated him at the end of 1984. At that stage, Laudanum's oldest progeny were five and he was far from popular with the breeders – standing near Bordeaux, he had only bred nine mares!
Le Courtois moved him to Normandy at the Haras de la Gisloterie, before moving to his own stud at Brullemail. In an article in the 1996 edition of the Annuaire de l'Étalon Sport Français, Bernard le Courtois explains what attracted him to the stallion: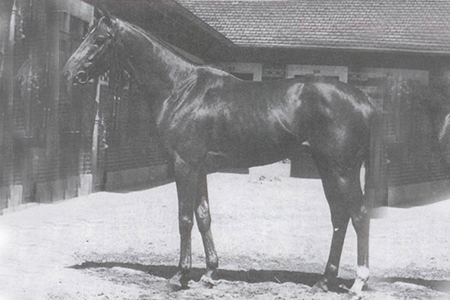 The stallion, Boran 
"Laudanum's pedigree has two assets – first of all his sire Boran had produced several good Thoroughbred jumpers before being used to cross-breed towards the end of his career. He was himself a son of the very remarkable Mourne, a foundation sire in his own right of sport horses, although he himself was never cross-bred but only bred to Thoroughbred mares. Mourne was the sire of Alcatraz (N. Pessoa), Croquette (G. de Balanda), Alistro, Shel Tox… The second asset in Laudanum's pedigree is his 3 x 3 inbreeding with the famous broodmare Ballynash (by Nasrullah, one of the best sons of Nearco with Royal Charger). Ballynash is none other than the dam of Mourne (by Vieux Manoir) as well as that of Montaval (by Norseman), Laudanum's two grandsires!"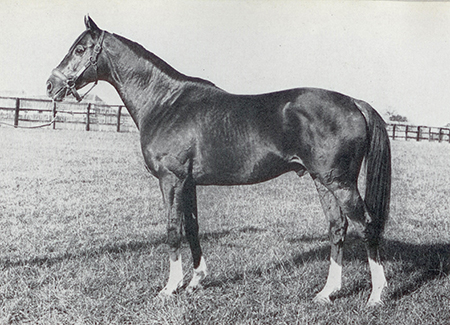 The remarkable Mourne, by… Vieux Manoir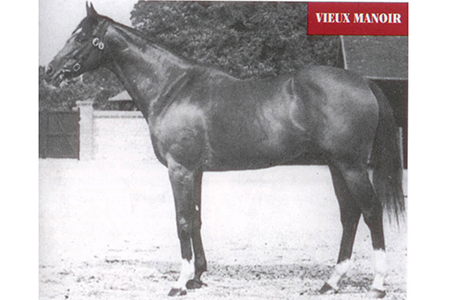 "Laudanum has been an exemplary success as a stud. The first generation of his offspring, born in 1979, only numbered 13, but amongst which we find the two Grand Prix horses, Nashville 111, and Neurine. In 1980, with only five foals born, there are again two Grand Prix winners, Obéron du Moulin and Odanum (now in Brazil) both of which were still winning in 1995… Laudanum's offspring are brave, careful not to touch the jump, with excellent temperaments, qualities which make them admirable national level amateur horses, and with regularly some of Grand Prix level."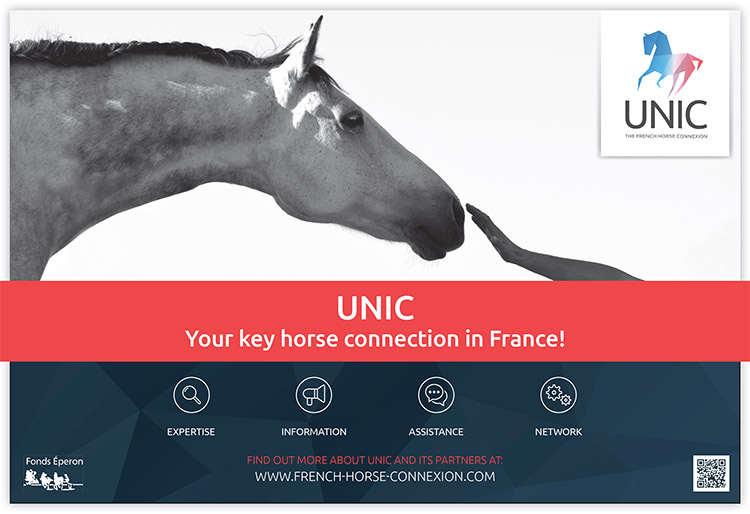 In an interview in 2004, Bernard Le Courtois responded to my question, what are the qualities that Laudanum brings to a pedigree?
"For me the line of Mourne is one of the best to produce showjumpers – I have Mourne twice often in the pedigrees of my foals. Alligator is the grandchild of Mourne, and Laudanum too, I have a lot of foals line bred to Mourne, and Almé. Laudanum himself was a very good jumper. He won in Puissance, in Grand Prix, in Speed classes, he was good for everything. He could have gone to the Olympics but the rider was too young. I read an article where Pierre Durand wrote 'if I had Laudanum and Jappeloup at the same time, it would be very difficult to pick which horse to ride at a Games.' The mind of Laudanum was exceptional."
"He was very strong on his back. For me he needs mares with a lot of power – to cross Laudanum with a Hanoverian or Holsteiner mare, is fantastic. If Laudanum could breed in Holstein twenty years ago, he would have been the best stallion in the world. For me, I used Laudanum with a couple of German mares, and each time the product was fantastic – like Oh Star, Chargar Mail – the cross with Ramiro, or Ramiro / Almé, Gotthard, was very interesting. In France Laudanum produced many horses that were winners in Amateur Grand Prix – 1.40, 1.50, with young girls, the horses were very easy to ride, very careful and very competitive. I think that is the best quality of Laudanum."
"I think you will find all the sons and daughters of Laudanum, bring the same qualities with them."
Despite his death in 1997, Laudanum was in 2002, the leading sire of showjumpers in the United States, with six of his progeny competing in 2001 for winnings of $228,259 – mostly won by the stallion, Oh Star ridden by USA Games Team reserve team member, Todd Minkus. The Belgian bred, Oh Star (out of a mare by Ramiro) finished second behind Margie Goldstein Eagle's Hidden Creek's Perin on the money rankings on the 2001 US Grand Prix jumper circuit. Oh Star's wins include the $50,000 HITS Grand Prix, the $100,000 USET Championship, the $50,000 Rio Vista Grand Prix, the $25,000 Bentley Motorcars Grand Prix and the $175,000 Cargill Grand Prix. Other good performers in the USA include the Selle Français stallion, Elu de la Hardière ridden by Candice King whose successes include the Elizabeth II Cup at Hickstead and Eric Lamaze's Ezior Danum, a consistent performer on the US and Canadian circuits.
On the WBFSH standings from 1992-2001 Laudanum ranked 71st in, with 21 international performers in that period. In 2007, he is still ranked 42nd on the WBFSH standings.
Laudanum was represented at the Athens Olympic Games by the stallion, First de Launay.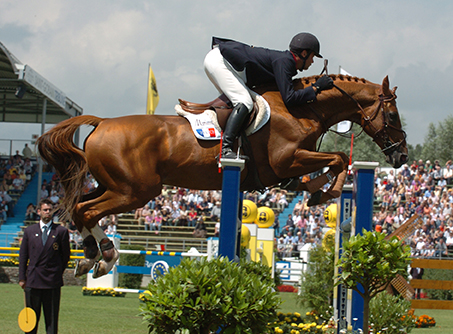 Competing in Aachen, First de Launay
Laudanum is the dam sire of Jaguar Mail – who is by the Thoroughbred stallion, Hand in Glove out of a mare by Laudanum, out of an Almé / Gotthard mare. In the 2007 Sires of the World Final at Lanaken, Jaguar Mail beat a field of 42 licensed sires to take the title. Jaguar Mail was started in the sport by Patrice Delaveau, but moved to Sweden where he is ridden by Peter Eriksson who rode him at the 2008 Olympic Games and the 2010 WEG. He is now standing in the United Kingdom.
Jaguar Mail  has since proven an excellent sire of eventers, and his son, Tenareze won the 2013 World Young Eventing Horse six year old title and the 2014 seven year old title.
In the survey of the world's top 75 jumping sires which appears in the French publication, Monneron 2007-2008, compiled by Bernard le Courtois, Laudanum ranks 43rd with 7 CSI winners. He is also represented by his son, Oberon du Moulin (out of an Invincible mare) who is 65th with 7 CSI winners.