1970 – 1987 169 cm Chestnut
Breeder: A. Lefèvre 
Furioso II's full brother Mexico stayed in France but he shaped the emerging Warmblood breed in The Netherlands through his son, Le Mexico.
Mexico served in the French National Stud where he became the sire of showjumpers like Rambouillet (Grand Prix, Vienna), Rush du Camp (Olympic Games, Mexico City) and Jexico du Parc (Olympic Games, Los Angeles). Bred by that connoisseur, the late Alfred Lefèvre of Falaise, Le Mexico became the real successor of his male lineage.
As a resident of Holland, he produced the approved stallions: Silvano, Ulft, Zelhem, Zonneglans, Astronaut and Expert.
But it took time for the French import to establish himself. The Dutch licensing commission was not overly impressed with Le Mexico's first crop of two year olds…
"They will become broodmares with substance and strength, deep chests and curved ribs. Probably they will be important in our breeding, in spite of the fact that they are missing the so-called 'golden touch'."
Solid and sound, all his foals, yearlings and two year olds, looked to be useful animals, but there was no early brilliance on show. Le Mexico needed some more time before his real heritage came through.
By 1996, after his thirteenth season at stud, he was upgraded by the KWPN executive committee as a 'keurhengst'. That title means an important step on the road towards an outstanding breeding career. After the first approval, judged on conformation and movement in hand, Dutch stallions have to fulfil the performance test. After successfully completing the performance test they are transferred into the 'real' studbook.
At the end of their second season at stud, Dutch stallions are judged on the basis of their offspring (in Le Mexico's time, this test was conducted at the end of their fourth season). At four and a half, all stallions compete in the winter competition, a series of jumping or dressage tests for approved stallions of the same age.
The next test comes when the eldest progeny are three or four years old (it depends on sufficient numbers of young stock being on the ground) the next proof will be delivered by the studbook entries of female offspring. At this stage, the few best stallions can be licensed for three seasons at once. This is the first step to stallion upgrading.
The second is the title 'keurhengst' (or tested sire) and it is a rare title. The third, and most prestigious graduation, is to the title of 'preferent stallion', reserved for the happy few really dominating stallions, bestowed after many years at stud, and almost always at the very end of their careers.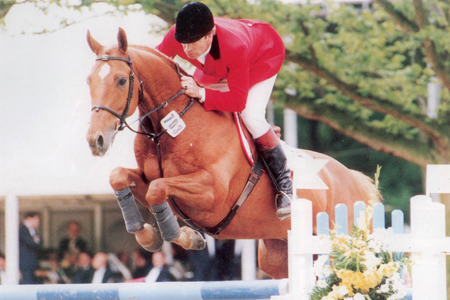 Opstalan's Power with Albert Voorn – by Le Mexico out of a Lucky Boy mare
Back to Le Mexico. He sustained tremendous colic in the early spring of 1987, and died only a few months after his upgrading. In his thirteen years at stud he produced no less than 1134 foals as a result of 1744 matings.
In the 1983 volume of the Dutch Horse Yearbook – the first annual publication of performances of all registered sport horses in the Netherlands – we find a long list of Le Mexico's youngstock, both in dressage and jumping. While his eldest offspring were only nine years old by then, there were already ten Grade A jumping horses in the yearbook, among them Lucinda (ridden by Linda Southern), Opstalan's Peckwush (ridden by Bert Romp) and Fliegette of Noordland (ridden by Sylvia van Staalduinen).
In the year of his death, the first edition of the breeding values was printed and Le Mexico ranked with 146 points in the jumping section alongside such famous performance sires as Nimmerdor, Abgar xx, Exkurs xx, Lucky Boy xx, Farn and Notaris.
He was a versatile sire too, for in the ranking of dressage sires, he came in 21st place amongst some 200 stallions.
Le Mexico produced not only breeding stock – there are international showjumpers and dressage competitors for example, Alanda (ridden by Peter Kersten), Bollvorm's Red Boy (Roelof Bril) and Mexican (Tineke Bartels).