1967-1993, 1.68 m, bay / brown
Breeder: Heinrich Schuldt
Lord's sire, the English stallion, Ladykiller was a success right from the start in his second career in Holstein. His first crop produced eight approved sons, including the great Landgraf; his second crop featured the licensing winner, Lord, while his third produced the German Showjumping Derby winner, Boy (ridden by Eddie Macken). Lord is out of a mare by another great Thoroughbred 'improver' for Holstein – Cottage Son.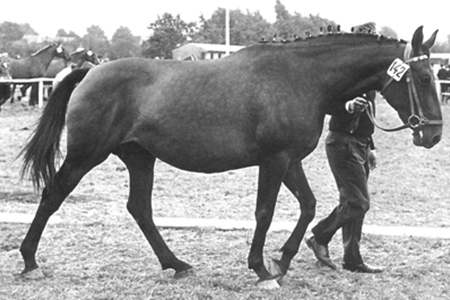 Viola H – by Cottage Son, the dam of Lord 
Lord is described thus in The Holsteiner Horse:
'Elegant stud stallion demonstrating the features of the international Thoroughbred horse. Great charisma and good lines. Head could be more attractive, expressive eye, long, classic riding horse neck. Very good conformation of shoulder / withers / croup. Legs too fine for a stud stallion, very long pasterns, tapered joints in the foreleg and rather straight hindlegs with not very pronounced hocks. Excellent action. Extraordinary jumping ability. Outstanding own performance. Top-class eventing horse of international character.'
The book, written by Dr Thomas Nissen, Gabriele Pochhammer, Donata von Preußen and Joachim Tietz notes that 'while the first two generations of his pedigree are dominated by the two most significant Thoroughbred stallions stationed in Holstein, Ladykiller xx and Cottage Son xx, the sires of the next generations were pure-bred Holsteiner without any Thoroughbred blood. This may explain why Lord didn't sire uniform offspring. Some of his offspring were elegant and Thoroughbred-like types, others were often sturdy with coarse heads and slightly short-legged.'
Although Lord won the 1969 Holsteiner stallion approval, it was a controversial decision in the light of his less than perfect legs and perhaps as a result of this, Lord was at first not used greatly as a stallion, although he was one of the early stallions to jump successfully in competition, winning international eventing contests up to advanced level with Herbert Blöcker.
In his first season he only covered 13 mares because his stable companion, Tin Rod xx had just been imported from England and was more fashionable with the mare owners.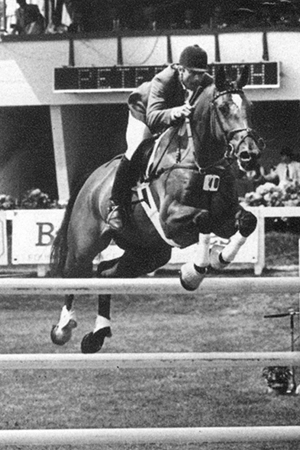 Peter Luther and Livius – one of the stars by Lord 
However his first crop produced the international showjumper, Livius who won the 1980 German Showjumping Derby under Peter Luther, and then team medals at the 1981 European Championships, the World Championships of 1982 and the 1984 Olympic Games.
In fact the showjumping family Luther has been instrumental in the success of Lord. Peter Luther's sons both starred on Lord progeny – Thieß rode the licensed stallion, Lord Incipit with great success, and Haucke Luther was a star in the puissance with Lyra 20.
Other successful competitors by Lord include Luguna (K. Huck), Lafeyette (H. Schmidt), Actrice (C. O. Nagel), Lusius (E. Gundel) and Pedro who competed at the World Championships in Dublin with Thomas Frühmann, Loyal 9 (P. Nagel-Tornau) and many more. Successful sire sons include Lantaan in Holstein, and the sadly short-lived, Lord Liberty in Oldenburg.
In all, Lord sired more than 60 stallion sons, and his progeny won more than €3,000.000.
Dr Dietrich Rossow in his Stallion Book of the Holsteiner Warmblood Breed, was somewhat cautious about Lord:
"Lord was himself a successful 3 day horse. He is not a consistent producer. We see tall horses with big heads and also refined, sometimes small, mares with beautiful heads. Along with his head, he often passes on his leg faults. All his get are endowed with enormous scope over fences. His best offspring are products of crosses with refined mares."
Today, Lord is more likely to be found in the dam lines since no stallion line has really emerged to carry on his line, perhaps the most influential son has been Lord Calando.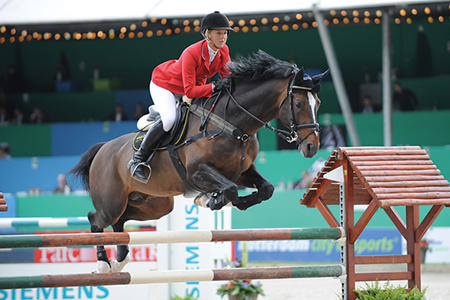 The line lives on – competing for Britain, Ellen Whitaker and Locarno by the Lord son, Lord Calidos