1995 1.69 Bay
Breeder: M van Deurzen
Libero's son, Numero Uno completed his performance test at Emelo where he received a 9.0 for canter and scored an average of 8.5 for the jumping tests. According to Jenneke Smit in her article Numero Uno – Sire of the Highest Calibre (IDS International, June 2011) he was described at the time as 'an honest, reliable and willing stallion. He demonstrated a powerful, very balanced and elastic canter, with good collection. In his jumping evaluation, he was quick off the ground, demonstrating abundant push and clearing the jumps well. He also was very careful, and he showed abundant scope.'
His dam Jolanda, like the Olympic showjumping stallion Lux, descends from Lord Calando. Grand dam Feinschnit (Ahorn) produced, in combination with Gondelier, the national showjumping horse Kapitol, who as a five-year-old, competed well at the World Championship for Young Horses at Lanaken. The mother line continues through the well-known stallion Farnese to the mare Fernsicht (Ladykiller xx), who is a full sister to the stallion Lorenz.
This famous Holstein mare line, which is registered under number 429, also produced the stallions Aldato (Anblick xx), Heidelberg (Ladykiller xx) and Benedictus (Benvenuto xx).
Numero Uno was a moderately successful international competitor with Marco Kutscher for three seasons – from 2004 – 2006. They mainly competed in 1.35 / 1.45 speed and handiness classes. The pair had two wins – 1st in a 1.35 knock out at Zurich CSI**** in 2006 and 1st in a 1.45 speed and handiness class at Verona in 2005.
As a breeding stallion Numero Uno has been a star. He is the sire of approved KWPN stallions namely Tygo (Purioso), Unaniem (Voltaire) a winner of the KWPN stallion performance test, Van Gogh (Bernstein), Viënto Uno W (out of a Wisconsin mare – now gelded), the winner of the main KWPN licensing Vincenzo (Ekstein) and Warrant (out of a Nimmerdor mare). Warrant is the sire of the 2011 stallion selection champion, Durrant, who is from Warrant's first crop.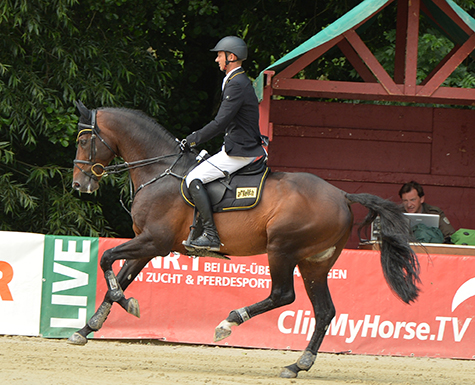 Van Gogh by Numero Uno, a star in the making for Marco Kutscher –
three GP wins on the five star Longines circuit!
In 2011, two of his sons from his first year at stud, Tamino and Tyson, were members of the Dutch A-Team. Tamino (out of a mare by Farmer) had numerous wins in 2010, including the Grand Prix of De Steeg. Tyson (out of a Voltaire mare) won the Grand Prix of Mechelen, Stockholm, Maastricht, Leszno and Lisbon.
Other Numero Uno's competing Grand Prix include Katharina Offel's Tico (Celano), 2nd in the Grand Prix van Pforzheim; Take Off (Indocto) who competes with Eric Lamaze; Talk About Me (Hamlet) who competed at the European Championships with Dmitry Berestov; Tobalio (Jacorde) who won the Grand Prix of Valkenswaard with Tom Brinkman, and Take One (Karandasj) who won the 1.50 Grand Prix of Lake Placid with Chirstine Tribble McCrea.
Other Grand Prix competitors include: Tosca (Zortin) and Margie Eagle, Tia Maria (Nimmerdor) and Jos Verlooy, Timo (Damiro) and Tim Gredley, Tinky Winky (Zeppelin) and Leon Thijssen.
He also produced some international stars out of his second crop, born in 2001, including the licensed stallion, BMC Unaniem (Voltaire) and Ben Schröder, 5th in the 2011 GP of Amersterdam before being sold to Athina Onassis, and Urgent III (Julio Mariner xx) and Steve Guerdat – the pair won a 1.50 class at Vigo.
Jenneke Smit describes the attributes he passes on to his progeny: "Numero Uno is a successful breeding stallion that convincingly passes on his handsome conformation, movement and exceptional jumping talent. His offspring often have a slightly sunken topline and are known for being sensitive."
In 2011, Numero Uno had a jumping index of 141 with 95% reliability.
"His ability to pass on conformation and movement is above average with scores of 105 and 107, respectively. Remarkably, Numero Uno consistently passes on good rectangular-shaped conformation with a long, well-muscled neck, a straight croup, and angled hind legs. His offspring typically inherit an elastic trot and a big canter, In free-jumping evaluations, Numero Uno offspring are noted for their good reflexes, excellent body use, carefulness and abundant scope. According to the annual overview of the ability tests (IBOP and EPTM), Numero Uno scores very high as a sire. In fact, he is the most influential jumper sire of mares which have participated in the IBOP… Numero Uno offspring also excel in the mare inspections. Of the 232 mares accepted into the Studbook, 55% hold a conformation predicate, among them 56 ster mares, 32 provisional keur mares, 15 keur mares and 24 elite mares. Forty earned the sport predicate (jump), and 100 received the PROK predicate." (Jenneke Smit – Numero Uno – Sire of the Highest Calibre)
At the 2008 KWPN stallion licensing, he was awarded 'keur' status, three years later he was awarded the preferent predicate for excellence as a sire – making him the youngest stallion in the past ten years to receive the KWPN preferent predicate.
Numero Uno was ranked 9th on the 2013 WBFSH jumping stallion rankings on the basis of 38 international competitors. The standout star, with 1103 points, is Tamino (out of a Farmer mare) who has taken Marc Houtzager to the 2010 WEG, the London Olympics (=9th on the individual standings) and 7th in the 2013 World Cup final. The pair were members of the winning Dutch team at Aachen 2013. On the 2014 standings, he has dropped to 33rd.
On the 2015 WBFSH standings, he is back up to 30th with Van Gogh is best points earner.
Marco Kutscher rode both father and son: "Numero Uno was super nice, he was also a very pretty horse, super nice in the flat work. Maybe he didn't have the biggest scope, but he was winning 1.45 / 1.50 and now he is very successful as a breeding stallion."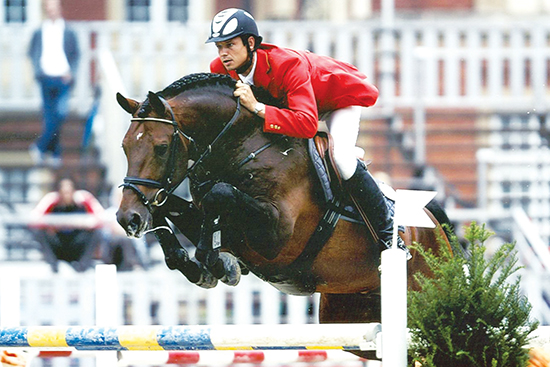 Marcus and Numero Uno
"Van Gogh is a little bit more scopey than his father, but also a little bit more slow. Numero Uno was also one for speed classes. Van Gogh has become faster in the last few months, but he is not as quick as Numero Uno was. But he is scopier, and you can't have everything. I am lucky that I have him. He is a stallion and you have to watch out for that, always a bit naughty, he wants to attack you, but in a fun way. You know what he is doing, so he is not dangerous and he is super nice to ride."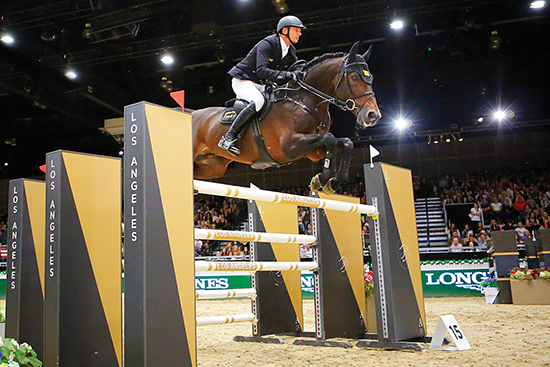 Marcus and Van Gogh, victory in the Grand Prix at the Longines Masters of Los Angeles / Photo: McCool Photos for EEM
Van Gogh looks like he has the paces to be a dressage horse…
"He can do all the things they ask in Grand Prix – piaffe, passage, one time flying changes. I can't do these things, but he can do these things with Manni. He is a very nice horse."
Not surprisingly, Van Gogh is the star of the rising star of German dressage, Cosmo, ridden by another rising star, Sonke Rothenberger.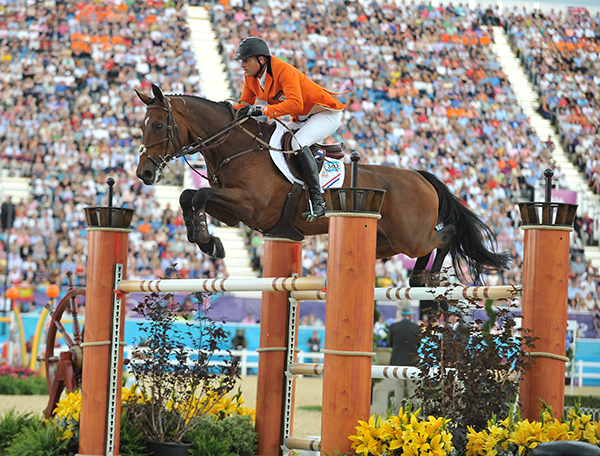 Tamino with Marc Houtzager
On the 2014 KWPN breeding values, Numero Uno is in =13th place on the rankings of stallions with a reliability of over 90%, with a value of 141 (97%). He has produced 1564 progeny over the age of four, of who, 551 are registered as competitors – that's an excellent ratio of 35.23%.
On the 2015/16 KWPN breeding values, Numero Uno is in 15th place with a value of 141 997%), with 1908 progeny over 4, for 738 competitors (38.679%).
On the 2016/17 KWPN breeding values Numero Uno is ranked 15th on the list of stallions with a reliability of + 90%, with a jumping breeding value of 138. He scores 106 for conformation, 106 for free movement and 108 for free jumping. He has produced 2109 progeny over the age of 4, with 822 competitors – 38.97%.
The WBFSH 2016 jumping stallion rankings sees Numero Uno in 29th place, with 39 international competitors, the most successful being Van Gogh.
View Numero Uno on YouTube:
http://www.youtube.com/watch?v=tUENpzCtfZ8