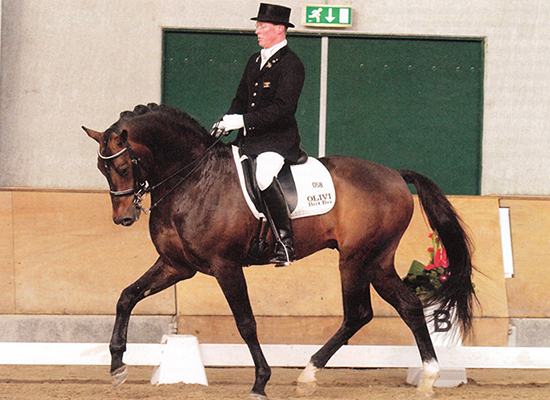 1996 167cm Bay
Breeders: Hans Ligtvoet & Huub Visser
On the 2014 KWPN breeding values for dressage stallions with a reliability of 80-89%, the number one stallion is the French based Olivi.
Olivi has a breeding value of 178 with a reliability of 89%. Should Olivi's reliability increase by a mere 1% then he would rocket up into second place behind his sire Jazz on the big kids scoreboard… Olivi has produced 491 progeny over 4 years old, with 149 competitors, 30.362%.
The bay stallion is one of the most successful sons of Jazz. Olivi has been a successful small tour dressage competitor himself, and is already the sire of the approved stallions UB 40 (out of a Michelangelo mare) and Universeel (Zuidhorn).
Aside from his famous sire, Olivi has an impressive mare line. His dam, Halla Utopia was herself a small tour competitor, and is by the keur stallion, Aktion who competed at Grand Prix level with the Hungarian Guylla Dallos. Aktion was a particular favorite of the World Cup fans because of his flamboyant piaffe / passage tour. Aktion is the sire of a number of Grand Prix competitors, including Galliano, P. Atlantis, Finesse and Feliki.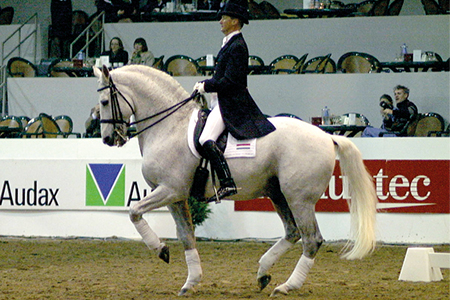 Aktion and Guyla Dallos 
Aktion's sire, Pion produced the KWPN stallions, Argus and Democraat and he is the grandsire of the KWPN approved stallions, Houston and Tuschinski. Halla Utopia's grandsire on her dam's side, and Pion, are sons of the Thoroughbred, Abgar. Once again, Amor makes an appearance on the damlines of both Pion and Jazz.
Olivi comes from one of the most famous lines in Dutch breeding, the Utopia-line, a line that has produced both dressage and jumping horses, including Nick Skelton's Arko III, the KWPN stallions, Premier and Radar, and international jumpers, Loretta, It's the Business, Now or Never, Darco and Opium. The original 'Utopia' mare is Ellen-Utopia, by the Trotter stallion Kan Pom B, out of the Gelderlander mare, Gerda. Her daughter, Hellen-Utopia was by the L'Invasion son, Boris.
Karin Karlas in her article on Olivi in ids International (October 2009) takes up the story: "Olivi was bred by Hans Ligtvoet and his father-in-law, Huub Visser, otherwise known as the Livi Partnership, which began breeding horses approximately 25 years ago. Ligtvoet explains:
'We were always looking for good horses, but good three-year-old mares are expensive and hard to find. Then, one day I was driving on a provincial road, and I happened to notice a grey mare trotting in the pasture. Her trot was amazing. I could tell she was pregnant, and I made a mental note of it. Some time later, I was driving down that road again, and I saw the same mare but this time with a foal at her side. The foal had a beautiful front end and moved with power and balance. I later found out that the mare was by Aktion, a stallion that I've always been crazy about. Not long after that, we went to talk to Halla Utopia's breeders. Even before we met them, I told my father-in-law that we had to have that foal, even if it meant paying the full price.'
And that is how Ligtvoet and his father-in-law came to own Halla Utopia, Olivi's dam. The filly grew up and successfully competed in the Selection. Later, Will Schellekens rode her in the IBOP, where she received 9s for her walk, carriage and temperament."
Halla's first foal, Lady Utopia, was by Nimmerdor, and won all-round Champion at the age of three in the North Brabant Selection. The second daughter, by Purioso, has been retained by the Livi Partnership as a brood mare. The third foal was Olivi – originally named Olympic Utopia.
According to Ligtvoet:
"I had seen Jazz in the Stallion Selection, and I thought he was a world class horse. He has long front legs and a great front end. Of course we had Halla, who has a lot of power, so we figured it would be a  good match. And the minute Olivi was born, we knew we were right. He was a bold, handsome foal with a nice head – there aren't many like him."
At the Stallion Selection, Olivi was the reserve champion to Oramé (Indoctro / Ramiro / Almé). Campaigned by Bart Bax, Olivi won the Dutch Championship at Z-level dressage, before going up to compete in the Small tour – but despite his success in the arena, he was getting fewer and fewer mares each year.
Olivi was sold to the French stud, Haras du Feuillard.
Arie Hamoen, the chairman of the KWPN Stallion Committee comments:
"He passes on a short, vertical, heavily muscled neck and a long croup as well as front legs that are back-at-the-knee and feet that toe-out. He also passes on sickle-hocked hind legs. Olivi scores exceptionally well on all aspects of movement which translates into a good upper beam score for that trait. When paired with long-lined mares that have sufficiently long front ends and correct hind legs, he is indeed a sire who passes on good movement."
There are the usual claims that the French based Olivi is the sire of 'several' Grand Prix dressage horses, the only one that I can find on the FEI data base is Triviant II, who sold to Ann Kathrin Linsenhoff at the 2005 PSI auction for €420,000 – the horse is ridden by the Swede Charlotte Haid Bondergaard and is competing with some success at Grand Prix level. Freebird Ucelli (out of a Gribaldi mare) won the PAVO Cup with Hans Peter Mindenhoud, and was reserve champion at the World Young Dressage Horse Championship in Verden. The pair recently won the Dutch Small Tour Championship.
On the KWPN's 2015/16 Breeding Values, Olivi moved from number one spot on the stallions with a reliability of 80 to 89%, three years ago, to second place on the over 90% list, and in the process improved his dressage value from 173 to 183. With 540 progeny over four, he has 170 competitors, 31.481%. Having said that, Olivi doesn't even make the top 50 2015 WBFSH dressage sires ranking (which is based on international performances), and none of his Grand Prix stars make it to the top 100 on the WBFSH dressage rankings, actually I couldn't find any in the top 500! Once again, we wonder just what the values are valuing?
On the KWPN's 2016/17 breeding values, Olivi is still in second place behind Jazz, with a dressage value of 181 (Conformation – 102, free movement – 110). He has a negative OCD value of 97. Olivi is the sire of 577 progeny over 4, with 181 competitors (31.36%).
Olivi ranks 60th on the 2016 WBFSH dressage stallion standings.