1974 – 2005 171 cm Brown
Breeder: Klaus Delef Harbeck
Sandro's sire, Sacramento Song xx was born in Ireland in 1967. He had 23 race starts as a 2, 3 and 4 year old, for four wins, and the moderately successful winnings of £4,241.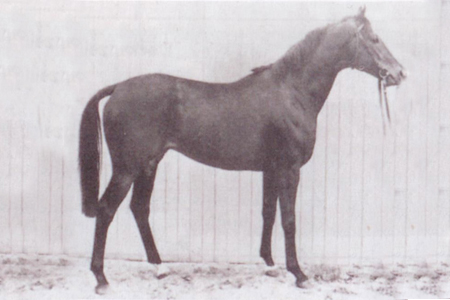 Sacramento Song
Sacamento Song was royally bred. His sire, Sicambre won both the French Derby and the Grand Prix of Paris while his dam, was by Sayajirao, a St Leger winner.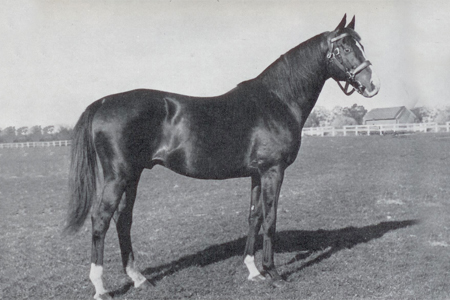 Sicambre 
Sicambre (born 1948) ran in nine races, won eight with one place. Sicambre was the leading sire of winners in 1966 (at the age of 18!) and the following year was runner up to his son, Prince Taj. He was ranked three times amongst the top ten sires of broodmares. His sons were influential throughout the world: Shantung in Britain, Prince Taj and Roi Dagobert in the USA, Moutiers in Japan, Cambremont in the Argentine, Sertorious in Chile, Pharamond in Australia.
Sayajirao sired the winners of 410 races. Mares by Sayajirao foaled the winners of 261 races. Sayajirao's dam, Rosy Legend, is a daughter of Dark Legend by Dark Ronald by Bay Ronald.
Sacramento Song stood successfully in England before coming to Germany's Holstein region when his owner, Charlie Munford decided to retire from the breeding game due to old age.
According to that great expert on Holstein breeding, Jasper Nissen in a fascinating article in Z Magazine (August 2004): "Sacramento Song's career in Holstein seriously suffered from the fact that he was not studbook owned but privately owned and was active precisely in the period in which the Thoroughbred had fallen into complete disgrace with the studbook. In addition, he was stationed in not the best breeding district. Nevertheless he soon proved himself a top class sire. He produced a large number of first class showjumping horses, several event horses, no dressage horses. He often passed on his own type. He was a purebred bay, often with a dark shade, he produced tall horses, somewhat light in the bones, with an excellent character and eager workers with an energetic temperament, often a little hot. Geldings and stallions lasted longer in the sport than his daughters, who often needed 'instructions for handling'. Many of his daughters however, proved quality broodmares. Unfortunately his only licensed son, Symphatico (licensed for his results in showjumping) died after one breeding season. Another son who proved himself in the sport was Sandro, stationed in Oldenburg."
Certainly it is through Sandro that the line is becoming increasingly influential – both in jumping and in dressage.
Sacramento Song stood in Holstein from 1973 until his early death in 1979. He is described in Dr Dietrich Rossow's Stallion Book of the Holsteiner Warmblood Breed as: "A classically bred, English Thoroughbred, with beautiful, smoothly harmonious topline. Beautiful head, rather low set on neck, impressive shoulder with good coupling to the croup. Well-muscled, strong legs and feet, sufficient gaits. Tremendous jumping ability, very tight with front end and good with knees."
Dr Rossow was of the opinion that he bred: 'Very good temperaments, keen, energetic dispositions, often rather hot. Stallions and geldings steadier in competition than mares, who were often 'witchy'. Top jumper sire!'
Alas as Jasper Nissen has pointed out, as a private stallion he was only sparingly used by the Holstein breeders to their later regret. By 1990 with progeny earnings of DM696,000 he was the 8th most successful post-war Thoroughbred sire in Germany! Sacramento Song had 31 competitors with placings, 29 of which were showjumpers. After his death, three exceptional sons were licensed on the grounds of their competition results: Sympatico, Sacramento Son and Sandro. And it is through Sandro, that the influence of Sacramento Song lives on…
Bent Neergaard is a respected Danish breeder, he is also the man who 'discovered' Sandro.
"I first saw Sandro when he was two and an half years old, he was presented at the Holsteiner stallion selection and was not accepted. So with one of my friends we bought him and took him to Denmark," he told me. "We presented him at the licensing and he was approved and then did a very good 100 days test. A couple of years later he went over to the famous eventing rider, Nils Haagensen. He did quite well with him, but he was probably better for showjumping, so he was handed over to my partner who took him jumping internationally."
"In Denmark, he was based at Fumen, but it wasn't really the right place for him. There were a lot of old Oldenburger heavy horses – we thought it would be the right place for him but it wasn't. Then he moved to the southern area of Jutland, close to Germany, a Holsteiner area. He covered some Holsteiner mares and with them, he was really good. But still he wasn't accepted all over Denmark – he only had a few progeny from the first years and it wasn't easy to get him accepted by the breeding association or the breeders."
"He was sold to Paul Schockemöhle, and he understood the quality of the horse. There is quite a lot of Thoroughbred in this horse, and they can be a little bit loose in front, but it was a modern horse. I think he was ten years in advance of his time, even in Denmark. Schockemöhle could see exactly the potential of that horse, the modern type with long legs, good riding capability – and he mixed him with the right mares, the mares with the German 'G' blood. Now you can see Sandro blood in all the major breeding associations all over the world."
What caught your eye?
"I had been in the army for many years, and also worked with horses for many years. I liked lighter horses than most of the breeders in those days. I liked his eyes and his beautiful head, I liked this very fine looking horse – and I liked the blood also, I thought he could be a very good performance horse. In those days, the breeders didn't look enough at performance, and I thought he would bring in some performance."
"In a stallion the most important thing is performance. But as a breeder you cannot sell horses unless you have good-looking horses. So you have to look for performance, for a good-looking horse, and you have to look for a horse that is very calm and good in the head as well. You cannot say 'only performance' or 'only beautiful' or 'only temperament' – you need all these things."
When he moved to Paul Schockemöhle's stud, Sandro also met up with Franke Sloothaak who continued his jumping career for lifetime winnings of DM55,000.
As a sire, Sandro has also been a considerable success, with three of his progeny competing at the 1994 WEG in The Hague – Sandro Song (Ante Smlesa), Safari (Michael Abo) and Paradiso (Rolf-Göran Bengtsson). Sandro is the sire of more than 40 licensed sons, the most successful being Silvio 1 and II, Sandro Song, Sao Paulo, Sandro Boy and Salido Z.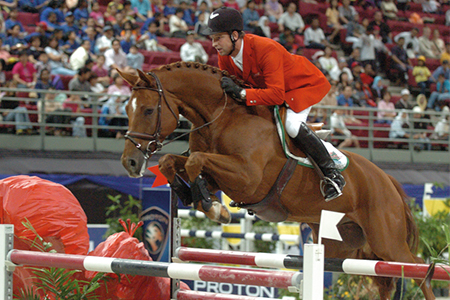 Sundance Kid and Franke Sloothaak
Successful competitors include; Salido Z (Debbie Stephens), Sagrat (Guy Goosen), Sakrus (Debbie Winkler), Sympathico (Ersting-Engemann), Silas M (Yanix Elad), Sheila and Sundance Kid (Franke Sloothaak) and Santorin F (Fritz Fervers) and of course, the World Cup Champion, Sandro Boy.
As a broodmare sire Sandro has also been exceptionally successful: Lasango (Kurt Reinacher), San Serai Funky Town (Björn Nagel), Lausano (René Tebbel), Risandro (Samantha McIntosh), Filias (Arnoldo Bologni), High Class (Royne Zettermann), Cappucino and Santa Fe (Marco Kutscher), Grand Soso (Markus Fuchs), Grand Soso II (Ulrik Kjaer) and High Stepper (Maria Gretzer) – all Grand Prix showjumpers, all out of daughters of Sandro.
Sandro is unique in that he is the only stallion son of the cross of Sacramento Song and Wahnfried – a cross that has also been very successful in producing dams of stallions. The stallions Lavell I and II, Atlantas Z and Campione, as well as international jumping horses, Cathleen (Meredith Beerbaum – then Michaels) and Zigeunerin (Rodrigo Pessoa) all came from that cross. Sandro's dam, Dürte is the full sister of one of the most successful Puissance horses ever – Wabbs. Durte is also the dam of Harvey Smith's Salvador.
What is slightly more surprising is Sandro's influence on dressage breeding. If we look at the stallions represented in the 2008/9 Eylers' German Stallion book, we find there were 19 stallion great grandsons promoted as dressage sires – all sons of World Young Horse Dressage Champion, Sandro Hit. There are also two stallion grand-sons promoted in Eylers' book.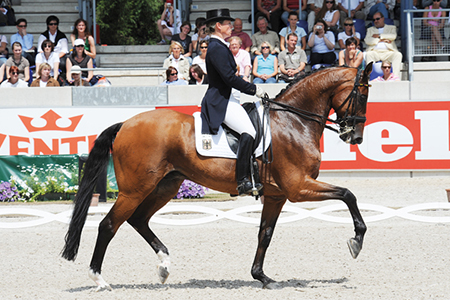 Satchmo and Isabell Werth – top of the world for dressage 
Of Sandro's dressage descendents, Isabell Werth's Satchmo by the Sandro son, Sao Paulo, is the most successful.
Sandro – re-christened Sandro Z – stood the last years of his life at the Zangersheide stud, where he died in August 2005.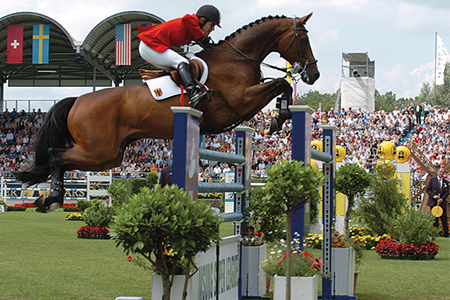 Shutterfly and Meredith Michaels-Beerbaum – top of the world for showjumping 
The 2007 World Breeding Championship for Sport Horses saw firsts for the Hanoverian studbook in both jumping and dressage, with Meredith Michaels-Beerbaum's Shutterfly (Silvio / Forrest xx) the number one in the jumping rankings, and Isabell Werth's Satchmo (Sao Paulo / Legat) number one in the dressage. What a triumph for Sandro, the grand-sire of both the champions!
In the survey of the world's top 75 jumping sires that appears in the French publication, Monneron 2007-2008, Sandro is 37th with 8 CSI winners including World Cup Champion, Sandro Boy. His best stallion son, Silvio I is 56th with 6 CSI winners, including World Cup Final winner, Shutterfly.