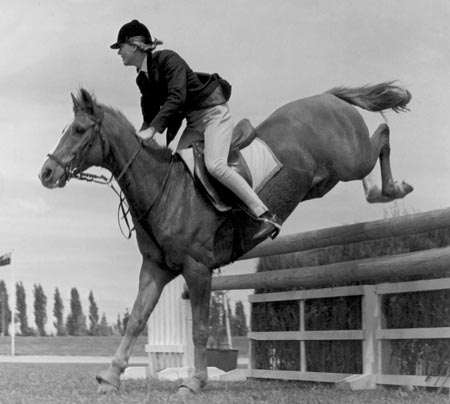 An interview with Chris Hector.
Vicki Roycroft, she was Vicki Rose then, was born into a 'horsey' family:
"Mum was horsey. I was born in Melbourne, we moved to Sydney when I was seven. My brother and sister rode. I wasn't that keen on it as a small child, I used to get carted to the horse shows kicking and screaming, but when I was about 13 I started to get interested, and oddly enough my brother and sister gave up when they were in their twenties. My brother went to university, my sister got married, and I just kept on riding and got keener."
"In those days it was dressage one weekend, one day eventing the next, and jumping the one after that. It was simpler in the old days."
And hacking?
"Mum always loved the hacks. We had a horse that went champion hack, Harvest Time. Mum was at a cocktail party and the great racehorse trainer, Tommy Smith was grizzling about a very expensive yearling that had had five starts, three last and a couple second last – and Mum said, 'I'll have him'. He turned up a week later and became the greatest family horse on the planet. My brother rode him eventing, my sister showjumped him – she won Champion Lady Rider at Sydney Royal on him. I got him as the hand-me-down horse, and went from juniors to Part 1. I didn't know any better – or my mother didn't know any better. We just thought it was normal. He was the most wonderful horse, we retired him when he was 19 or 20, just a fabulous Thoroughbred horse."
Who were you training with?
"Art Uytendaal, he trained all of us, and I still regard him as one of our best trainers. He revolutionized the sport of showjumping in Australia. Then there was Franz Mairinger, and Karl Jurenak… In the transition before I started to ride Harvest Time, Carolyn Lieutenant, she was Carolyn Law then, she was a working student for Karl Jurenak and she rode Harvest Time for a while. She won quite a few decent jumping classes on him, she was great and she's still a friend."
When you started to get serious, was that jumping?
"I rode for the first time at Sydney Royal as a kid, but my generation of riders were not great juniors. The only junior who went on to be a successful senior rider was Colleen Brook, but her parents did have nice horses for her, I'm not saying she wasn't talented, but all the others of my generation – me, Rod, George, Chuggie – were hopeless juniors, we didn't win a cracker in those days. I think the only junior class I ever won at Sydney Royal was in my last year, and I was riding Kevin Bacon's Bindi, which he'd leased to us while he was away. That was a wonderful pony, it wasn't that I was any talent, but it was like winning a gold medal, so exciting. It does worry me now, all the pressure put on juniors and young riders, emerging athletes, yahdeyah, when it is true that you have your best years in the sport in your 30's, 40's, early 50's."
"I'm very grateful for those years, right up to our late teens, we all did everything."
"In those days the sport was more Australia centred – now if we get a really good horse, the question is, will it take me to Europe, but in those days it was, will I win at the Royal… winning here was an end in itself before we had this universalized world sport. Which I am not saying is a bad thing but in those days, it wasn't The Horse Magazine, you were trying to get into the results in Hoofs & Horns, the big deal was the circuit of the Royal Shows… this was of course in my very early youth."
Who was your first competitive horse?
"The pony I rode at Sydney Royal, Gazelle, she was a little gun, again a hand-me-down from my sister. Joanne had huge success with her, then Rockbye, then Bindi then I went on to Harvest Time. As a kid, I was just playing around, the biggest influence on my career was when I met Wayne and Bill Roycroft. That was a huge step…"
Bill was extraordinary, a self-taught Bush rider, but look at the photos and he is always in such a nice position over a jump…
"He was an extraordinary talent. He was a very natural horseman. He got these rogue Thoroughbreds every four years and turned them into Olympic horses as six and seven year olds. His philosophy was to improve every horse he sat on, every day. He was never rough, he was just an extraordinary horseman, he had the most glorious feel on a horse. That was how the boys were raised… He wasn't a great teacher because he was so good at what he did, he didn't really know how to explain how he did it, it was so instinctive and natural to him. You had to learn by watching him."
Yet Wayne does have that ability to teach…
"He has an extraordinary talent for that, and he is passionate about it, and he enjoys it. I don't think Bill enjoyed being a teacher, but Wayne very much enjoys teaching. He had an extraordinary influence on me."
"The next huge influence was George Morris…"
When you came to George Morris did you have a lot you had to 'un-learn'?
"Yep. He is extraordinary, I still learn something from him every time he comes out. That first time was pretty amazing and there was a lot to learn. First, that you don't have an ego, at that point I had Apache and I thought I was alright, I'd just won a World Cup class the day before his clinic. I didn't ride Apache in that clinic. He was crazy, he was too hot and difficult to ride in a clinic."
"I rode another horse, and George noted pretty quickly that there was a bit of an ego there, so he knocked that out of me fairly quickly. I went back to the truck that night thinking, 'I can't ride, I can't do anything', I was quite shattered. After a while I thought, bugger him, I can ride, I'm going to show this bastard I can ride… obviously things have changed a bit since then because we are now very dear and close friends, and I have always considered him one of my biggest influences."
"With Apache, I did ride him in a clinic in Sydney after that, and there were things about riding, about bitting, that were a huge help with that horse. I don't want to put too much influence on bitting, but I used to ride him in a fat snaffle and in the ring he was very difficult, so I changed and used a different bit in the ring, although George always emphasizes that you keep bits very simple for training, in the ring you can use what you like."
Was the emphasis on flatwork new for you?
"Not totally because I had been working with very good flat riders. This is something I often talk about with Colleen Brook, why did we want to ride more classically? Our biggest star in those days was Kevin Bacon – so why did we want to ride so differently from Kevin? In the early days, Karl and Franz were big influences, but really I don't know why we chose the emphasis on flatwork, and the older I get, the more important flatwork is, but that is the way the sport has gone. Unless you have a well trained horse, you don't jump clear rounds."
It does seem to me that George has got more fanatical about the flatwork over the years…
"I think he is now at the stage where he can train as he wants, he doesn't have to train to earn a living. This is what I find is hard with clinics, it is hard to get the balance right, riders come to a jumping clinic and they want to jump, but with most of the clinics I do now, if it was a five day clinic, I could spend all five days just doing flatwork because half of them aren't good enough on the flat… but if you want to go back to do another clinic there, you can't necessarily do that."
"George is clever in that his jumping exercises are also flatwork exercises. He is the master of that. But there is no question, whoever you ask will tell you, 90% of jumping is flatwork."
Yet your first international competition was the Three Day Event at the Los Angeles Olympic Games…
"1984 Olympics, riding Wayne's third Advanced horse, Faro. That was in Apache's early days so I didn't really have a jumper going then. A little over 12 months before the Games, Wayne made the off-hand comment, 'here you ride Faro because you will go to the Games on him' – oh yeah right, I'd never ridden at an Advanced One Day event at that stage, let alone a Three Day. We didn't compete Gawler which was the first selection trial but I won Melbourne and Sydney on Faro so they sort of couldn't leave me out of the team…"
But you were unlucky, he went unsound and you didn't ride him in Los Angeles…
"It was a real shame because he was a really good horse, but I rode Looking Ahead, who was an A grade eventer, who had been brought along as my back-up horse. In those days, they selected the rider and if you had a good enough back up horse, that was the one. He did a good enough job, but it would have been nice to have been on the other horse, he was exceptional."
In the meantime, Apache was starting to come into his own?
"I got him as a four year old off the track. He cost me $500 delivered. I was down at Cowra doing a clinic, and the guy who ran the clinic kept nagging me about this horse he had, every time he jumped it, it threw its head in the air, and he wanted me to look at it. I thought I know what is happening, he is getting left a little, and if it is a Thoroughbred horse it is probably sensitive – so I kept gently trying to put him off, and I'm not very good at gentle but he kept insisting. When I do a clinic I'm fairly focused so I get quite tired and the last thing I want to do is extra stuff, but he kept insisting so I said bring the horse down in the lunch break and I'll have a look at it. They brought it down. I hopped on, and it was hot, really hot, really difficult. Okay it jumped high, but its head was stuck in the air, oh god this is feral, but there must have been something about it, it was a liver chestnut, and the other good horse I'd had before him was a little horse called Valiant Megs, a wonderful horse, and he was a liver chestnut, so I think I liked the colour."
"So I said to the guy at the end of the clinic. 'That's a cute horse, do you want to sell him?' He said, 'I don't own him and I don't think the owners want to sell him.' Okay, and I forgot about him. About two weeks later he rang back and said, that horse is for sale. What horse? I couldn't even remember what horse he was talking about, and in those days my memory was better. Still I asked what do the owners want for him? Five hundred dollars and there is a truck coming through to Bankstown, and if will be fifty dollars for the transport if you pick him up there. I thought, it doesn't sound like much money and I must have liked him, so I bought him over the phone. What I had forgotten, okay he was only four years old, but he was tiny, fifteen one or two if he was lucky. When he came off the truck and I looked at him, here was this skinny little rabbit. What have I done?"
"I was driving him home to Mount White, thinking, Wayne is going to kill me… Which is about what happened. If I'd had to go and pick the horse up and pay for him, I wouldn't have bought him. I'd have remembered how hot and difficult he was, but fate is like that, isn't it? I hid him in a paddock for a couple of months to see if he would grow because Wayne had been grumpy about him."
"When we did start to work him, he was proving to be quite special. First show I took him to, he was third in a D grade, or something like that…"
Did you know his breeding when you bought him?
"Yes, and I am sorry to this day that I didn't track down his dam. She was an imported mare from Britain, but we just figured he was a freak and freaks don't come along that often. We'd chased up a couple of half brothers to Wayne's  horse, Lauriston, who was a fabulous horse, and Harley, another good horse – and the half brothers were the most useless horses you have ever had. In both cases they were better types, better looking, and couldn't jump to save themselves. I was going to track this mare down, and I knew where she was, but I thought, he was just a freak, and I never did. It would have been good to have some of the family around because I've chased liver chestnuts ever since."
"Not long after that first show, there was an Irish dealer out looking for horses. At that time we had a couple of horses for sale, he bought one and asked if we had anything else. Wayne said, why don't you show him Apache? I jumped some fences, he was awesome. The guy said, how much do you want for that one? I was thinking, I paid five hundred bucks, if we put about 10 or 12 on him, that's quite a good profit. Wayne just said '$20,000' – the guy looked at him, I looked at him! Are you negotiable on that? Wayne said, nah. When the guy left I asked him, what are you on about, that was crazy money, what were you thinking? Wayne said, Polly, this will be the best horse you will ever ride. So he knew, after canning the horse when I first got him there."
"He went up through the grades, I think at one stage he went nine months without  having a rail down. Then he had a rail down quite hard at a show near here, I remember it because at the next fence he jumped so high he sent me out of the plate about thirty feet in the air, and I landed on my back, and really hurt it quite badly. I couldn't ride for about a month after that, but that was the nature of the horse, he was just extraordinary. It only happened two other times – once in Canberra, when he sent me out of the plate again, and the other was at the World Cup final in Paris, and luckily I was able to hang on. I'd like to find another one like that."
So you won the Pacific League and the right to go to the Final in Paris in 1987?
"He was nine when I took him to Europe. He won the Grand Prix at Wentworth Park, which was our big show in Sydney then. Paul Weier had come out to build. In those days in Australia, my old nemesis, Ted Dwyer, used to do a lot of the course building and he would say to everyone, I'm going to fix this Apache – crikey if he was going to fix Apache, what was he going to do to just about every other horse in the country? When I walked Paul's Grand Prix track, I thought hey this is for us, because he built careful and technical. Apache won that quite well, and I talked to Paul, and that was when teams of riders from all over the world came to jump at Wentworth Park, and Leslie Howard, the great American rider, was there, and they said 'take him to Europe.' Off we went, that was my first trip internationally jumping."
"Initially I was in the UK to do a few indoors to get ready for Paris. Then I caught a lift with Robert Smith to Geneva, one of the last of the World Cup shows. It was a little easier in those days to get into shows, Aussies were exotic then. That was a fabulous show for us. Apache ended up being runner up to the leading horse. He was placed in every class he went in and he just caused a sensation. I've got an old video, and you can see at the start of the class, the first couple of fences he jumps, the crowd is talking and then they start to go quiet, and by the end of the round, there is just silence. He was just such a spectacular jumper."
"After Geneva I was based with Eric Couperie, and after Paris, I went to Paul Schockemöhle's. I think he saw lots of $ signs, that he could sell this horse, he didn't realize quite how hot he was – he was difficult to sell to the Europeans because he was small and hot. Paul's place is a bit plain, but it was a great experience to be there, he is an extraordinary horseman. Paul was great at getting us into shows, and at the end of that season, Apache was ranked one of the top ten horses in the world."
What was it like to ride at Rome?
"It was great being part of that team, we went as an Australian team: me, Kevin Bacon, Jeff McVean, Armand Leone and Susan Bond. Bob Brook was the chef d'equipe. It's great to be in a team any time, but it was my first Nations Cup so it was very scary and Bob put me out first, which was even scarier. I certainly didn't do a very good job, I know that. Then for the Grand Prix, the horse was so strong – it was out first outdoor show after Paris and it was a huge outdoor ring. It's long and narrow at Rome so most of the courses are jumped up and back and of course Apache, once he was heading back towards the in gate, well I just had no brakes, he was wild. We had to do some bit experimenting. I think in the first class I'd placed third or fourth. The next was the Nations Cup, and no brakes, which was scary. We reorganized the bits and by the time we got to the Grand Prix, he was in super shape.
There were only two double clear rounds to jump off. The other horse was the one that had won the Grand Prix the year before, massive German horse, Argonaut. This seventeen hand horse goes into the ring first, has a rail down, so I go in and the crowd go nuts, they just love the little horse. I had a fair idea that I could better the guy's time. I wasn't going to go for the slow clear, I was going to cover his time. I had a rail down but I went a lot faster, and the exciting thing was that as soon as we went over the finishing line, you could see the time, and I knew that I won. We'd also won the Nations Cup, so that was the party that went all night… they were amazing days. After the Grand Prix the party was at Pavarotti's…
You sold Apache…
"We were in the position that we had no money. I begged my father to buy him, but Dad was a real man for what I do for one kid, I've got to do for the others. I wrote to the Equestrian Federation, and said can you help me, this is a horse that can go to the Olympics, is there any funding available? They wrote back and said, no there's nothing. If they'd have offered me a couple of grand, I'd have kept the horse, because I wanted to go to the Games."
"The last show I rode him at, he was 9th in the Grand Prix and that was only because I had a front rail on a triple bar. He had been placed in all the Grand Prix, so even though he was hot and difficult, there were people who wanted to buy him. If it happened now it wouldn't be a problem, because there is Sports Commission funding, and money available if you want to keep your horse. I was away from home, what was I going to do? He wasn't a horse you could just leave somewhere, he was a difficult funny little Thoroughbred. My son Mark was eighteen months old. Wayne came over with him, and I hadn't seen him for six months and he didn't even know who I was until he saw me leading a horse! It was all those sort of issues, and we couldn't afford to bring him home."
"He was sold, but then I bought him back when he was 19. I did another season on him. I didn't intend to ride him again, I bought him back to retire him. I had been in Europe when I did the deal, and I came back and he was in the paddock, and I thought, you look pretty good. Got him in, put the saddle on, rode him round, felt really good – there was a cross rail in the paddock, popped him over and he jumped the top of the wing. So to who-ever I had here at the time I said, get him shod, give him a preparation and let's just see if he is sound, and when I get back, we'll see what we can do with him. I did another six months competition with him, I just wanted him to retire on good note. He got to mini-Prix, won some good classes. Then he won warm up class for the World Cup at Horseworld. I probably should have run him in the World Cup but he won the warm up, and it was a good field of horses, I thought it was time to retire him. He is buried in the field here…"
In Part Two of  A Showjumping Life Vicki meets up with Mickey and stars at the first WEG…