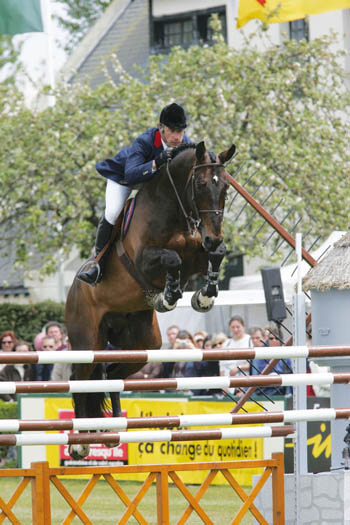 Story – Christopher Hector
The WBFSH stallion rankings are never what you'd call breaking news, year after year, the lists are pretty much the same. Seemingly forever, the jumping standings have been headed by the late, and very great, Darco – and indeed about half the top ten spots are held by horses gone to the great breeding barn in the sky, with a couple more who might as well be there since they can no longer produce foals.
The 2011 standings are more of the same; Darco is still in the lead, but slowly, slowly, places are changing. Quidam de Revel has slipped from his usual number two spot to sixth place, and given that he is now only marginally fertile, unless the WBFSH decides to add his clone's offspring to the total, he will continue his downward slide. The big movers are Baloubet de Rouet, up from 19th in 2009 to second place, and Kannan, who didn't even feature in the top 30 in 2009, up to fifth spot.
The move has generated its share of just who is Kannan? posts, which suggests that for all French breeding has become wide open to blood from the rest of Europe, the French scene is still a little out of the breeding loop of the Sporthorse cognoscenti.
Born 1992, Kannan was purchased by Frenchman Michel Hécart for a record price from Belgium in 2000, and by the time he featured on the front cover of the Annuaire du Cheval de Sport et d'Élevage 2002, he was the hot new sire. Kannan had covered 270 mares in the 2001 season at a fee of 8,000 french francs and was already showing a profit, with expectations that 2002 would prove even better…
Five years later, Kannan was still ranking highly, the 11th most used stallion for 2006 season, with 182 mares, but after he was purchased by the GFE breeders group a year ago, his career re-booted, and he is believed to have covered 500 mares last season, and daily his total of international jumpers grows.
The Voltaire son out of a Nimmerdor mare, is an interesting genetic mix – branded KWPN, he balances 6/16ths French (from Furioso II and his full-brother's son, Le Mexico), 6/16ths solid German – Gotthard and Farn, along with a touch of Thoroughbred, and a dash of traditional Dutch, Gelderlander.
It is one of those ironic breeding twists that the stallion line of the great French Thoroughbred Furioso has died out in that country, and has only recently been revived, first through the Furioso grand-son, Voltaire, and more recently by the Voltaire son, Kannan.
Kannan had a successful competition career, winning the Belgian Classic Circuit at the age of six in 1998 and seven-year-old Belgian Championship in 1999. In 2000 he made his International debut by finishing 5th in a Grand Prix. In 2003 Kannan won the Deauville Grand Prix and in 2004 he won at Paris Bercy and Jardy. Kannan was a regular member of the French team, which won the Samsung Super League in 2003 and 2004. In 2005 he was French National Champion.
By 2007 Kannan was already a dominating force at the Young Horse Jumping Championships at Fontainebleau. The five-year-old class featured 30 of his progeny while the best-of-the-rest, Quick Star had 11, and Quidam de Revel, 10. However it was quickly pointed out that, there were some 170 Kannan foals of that vintage, so the ratio of success – 17.6% – put him into 5th place on the rankings adjusted for numbers – behind Darco at No 1 (5 out of 25 – 20%), Diamant de Sémilly (9/48 – 18.7%), Baloubet de Rouet (3/16 – 18.7%) and Lando, a Belgian Warmblood by Lancier (5/27 – 18.5%).
At the 2011 Great Week in Fontainebleau last August, the Seven year old Criterium was a triumph for Kannan since he put two horses into the final, a feat equalled only by the recently deceased, Quick Star, who was the sire of the Champion, Quatrin de la Roque, out of a Belgian bred mare by Kannan.
Kannan was also responsible for two of the 12 finalists in the seven-year-old final. In the six-year-old class, Kannan was the sire of one finalist and dam sire of another.
Watching from the sidelines, GFE head, Arnaud Evain was well pleased with his front-liner, but he predicted more, much more:
"Every day there is a new Kannan showing up in the international results. When we bought Kannan a year ago, he had 120 international jumpers, and this morning it was 217. It is like a mushroom growing."
Why is he such a successful sire?
"If you look at Kannan, he is not very represented in the four-year-old championship, but he is the largest represented in the seven-year-old, because the Kannans are scopey, careful and with a very good brain. There are a lot of riders participating in this week, and many of them are not great experts and the horses have to participate, and Kannans, like the Mr Blues, they have the brain of going through and doing their best and being clear. That's why you see so many of them when it starts to get serious."
Kannan's fifth place on the world rankings was thanks to a total of 7354 points, accumulated by 74 international competitors. Baldo DS (out of a Darco mare) contributed 420 points with 1.50m class wins in Hamburg and Valencia for Manuel Anon Suarez. Quintera (Quick Star) had 394 points with 1.45m wins at Chernyakhovsk CSI**** with Jaroslaw Skrzyczynski while Van Meever S Sybalia VM (Hattrick) notched up four 1.45m wins for Frederik Cattebeke.
Meredith Michaels-Beerbaum's former ride, Kismet (Furioso II) had a solid season that included a 3rd in the 1.60m class at Paris CSI*****, and Bridgit (Pion) and Bernardo Alves Resende also did their bit, contributing 365 points to Kannan's total.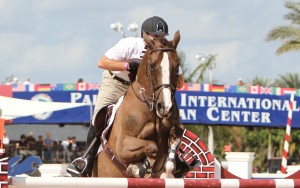 Kismet with his new rider, Ray Texel, photo by Ken Braddick 2012 / dressage-news.com
Like they say, the best is yet to come…