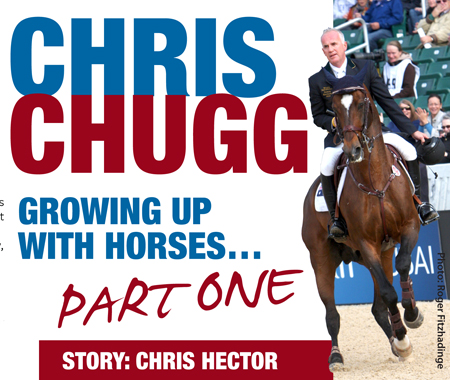 Equestrian sport has often been dubbed a rich man's sport but Chris Chugg's first horsey experiences were not what you would call 'high class'. They were no doubt a valuable introduction to the economic realities of the horse world…
"We used to go and deal a few horses from McGrath's Hill – the old Homebush saleyards, where the Olympics is now built. We'd buy on Friday and sell Saturday and Sunday.  We always had a standard ad – horses for sale – in the paper and we did that for about seven or eight years. It was really quick turnover, buy them Friday, sell them Saturday/Sunday."
"I used to ride around the local park, because we didn't have anywhere to ride, we only had a backyard to keep the horses in. So we used to go to the local park and ride there. It wasn't a very horsey area."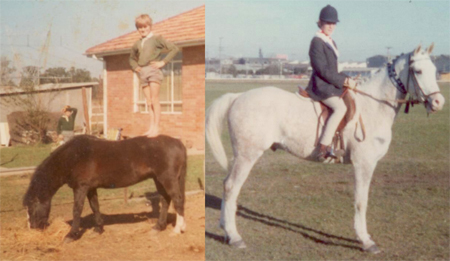 Left: Chris and his first pony Charlie, a welshie bred by Androssan Stud. Charlie only has two speeds, dead slow and flat out! Circa 1972. Right: Chris and his second pony, Del Bart – a purebred arab gelding by Delos. Pictured here winning Champion Boy Rider at Newcastle Show around 1976.
Chris and his family moved further out, near Riverstone, in search of more land. There his mother, Bev, indulged her interest in trotters, taking out a trainer's license – and all the while the Chuggs were dealing, turning over horses from the auction yards at Homebush.
Now it might come as a shock to learn that Christopher's first competition horse was an Arab –
Del Bart: "He was a grey 15.3 – 16 hh purebred Arabian. I did pony club with him and jumped at the Pony Club Championships probably at the age of 15, I sort of grew into showjumping."
It was also a lesson that horse sport and heartbreak travel hand-in-hand: "Unfortunately he came home after the Championships and cut his leg off on a fence."
"I wasn't doing very well at school, I left very early and focused on making my living out of showing Arabs for Paul James from Arabian Park. That was my first job when I left school and I did that for a couple of years. It was a great… I learnt a lot about conformation and handling stallions, breeding a little bit. There were four stallions there that I used to look after, and the main stallion I rode was called Hakim who was a beautiful purebred black Egyptian stallion."
"I used to go and train with my Arab down at Karl Jurenak's place at Tibor. I trained with his assistant, Rainer Nist, who's Kristy Oatley's dad."
"I rode my purebred Arabian there in a clinic with Karl Mikolka (Mikolka was a former rider at the Spanish Riding School, and taught for a while in Australia – for info, go to www.karlmikolka.com.) Karl was very big in working in long reins and this horse didn't look like an Arab, he looked like what we would call a Warmblood. I had to be pretty tough with him because he had a lot of bad habits.  He was actually banned from the Royal Show as a ridden stallion because he threw the rider off and had a bit of fun in the ring."
"Karl enjoyed his fight and fierceness and he put me in long reins. We taught the horse two-time changes and one-time changes and he drove me like I was at the Vienna Riding School for weeks and the horse came out Prix St Georges level. He was a lovely horse."
For a while it looked as if Chris was headed in the direction of eventing:  "I had Kustah, who was an Anglo-Arab that I bought from (the late) Di Dawson. We won the junior section at Gawler 3DE when it was the old Gawler up on the hill. I think I was 17. And unfortunately Kustah died at Melbourne 3DE of an aneurysm."  υ
"Then I started up with Chico D'Oro, the horse that had done almost everything. Mum bought him as a dressage horse, but he was no dressage horse. He was a playful, bucking, first-cross Quarter Horse, a palomino stallion. Still Mum rode him, then Carolyn Lieutenant showed him, and competed in dressage with him, and Denis Piggott evented him. When I was old enough I got the ride – and he took me to Grand Prix Showjumping."
Chico went on to sire a number of good jumpers, including Ashico who competed at the World Cup final in Gothenburg in 1988.
Di Dawson – who represented Australia in the showjumping team at the 1994 WEG – was a key influence:
"I trained with Di Dawson for a number of years. Di was a great horse lady. You know, she had Gala Night, Tick-Tac and a lot of fancy horses in those days. With her husband Glenn, they probably had the best showjumping team in Australia. They always were going overseas, to America mainly, and England, and buying and selling. I groomed for Di for a fair bit at local shows and she helped me with Chico D'Oro."
"It was a good experience, a good melting pot of seeing what Grand Prix horses have to do and how they're managed, and how they're looked after. Di was always looking after her horses 100%.  They were always out on grass, that was more important than anything – they got out of the stable during the day."
"She lived horses. Di was a good natural rider. She was a pure jump rider: a little bit English and a little bit American style of riding. She had a very good connection with a horse. She was very good at taking on horses that had done a bit. She could get a horse like Hunky Dory that had done four or five years showjumping and really get him going. She was a great rider on an older horse, the horse is basically balanced and already trained, and she could provide that added extra."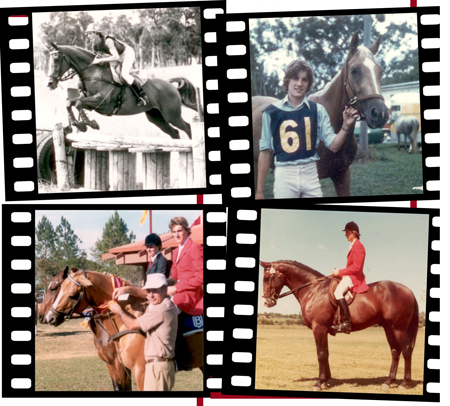 Top Left: Kustah cross country, late 70's. Top Right: Chris and Val D'Oro, 1977. Bottom Left: Chris and Chic D'Oro at Peat's Ridge Showjumping, 1978. Bottom Right: Chris and a 4yo Sky High in 1979.
Chris's mother, Bev was still on the hunt for a breeding stallion and this time she found the Hanoverian-bred Sky High:
"We got him as a two-year-old from Chris Howe from Shepparton, Victoria. Chris brought in, I think, 48 different breeds of stallions from all over the world, everything from Dartmoor ponies to Danish spotted circus horses…"
"My first Grand Prix horse was Chico D'Oro but Sky High was a totally different horse.  He was a European-bred horse… just as gymnastic but in a slower way. And because he was only two when he arrived, I got to bring him right up through the grades. I took him out to Combined Training days, and he ran third in the New South Wales One Day Event Championships."
"Sky High just did everything. He was a big heavy horse, he weighed 750 kilos, so you he wouldn't think he'd be fast, but he was very fast. I won my first World Cup on him at Armidale. I was 21 and that day I won the Mini Prix and I thought I might as well go in the World Cup. So I went in the World Cup that afternoon and won that as well. Mum had bought me in the Calcutta the night before and won more than I won in prize money."
In 1987, Chris and Sky High qualified to represent Australia at the World Cup final in Paris, and off they went…
"That was a very big learning curve. I'd never seen snow before I went on that trip. I arrived in Bremen and they were having some big government/UN meeting and they basically closed the city down. They had troops with machine guns, and tanks, it was like being in a war and I got off the plane in my Akubra and took my hat off and I can feel this snow falling on me and I'd never felt snow before and all I got was 'Rouse, rouse' and 'Get off the tarmac,' and the sub-machine guns were all around."
"That was Europe; I went to Schockemöhle's place with Sky High and unfortunately, I didn't travel with the horse. They sent a groom that didn't know the horse, and he got travel sickness and they worked him when he got there. I arrived four weeks after the horse got there and I walked past him in the stable block. If you've ever been to Paul's you'll know his alleyways are nine-foot wide, and I pushed my own horse sideways to get around him, looking for my horse and they said, 'No, that's him there' and he'd probably lost 200 kilos."
"I had one very sick horse.  I could just lead him out of the stable for ten days; he'd urinate, go back to the stable and lay down. That's how crook he was. He came good enough for me to give him a few of starts in a couple of classes prior to the Paris. Then in the first class in Paris he trod on a shoe in the first double and pulled up, and we said we'd had enough. So that was my first trip to Europe and I figured that it can only get better."
"We brought him back, he fully recovered, but it also taught me that the horse goes nowhere you don't go. So we make a point: the number one rule is that any horse we take away to Europe, then Helen and I travel with the horse 24 hours a day. We didn't realise that in those days that you have to have your finger on the pulse that much, and you do. They're big animals, but they're also animals that can get sick and go crook very easily."
It was a learning experience for young Christopher, chez Schockemöhle:
"I was at Paul's for three months cleaning stables and riding young horses. Otto Becker was the number one rider. Ludger Beerbaum was the number two and Franke Sloothaak was number three, and Ludger used to miss all the time! I learned that it's a very big industry and that I didn't want to live in Europe.  I didn't want to just be another rider in Europe and work for somebody. I wanted to come home and produce my own horses and have Europe as a marketplace to go back to."
"I'm very happy I made that decision. A lot of people ask me, why don't you live in Europe? I think being your own boss and owning your own horses is the only future in this sport. There's very little profit and if there is going to be a profit I want it to go back into my business, my family, and grow… and make sure that I have horses to ride for the next ten years."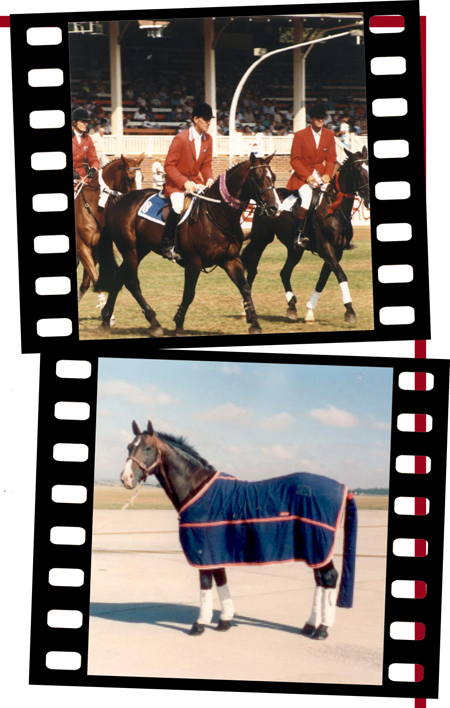 Above: A win at Sydney Royal for Sky High. Second Greg McDermott and Mr Shrimpton, third, Vicki Roycroft and Mickey Mouse. Bottom: Sky high on the tarmac at Sydney Airport heading off to paris and a big learning curve!
Did it shock you, the training techniques at Schockemöhle's?
"No, if you live in a marketplace that demands every horse has to be bought and sold, every horse has to earn a living. The techniques, in every sport, have been refined a lot.  I'm not into any heavy techniques. I'm not into 'schooling' horses like that. Helen and I rely on the horses that have the talent to jump. We buy horses with good instincts and give them good training."
Chris's wife, Helen is a great student of Warmblood breeding, and the Chuggs have put together a carefully thought out jumping-breeding program…
"I think it's a problem when people breed horses they try for a bit of everything and the problem is then you're riding horses that aren't purpose-bred. The horses don't like their job. When they decide a horse is not good enough for dressage they try to make them into jumpers, but if they haven't got a good enough canter, if they can't canter and collect, they are not going to find either job easy – jumping or dressage! A dressage horse needs a great trot, but a jumper needs a great canter and the trot isn't so important. It's nice to have a young horse that can walk, trot and canter but it's more important for a jumper, that as a young horse they can canter a ten-metre circle when he's broken in more or less on his own. That's more important than a good walk or a good trot. When we choose our horses, we look at the canter first and then we work backwards."
Back in Australia, the next big thing for Chris's career was Mr Currency, and like most of the Chugg horses, this one comes with a tale…  
"Helen found Currency actually, we were looking for a Palomino for one of Helen's girlfriends and went to see one that Barry Harold advertised. He said, "Oh, that horse has been sold but I've got a black horse here that's 16.3 hh and that can piaffe in-hand. I said, 'Oh, I'll have a look at it.'  So he brought out this 16 hh horse and got it up against the running rail and tapped it on the bum and it piaffed!"
"He had a little 15-metre round yard. The horse went around like a mouse on a wheel, around and around, and just folded its legs. Then I thought, well, it doesn't jump that great but it's a horse that's worth looking at. It's a great type, so we took him home on trial for a week."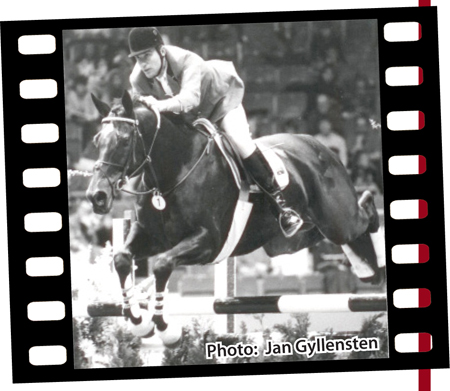 Above: Mr Currency and Chris at the World Cup final, Sweden, 1991.
"I tried to sell it to David Asimus and John McMillan. They came and looked at it and they started to haggle; I think I had $6,500 on him. I think he cost me $2,500 and they tried to haggle and they started to complain that he was hard on the right rein, because he was a racehorse. He'd had ten races. He wasn't a good racehorse, by Imperial Seal, and when they started to haggle I said, 'Don't worry about haggling boys. I've decided to keep him.' And the rest is history – I think he was at the World Cup final in Sweden in three years. We nearly didn't buy him because he was six which was a little on the too-old stage, but he was really precocious."
Christopher's second trip overseas was a little more successful than the first, Mr Currency was 19th at the World Cup final in Gothenburg.