To sit and watch Chris teach is a wild ride, a kaleidoscope of images, of knowledge and experience, overflowing with enthusiasm and excitement. Chris has an uncanny eye – his ability to spot problems between horse and rider, and rider and horse, is amazing. As a teacher, he knows what he wants and doesn't give in until he sees the result.
The lesson was with George Sheridan who has been training with Chris over the last seven months and was riding the seven-year-old Thoroughbred gelding, Felix, who is a pre-novice eventer.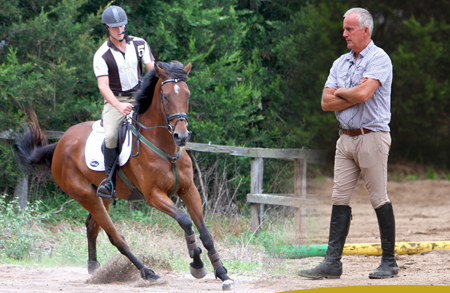 It was interesting to note that when I arrived the morning of George's lesson, Chris was grading the jumping arena, something he does at least once a day.
"I make sure that the surface to school and jump on is always in good condition and well groomed. A good consistent surface is so important to give both horse and rider the best chance of producing their best. The surface is something that we can control and it is important to always make sure it is secure and invites confidence in the horse. A secure surface allows the combination to solely focus on jumping over the top rail. A good surface minimizes concussion, and in jumping horses this is very important. Who wants to run a hundred-metre-hurdle sprint on a slippery, rock hard or deep surface? So with horses it's just as important."
Chris jumps and trains on a 100 x 100 metre arena that has a coarse river sand surface that is watered with a travelling irrigator.
The lesson began straight away, in a warm-up canter, as this is the gait that any showjumping horse needs to develop most. George was asked to ride at 350 and 400 metres a minute to establish the ground speed needed. From the beginning it was all about balance, but NOT about constantly interfering and helping the horse to stay in balance – the rider's job was to show the horse a way that he could do this alone. George was to ride a large circle in a forward position and then to ride a corner without sitting back in the saddle as sitting distracts the horse from his job. Chris insisted that George absolutely used his eyes to look at the next point he was to ride to.
"Look, turn your head and use your eyes to take your horse on your line. Your corners need to become automatic and your horse must turn off your outside rein and leg and that outside leg must not be too far back. Toes in, NO spur! Stay forward and balanced and not on your seat. Do not slow the tempo or speed down, nor speed up, keep the same forward tempo, get him to carry himself in the corner and make it direct to where you want to go. Use your eyes, look up and ride the exact line that you want. Do NOT let him fall in or drift out. When you ride a corner to a fence, if you don't keep him on a direct line your distances will disappear. Corners and lines are what jumping a course is all is about, so if you can't do a true line and corner where you want and in balance, forget jumping, as you have no chance of perfect distances! Now put your reins in one hand so you are less interfering and make sure he follows your eyes and your outside rein."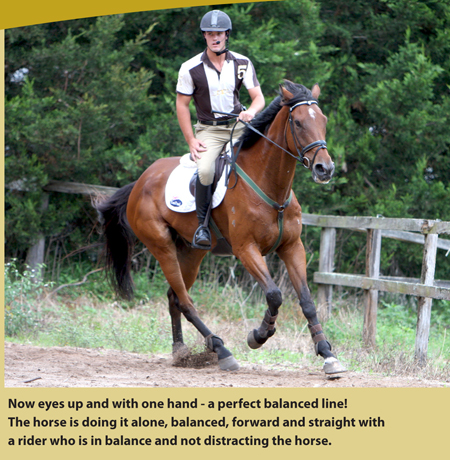 Straight lines and corners were practised over and over until George could ride the best corner in a light seat, on the outside rein, in the same tempo and speed and without too many rein nor leg aids. It was not easy, but it showed how a horse must be able turn a corner in an uncomplicated way, if it is to be confident to focus on the top rail and not be distracted by a pushing and pulling and distracting rider on the approach. Chris is a perfectionist about this and it was to become the basic message for the rest of the lesson.
It was time to jump, starting with a canter to a small cross rail.
"Make sure that your corner is as we practised and that the horse's shoulders follow the line that your eyes determine and make sure that when you land over the fence that your eyes are up and looking at the next point you need to ride to."
Chris explained here that as he often jumps alone when the arena is freshly raked, it is easy to go back and look at the tracks you left for the corner and the approach and depart from the fence. The hoof prints don't lie and there should be absolute direct straight lines to and from the fence. That's another good reason to have a well-groomed arena – it teaches you to pay attention!
George's horse was drifting to the right and Chris was insistent that George fix this: "Outside rein and outside leg to keep the shoulder left – no leg yield – and get off the inside rein in the turns as this will only encourage the drift. Keep him straight, get his shoulders to follow your eye and your line. Do NOT let him deviate off this corner and line."
"When jumping any fence whether a cross rail, or a fence at the Olympic Games, the principles stay the same. You must look up and ride the turn before the fence, go forward and focus on the middle of the top rail. Have your horse's shoulders between your two reins and in a true drawing-forward canter. You cannot afford to be left or right of centre, but absolutely where you want to jump that rail with no drift at all. If I was to put a match box on the rail you should be able to jump at that point."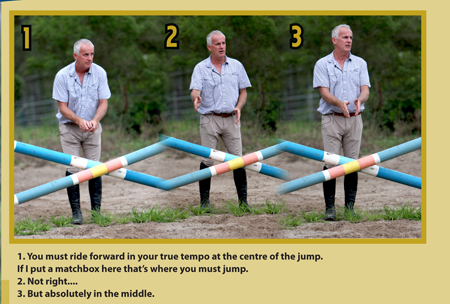 Chris then put out three cavalettis on a curving line like a serpentine and George was to make sure that the lines he rode were smooth and that every fence was jumped in the middle. It was again an exercise of tempo and line and again it was interesting to go back and look at the lines that were left on the freshly groomed arena.
"I always go back and look at my tracks as classes are won in the jump off, and that's simply about taking clean and direct lines and you must always pay attention to this."
It was on to jumping an individual square oxer and nothing was mentioned about seeing a distance, all that was spoken about was again corners, balance, line and tempo and to ride absolutely at a point over the top rail. It was the Ariat fence and George had to have Felix so he had a leg either side of the letter 'i'.
"Remember that your hands must only be as wide apart as your horse's mouth or bit and that's about 5.5 inches or 14 cm and keep your eyes up and your leg long and still."
"Just work purely on your lines and this helps the balance, and as a consequence the confidence, and with that comes a better style!"
George was made to jump right off centre to the oxer to allow more room for a left hand turn on landing. It is so easy to see the look of confidence here in the eye of the rider and the horse, as they easily stayed in great balance and style – the result of a deliberate and well-planned approach that was developed from the flat work in the beginning of the lesson through all the exercises. It was so clear to see the ease and confidence that this simple structured way of riding encouraged.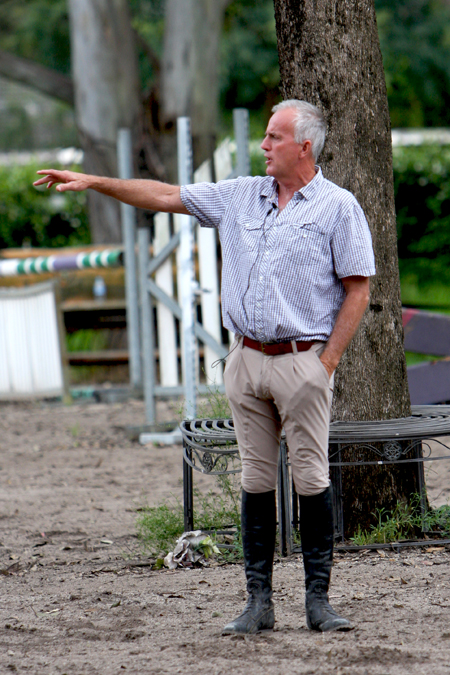 At the end of the lesson it was back to a little bounce cross rail and trot to a few small verticals. This re-establishes the balance and self-carriage but the rider had to remember 'perfect position': "Remember to stretch tall and stand up a little to get your horse to come back to you on landing."
You could see the talented young eventer become more focused and confident as the lesson progressed, and as that happened, his form improved. It was once again an example that good teaching is simple but meticulous…
It was a truly enthusiastic and inspiring lesson on line producing balance, confidence and style.
George Sheridan is an eventing rider now based at Glossodia near Winsdsor in NSW and has been training with Chris over the past seven months.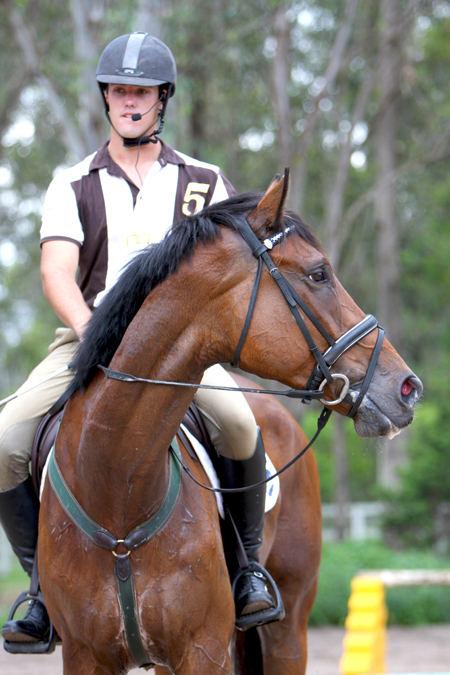 The horse, Felix has been with George since last October:
"He is owned by Clinton Van Der Sanden and Amanda Finch, they sent him to me to see how far we can take the horse. He did his first event at Berrima, at the end of last year, in the Prelim, and he did quite well. He is showing a lot of potential. He has taken a while because he is such a big horse, he is about 17.3hh, which is really big for a Thoroughbred, and he took a long time to get together, but he is definitely getting there. He was fourth after the dressage at Berrima and stayed there until the end of the competition. I think he is seven now, he hasn't done too much, his legs are really good, and I really think he has a future."
"We took him showjumping last weekend, and he just had one down in the 1.10m class. We'll just see how he goes for the rest of the year."
How did you end up having lessons with Chris Chugg?
"I started having regular lessons in June of last year. I had rented part of Debbie Stewart's place, just around the corner from the Chuggs, and since I've been there I have been going for lessons as often as I can afford. I've improved out of sight from where I was before, it's going really well."
What do you get from the lessons?
"Chris is a little more straight to the point, he tells you exactly how it is, which I like. He gets up me a bit every now and then, someone will tell you to put your shoulders back and you think you are doing it, but you aren't really – Chugg will keep yelling at you until you have done what he asked, that's made a big difference for me. He makes you work."
Is it important for eventers to take their showjumping seriously?
"Definitely. I've had a couple of horses, that have had a lot of potential on the flat, usually top three, then good cross country horses, and then at the end of the show, if they go out and have a couple of rails down, it takes you from top three down to around tenth, and that is really disappointing when that happens to you, so I have really started focusing a lot on the showjumping, much more than I used to…"