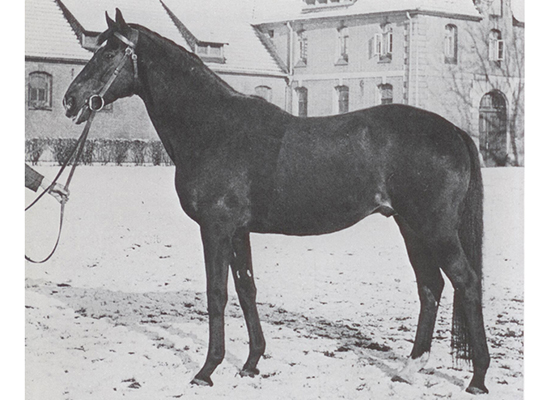 1944 – 1974 158 cm Dk Bay
Breeder: P Mühlens
The Thoroughbred stallion, Der Löwe xx produced 18 approved sons, 23 state premium mares and 183 registered mares as well as 314 registered competition horses which together won a combined prize money of DM 750,086 by 1979, a lot of money at the time.
These are the statistics of a Thoroughbred stallion that was laughed at by so-called breeding experts and dismissed as a "bunny rabbit". But his small stature did not prevent Der Löwe xx from becoming one of 'the greats', as Werner Schockemöhle describes him in his book The Great Stallions of Hanover, published in 1988. Not only did he have robust health, he died at the age of 29, but he also possessed great heart and courage, qualities he passed on to his offspring.
However, according to Werner Schockemöhle, circumstances did not look promising for the young colt when he was born in 1944 at the historic Thoroughbred stud Röttgen. Germany was in the midst of War, supplies were scarce and horses did not have high life expectancy.
But the colt by Wahnfried, out of Lehnsherrin (Herold/Lapis Electrix), was lucky, he received extra attention when others didn't. At the age of 18 months he was transferred to the training stables of Röttgen's trainer Albert Schlaefke, his toughness and enthusiasm earned him his name Der Löwe, the lion.
Der Löwe won races over 1000, 1600 and 2800 metres, culminating in his best season as a four-year-old in 1948, when he won a classic Group One race in Baden. He showed enormous potential as a stayer winning a 3200m Group Race in Frankfurt. He ran his last race in 1949 with 32 races and 8 wins to his record. Interestingly Werner Schockemöhle remarks that his racing index would not have been good enough to be approved for Thoroughbred mares.
When Der Löwe began his stud duties at Celle state stud, German breeding was in a phase of decline that was to last until 1961. The local rural breeders were not impressed by the small Thoroughbred stallion, and Schockemöhle confirms that the stallion didn't have the best conformation with a long and deep neck, but balanced this with a long shoulder, good topline and muscle, as well as well-conformed hind legs. Consequently he served only 24 mares in his first season and not much more in the coming years. His foals all carried the Thoroughbred type of their father, regardless of how massive the mare was. All his offspring were characterised by excellent shoulders, good topline, pretty heads and some, with above-average movement.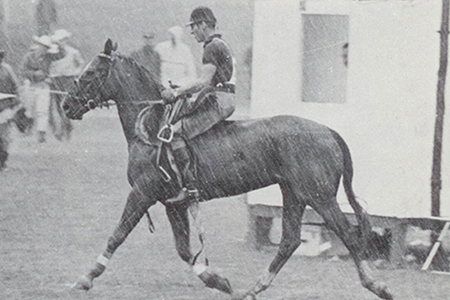 One of Der Löwe's sons Lapislazuli finishes the cross country without a saddle… 
When his first foals started to sell well, demand for Der Löwe increased, people began to realise the qualities of his offspring when allowed time to mature. In 1957 Der Löwe served 68 mares. In 1962 he moved to Luhmühlen and in the mid-60's he was highly sought after. Lanthan was one of his first good sons, Lanthan's dam, state premium mare Dobe made breeding history as the great grand dam of Lugano I and Lugano II. Löwenstein (Friesenkönig) was proven as a good all-rounder, competing in dressage, showjumping and eventing. Other significant sons include Lapislazuli (Goldfisch), a superb eventing horse and participant in the Mexico Olympic Games, and Lorlot, who went on to win or place in 100 dressage tests at advanced level. Lorlot's dam, Doljahr, also produced his half-brother, Liostro (Dolman), who won a Silver medal with the German dressage team at the 1972 Games with Karin Schlüter in the saddle.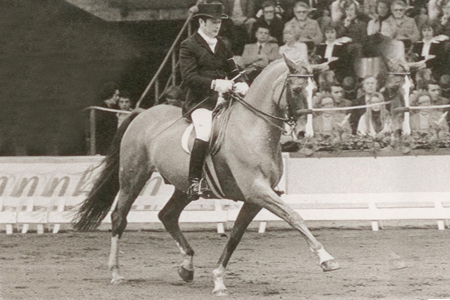 Liostro and Herbert Rehbein
Der Lord (Axel) was competing successfully in showjumping for ten years 1965 to 1974, Lepanto (Amateur I) jumped at advanced level before he was sold to Spain and became part of the national squad. Two other Der Löwe offspring started in the Olympic Games in Montreal, Löwenstern (Abendstern) and Lucky Boy (Jassy I) competing for the Danish and Swedish team in dressage.
Lugano I, born in 1954, produced 30 approved stallions and more than 70 state premium mares himself, his offspring excelled predominantly in the dressage arena. In 1978 he was the most successful dressage stallion in Germany – however his lasting influence is to be found in Belgium through his son, Lugano van la Roche, sire of Darco.
Der Löwe paired particularly well with the mare Abendlied by Abendstern. The combination produced six foals, all sold at Verden for top prices and they were all successful in the dressage arena up to Grand Prix. Der Löwe bloodlines were also popular in Westfalia and Warendorf secured two stallions in Löwensohn and Löwenstein.
One of his stallion sons, Lukas
Der Löwe, who could be very coltish throughout his lifetime, was very influential on the German performance horse breeding, he created a flourishing stallion line in Hanover with Lugano I and II, who were both at the top of their class in the stallion test. In 1979 there were 19 stallions in Celle that carried Der Löwe blood in their sire line. He passed on strength, prominence and leanness to his progeny, who did not always have the easiest of temperaments, which may be why there is no current sire line in Germany today.