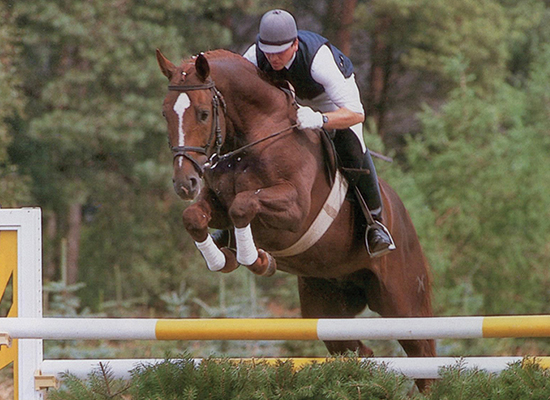 1981 – 2013 164 cm Chestnut
Breeder: Rolf Deecke Sen
The Hanoverian Stallion of the Year 1995, Espri was bred by Rolf Deecke Sr. in Lachendorf, Germany.  Espri was reared in a herd with other colts in Hunnesrück, but it was not a happy time for the youngster or his breeders! When they visited Hunnesrück, they were saddened by what they found:
Gerd-D Gauger reports for the The Hanoverian, 1995:
"A disappointed father and son Deecke turned around and got into their car and left for home, a farm in Lachendorf, close to Celle. It was late in the summer of 1982 and they had just visited the stallion-raising farm of the State Stud at Hunnesrück. They were going to see their Eiger colt, sold to the Stud Manager a year ago. And what a foal it was – when Rolf Deecke saw him standing beside his dam, February 7, 1981, he called his wife and said 'That's the one!'"
"And now: sick as a dog, amongst a group of yearlings hit unmercifully with strangles and their Eiger chestnut was hit hardest of all. Rolf Deecke remembers: 'He just dragged himself around, everybody else had already outgrown him. The way he looked he wasn't worth a nickel!' It was even more disappointing for both Deeckes since they already tried twice unsuccessfully to get their State Premium mare, Diplomatin by Diplomat / Lukas / Seneka / Adlerschild, in foal again to Eiger. She caught and lost it, she caught and lost it!"
" 'That's it', the Deeckes said after their visit and tried to get this chestnut colt, once a champion of a foal show, out of their minds. Until the manager of the Stallion performance station at Adelsheidsdorf, Manfred Lopp made a phone call: 'Where have you been when we had the grading of the Hunnesrück stallions? He asked a bit reproachfully, 'your 'Eiger' is Champion stallion!' The Deeckes were totally surprised and could not believe it. Their chestnut colt grew incredibly the last few months before the grading, filled out and presented himself sensationally at the grading. And this was where the fairy tale of Esprit 'Hanoverian Stallion of the Year 1995' is becoming really exciting."
It is said that Espri with his abundant energy, his zest for action and his spirit dumped his riders more than thirty times during the eleven-month long stallion performance test.
Nonetheless, Espri went on to complete a good stallion performance test, coming 7th out of 34 candidates, with a score of 118.8, and was licensed.
He remained the only foal of his dam Diplomatin.
The chestnut lived up to the expectations. He was first stationed in Loxstedt from 1985 to 1992 and then moved to Dorum from 1993 until 2011, before spending the last year of his life at Celle.
Espri produced Olympic competitors in show jumping including Hugo Simon's E.T. (earnings of €979,900) and Carsten-Otto Nagel's Elwood (€122,716) – nine other jumpers earned more than €15,000: Explosiv 2 (€97,995), Eddie (€59,216) Edgar (€24,546), That's me €21,339), Ernie (€19,996), Escologne (€17,359), Eschley 2 (€16,879), Enrico (€16,394) and Erik (€15,832). In the dressage ring Nadine Capellmann's Elvis VA was his most successful dressage offspring with winnings of €285,241, followed by the Finnish team horse, Sini Spirit (€22,742) and the Danish team horse, Esprit d'Valdemar (€18,289).
In the 2015 Hanoverian stallion book, Espri has 507 offspring currently competing between M and S-level in dressage and showjumping with earnings of €2,417,040 won by 422 showjumpers and 153 dressage horses.
Espri is the sire of 20 licensed sons, the most important being Escudo I, Hanoverian Sire of the Year 2009, and his brother, Escudo II.
In the 2015 Hanoverian Stallion book, Esprit has an FN dressage breeding value of 86, with a showjumping value of 121. His Hanoverian breeding value for type is 110, but for his limbs, the value is 133. He has a dressage ranking of 74 and a jumping ranking of 123.
In the 2017 Hanoverian Stallion book, Esprit has 512 competitors  for winnings of €2,452,368.
He has a negative FN dressage breeding value – his young horse score is 86, and his open competition value, 93. His Hanoverian dressage value is equally dire, 72.
Espri's FN young jumping horse value is 115, with a 123 for open competition. His Hanoverian jumping value is 121.
Espri is the sire of 20 licensed stallions but only Escudo I has made his mark.